Hello Fellow ChartWatchers!
Short Version: The Dow continues moving lower. The upcoming death of Flash means everyone is getting the new version of ChartNotes. You really need to sign up for ChartCon 2016 soon. We have 10 once-in-a-lifetime seats available if you want to see ChartCon 2016 in person.
1.) The Dow continues moving lower: Despite the fact that stocks rallied on Friday, the Dow finished in negative territory for the fourth week in a row. It is now below its 50-day moving average. While weekly momentum (as measured by the MACD) is still positive, it is starting to move lower now and there will probably be a bearish MACD crossover on the weekly chart in 2 or 3 weeks. As I said in last weekend's webinar, this looks like another down leg within a larger rectangle pattern that is forming after the long uptrend that started back in 2011. Here's the current weekly chart: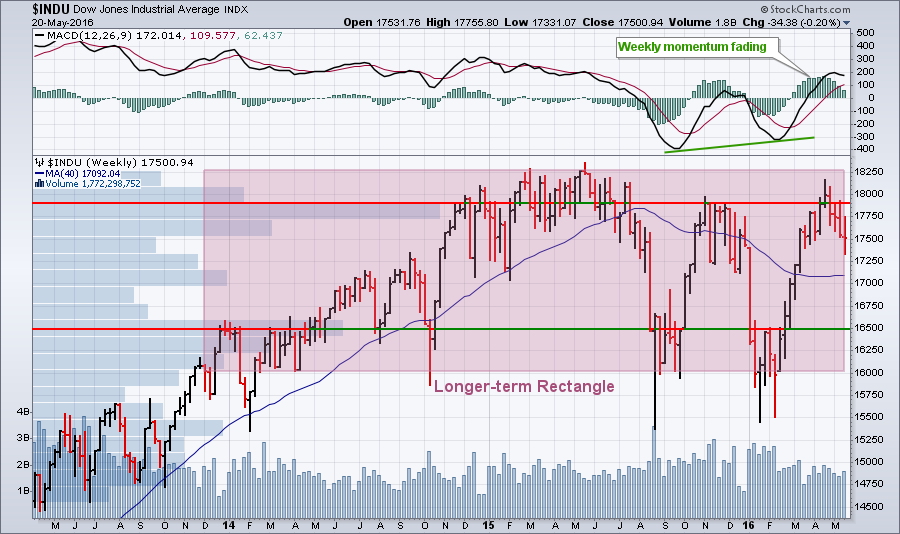 2.) The upcoming death of Flash means everyone is getting the new version of ChartNotes: In case you missed it, we are in the process of releasing a new version of ChartNotes that uses HTML5 instead of Adobe Flash. As of now, the new HTML5 version is the default version of ChartNotes. The Flash version is still available for now, but that will change soon. The people at Google Chrome and Mozilla Firefox (and elsewhere) are eliminating their support for Flash soon which means that, even if we wanted to, we are unable to continue supporting a Flash-based verion for much longer.
To use the new version, click on the left-most "Annotate" link below your chart. Please try to use the new version from now on. If you run into a bug, please let us know and then use the second "Annotate" link which (for now) will bring up the older Flash version. Here's a link to an article that details the differences between versions.
3.) You really need to sign up from ChartCon 2016 soon: Spots for ChartCon 2016 are filling up fast - make sure to reserve your spot soon. Because this conference is being held online, the price cannot be beat - $199.95 gets you everything you need - no additional airfare costs and no hotel expenses! The conference is being held live on Sept. 23rd and 24th.
Here are the two important things I want everyone to understand: Your ChartCon registration INCLUDES immediate access to the complete conference recordings AND registering for the conference is the only way to get that immediate access.
The bottom line is this: If you want to see ChartCon 2016 live OR recorded, you need to register for the conference soon!
Another way to think about this is: Even if you don't have time to see all (or even part) of the live conference online, you should still register so that you gain access to the conference recordings.
The theme of this year's ChartCon is "Creating Your Own Technical Trading System" and we will have lots of talks about just that. That's in addition to presentations on the current market conditions from John Murphy, Martin Pring, Art Hill and others. It will be both informative and educational. You do not need to be a StockCharts expert to get a ton of great information from ChartCon!
For more information, and to sign up, please click here!
And finally, 4.) We have 10 once-in-a-lifetime seats available if you want to see ChartCon 2016 in-person! While most people will watch ChartCon 2016 online, we have managed to reserve 10 seats at the live event itself for 10 special individuals who want to have a once-in-a-lifetime experience meeting and talking to all of our presenters during the conference. If you sign-up for this experience, you'll meet and talk with John Murphy, Martin Pring, Art Hill, Erin Heim, myself and all the other presenters. You'll enjoy a relaxing stay at the conference resort in Napa. You'll even have the opportunity to play golf with Tom Bowley and Greg Schnell!
I cannot stress how limited and rare these packages are. We only have 10 total and, so far, 4 spots have already been taken. Each seat costs $3000.00 and we are selling them on a first-come-first-served basis. (Hotel and airfare are not included.) Please send me an email if you are interested. I would love to see you in-person in Napa for ChartCon 2016!
- Chip