In my last ChartWatchers article I pointed to the importance of taking a time out now and then to analyze trading habits. I referred to it as a "Trading Tune Up".
The article served as a reminder to me that you need to be on your toes at all times when trading and that even a minor deviance can be costly. This led me to a full review of my E-Book, "77 Essential Trading Lessons for Life" which I wrote a few years back that contains a treasure trove of information and a few specific lessons caught my attention:
1-What kind of trader are you? Some people think of themselves as day traders, others as swing or trend traders. But what matters most; pinning a label on yourself or actual results?
2-Are you able to be disciplined in any type of environment? When the market is trending higher it's easier to make money on the long side. But if there's a great deal of volatility what can you do to make sure you remain disciplined and don't go off track?
3-Do you know how to take a profit or a loss? This seems like such a simple notion; if you have a nice gain, you take it off the table, and if you find yourself on the side of a losing trade, you exit the position. Yet it is one of the hardest things for traders to master.
Just take a look at the chart below which shows the S&P over the past year. It's a reminder that the market has gone nowhere and that you needed quite a stomach to get through the volatility that began in August and continues today. And it's also a reminder that you need to have your "A Game" to get through difficult times.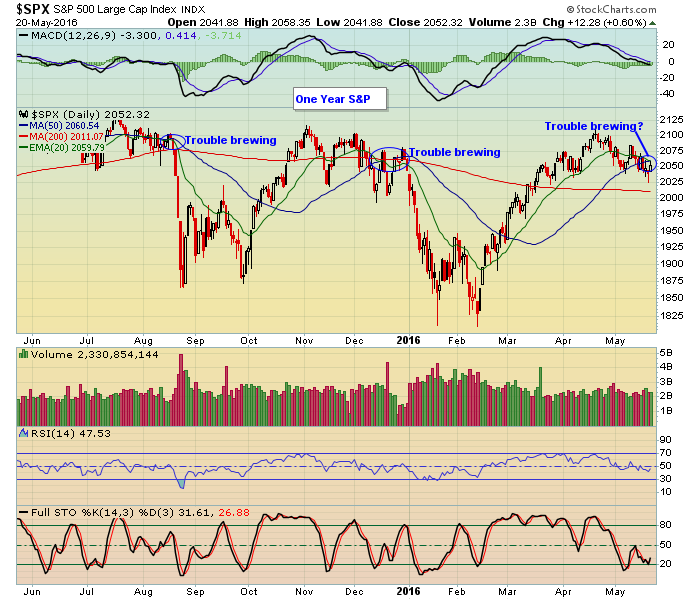 I've decided to conduct a "Trading Tune Up" webinar on Saturday, June 4. During this event I will be addressing some of the most important issues traders face day in and day out. The webinar will include a presentation from StockCharts.com's Senior Technical Analyst Tom Bowley, who will focus on the MACD and specifically, how to spot positive and negative divergences, something when mastered can be a game changer. If you wish to learn more, just click here.
At your service,
John Hopkins
EarningsBeats