Hello Fellow ChartWatchers!
Lots of changes in the wind these days both in the stock market and at StockCharts.com. Here's my 2 minute review of everything coming up over the next couple of months:
Big Volume Spike on Friday
Fridays are typically slow days for the market and Fridays in June often have very light volume. Not so yesterday! Pretty much all of the major market indexes had significantly higher volume on Friday compared to previous days. Here's a daily chart of the Dow showing that: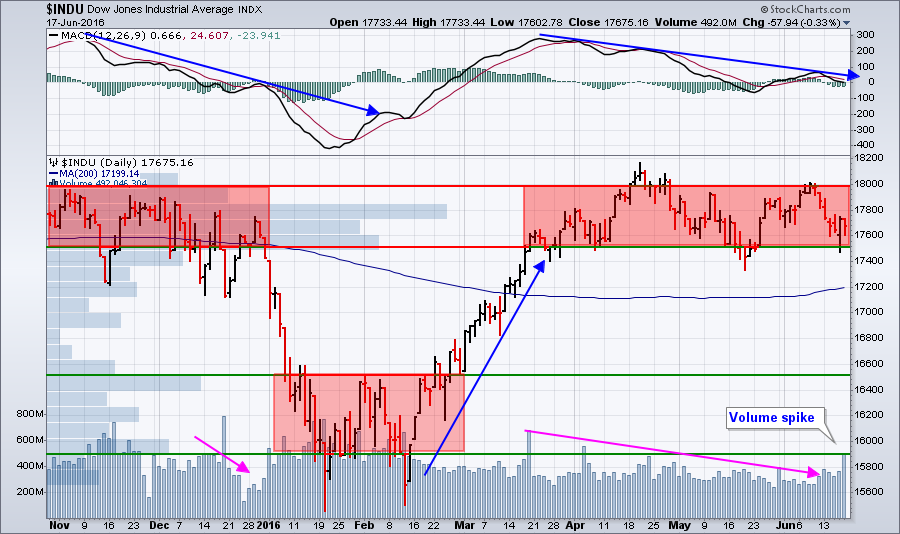 Dow Bouncing Off of Bottom of Trading Range
That chart also shows that the Dow retested the bottom of its short-term trading range on Thursday and then bounced higher. Friday's down day points to another test of that support level soon. If that level doesn't hold, I'd expect a return to the 16,000 area like we saw in January.
Defensive Sectors Strengthening
Below is a BPI Breadth chart of the 5 defensive sector ETFs - groups of stocks that do well when the market is in a bearish mood. (BPI stands for "Bullish Percent Index" - i.e., the percentage of stocks in each sector that have bullish P&F charts.)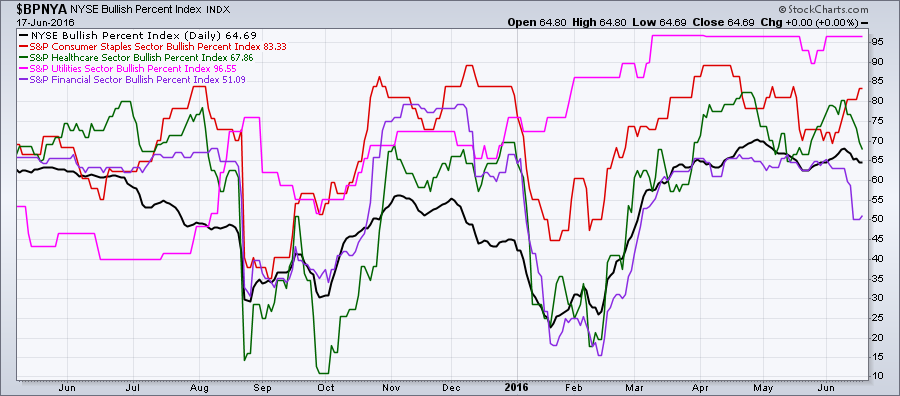 Notice that the Utilities sector has been up at 100% for most of the time since March. That's not a great sign since the Utilities sector moves in lock step with the bond market and the bond market moves inversely when compared to stocks. In other words, Utilities are the "Anti-Stock Market stocks."
In addition, note that the Consumer Staples sector (red) is also moving higher now. The Staples sector contains stocks that do well regardless of how consumers feel about the future. The fact that it is picking up means that consumers may be holding back on spending - definitely a bearish development.
ChartNotes v.2 Continuing to Improve
Thanks again to everyone that has sent in suggestions for improvements to our new ChartNotes annotation tool. The latest version is now available and includes a new "info slider panel" that shows you where your mouse is located. Be sure to try it out and keep those cards and letter coming!
Member-Only Webinars
Starting this week, Arthur Hill's "Art's Charts Webinar" is transitioning to a "Members Only" format. If you are not a StockCharts.com member and you enjoy Arthur's work, be sure to sign up for our service so you can continue to follow along.
And then next month, Tom Bowley will transition from his current 60-minute Monday/Wednesday/Friday format to a 30-minute Monday/Wednesday format that focuses on Tom's specific thoughts on the market. In addition, Tom will begain a new, members-only show on Mondays at 4pm Eastern where he will take questions and requests from the audience and provider deeper analysis than he normally does.
"Unbundled Exchange Fees" Coming Soon
Another big change that will be happening in the next couple of months is our move away from "bundled" pricing. Throughout our history, we have had a simple pricing model that bundles exchange fees into our overall price. Unfortunately, that model breaks down as we look to add more and more types of data to our service. Soon, we will roll out a new pricing model that allows you to choose mix and match whatever real-time data you want with whichever of our three service levels you need - Basic, Extra or PRO.
Ultimately, I believe that this change will allow everyone to save money by better tailoring your needs to what we offer. For example, if you are a US-based investor who is only interested in official US real-time data, this change will reduce your overall cost when compared to our ExtraRT package because you will no longer also pay for the additional Candian real-time data. It will also allow someone who is content with using our free BATS real-time data to upgrade to our PRO service level - something that is impossible right now.
Maybe the most exciting part of this change is that it will allow us to add real-time data from new exchanges that we don't currently cover. That list includes real-time data for Futures data, UK data, India data, Australian data and much more!
Again, this change isn't happening yet. I just want to get you "pre-" prepared for it. Watch for us to roll it out sometime in August. I'll have a lot more information for you about this change before then. Stay tuned!
ChartCon 2016 is Coming Up Fast - Sept. 23rd & 24th
If you are reading this newsletter, you must have a certain level of interest in Technical Analysis. If you have any interest in Technical Analysis at all, you should strongly consider signing up for ChartCon 2016 - our live, virtual conference focused exclusively on charting, chart analysis, technical analysis and technical trading. All of our commentators will be there including John Murphy, Martin Pring, Arthur Hill, Tom Bowley, Greg Schnell, Erin Heim and yours truly. It will be an amazing event and I really believe everyone reading this will get a lot out of it.
As a virtual conference, ChartCon 2016 is much more accessible and much more affordable than our previous conferences. There's no need to pay for travel to Seattle. There's no need to pay for a hotel room. There's no need to pay for meals, rental cars, taxis, airline upgrades, etc. etc. etc. Instead, you can register for ChartCon 2016 for just $199.95 and then watch two full days of presentations from the comfort of your computer. No muss, no fuss.
In addition to being able to witness the conference live, your registration also is the only way to get a recording of the event. While we hope everyone can spend both days with us live, we understand that "live happens" and so we will be recording the entire event and making that recording available to everyone that registers - BUT you have to register to get this exclusive recording.
In case you are wondering if you will be able to see the streaming broadcast on your equipment, check out the LiveStream.com website. LiveStream is the technology we will be using for ChartCon 2016. If you can watch any of the live broadcasts they are currently broadcasting, you will have no problems at all watching ChartCon 2016. And, in addition to high-quality HD video, LiveStream also supports mobile devices VERY well. You should have no problem seeing ChartCon regardless of what device(s) you choose to use.
LiveStream also allows you to rewind the event if you join late. It also provides a host of interactive capabilities including multiple screens, live chat and even Twitter integration, Again, check out the current examples on the LiveStream website to see examples of all the features they provide.
Bottom Line: ChartCon 2016 will be an amazing online experience that every should try to attend. Even if you can't see all of it live, you should still register in order to see the recording. Don't miss out. I really hope you can make it. Click here for more information.
Several ChartCon 2016 Audience Seats Still Available
Are you interested in joining us in person for ChartCon? We have a very limited number of seats available for people that have the ability to travel to Napa in late September. Meet all of our presenters face-to-face. Be a live part of the ChartCon broadcast. See everything that Napa in the fall has to offer. You can even enjoy a round of golf with Tom and Greg! Due to the limited number of spots, the price for these seats is not insignificant, but if you are interested please reply to this email and I'll get you more details. We'd all love to meet you in Napa this fall!
- Chip
About the author:
Chip Anderson
is the founder and president of StockCharts.com. He founded the company after working as a Windows developer and corporate consultant at Microsoft from 1987 to 1997. Since 1999, Chip has guided the growth and development of StockCharts.com into a trusted financial enterprise and highly-valued resource in the industry. In this blog, Chip shares his tips and tricks on how to maximize the tools and resources available at StockCharts.com, and provides updates about new features or additions to the site.
Learn More