The market has been in consolidation mode for over six weeks now. The S&P closed at 2173 on July 20. It closed at 2179 on Friday. During that period of time any pullbacks have been shallow and short-lived with the S&P topping twice at 2193 and getting as low as 2157 on Thursday before roaring back on Friday to close back above all key moving averages. So on the surface, very bullish action; no one is really selling. Yet trying to trade successfully and make money during a flat market like we've experienced the past six weeks is a tricky proposition.
During this period of time I have urged members of EarningsBeats to be cautious and to allocate more of their capital to cash. Why? Because to me the reward to risk favors the bears, in spite of the stubbornness of the bulls. I might change my mind if the S&P clears 2193 because it would represent a new all time high and might spark renewed interest in stocks., But until that happens there's too much risk to the downside if all of the sudden traders decide in unison to unload their positions.
For those individuals who prefer to trade no matter the market conditions, it becomes important to zero in on those stocks that might stand out during a period of consolidation and hold up the best in the event of a sudden downturn. This is why we search for those companies that beat their earnings forecasts and have solid charts, the type of stocks traders will gravitate to if looking for some added safety.
As an example, we issued a trade alert to our members on August 11 on Cienna (CIEN) that beat earnings expectations and held nicely after an initial sell off after they reported their numbers. Our price target was $23.60 which is the exact level it touched on September 1. You can see in the chart below that CIEN held just fine even when the market did pull back, ultimately hitting our price target.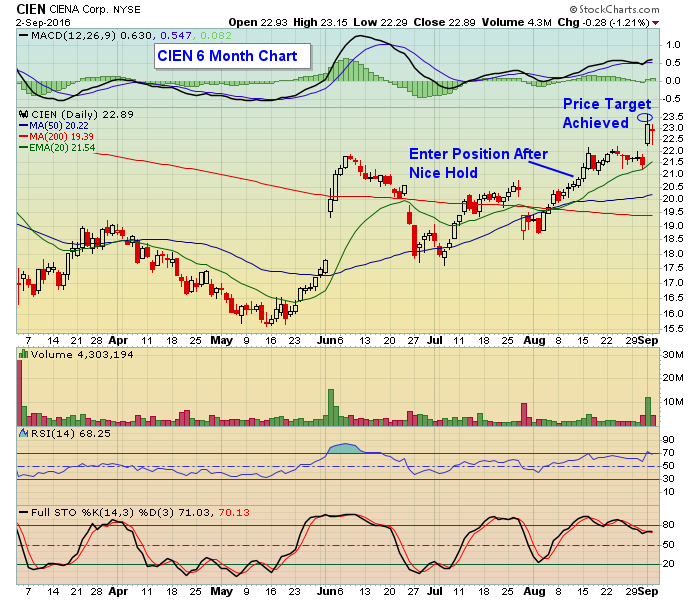 Obviously not every company that beats earnings expectations will outperform the market but it makes sense that traders would be interested in finding stocks that have solid fundamentals. And even better if there is a solid chart formation to back up those solid fundamentals.
As part of our service at EarningsBeats we conduct regular searches to find stocks that meet the specific criteria of beating earnings and have good looking charts. We provide stocks that make the cut to our members via our "Candidate Tracker" which includes annotated remarks so they can decide if they want to trade those stocks. Some end up as trade alerts like CIEN did. In fact, we've just added 100 new stocks to our Candidate Tracker and I am going to conduct a free Webinar this Wednesday, September 7 at 4:30 pm eastern. I will discuss the process of finding stocks that meet our criteria and will be joined by StockCharts.com Senior Technical Analyst Tom Bowley who will comment on some of the trading candidates. If you want to participate in this free Webinar just click here.
It's always easier to make successful trades when the market is on an upward trajectory; it's much trickier when the market is in consolidation mode. So you either need to move to the sidelines to preserve your capital or develop a different trading strategy so you can take advantage of those stocks that have greater upside potential, no matter the market conditions.
At your service,
John Hopkins
EarningsBeats