While most of the media focus is on sideways action in large cap stocks, smaller stocks have been rising. The weekly bars in Chart 1 show the S&P 600 Small Cap Index ($SML) ending the week at a new record high. The solid matter is a relative strength ratio of the SML divided by the S&P 500. It shows smaller stocks leading large caps higher since the February bottom. Smallcaps had been market laggards since the middle of 2014. Their relative strength ratio is close to a two-year high. That's a positive sign for them and rest of the market. Small cap leadership is a sign that investors are more optimistic on the economy and willing to assume more risk. The Russell 2000 Small Cap Index ($RUT) has yet to achieve a new high. I've pointed out in the past, however, that the SML has a history of leading the RUT higher.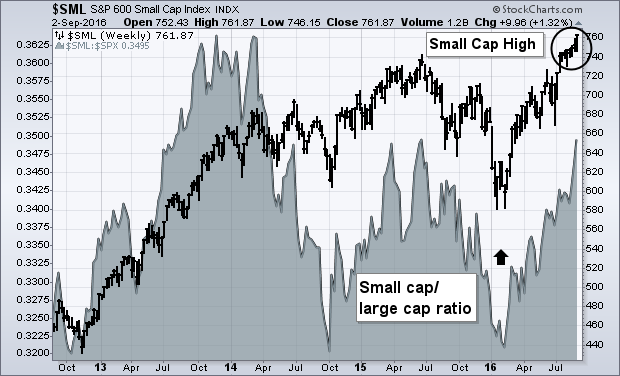 Emerging markets ended the week on a strong note. I keep reading that Chinese stocks have not participated in the EM rally. That may be true in Shanghai, but not in Hong Kong. The green line in Chart 2 shows Hong Kong iShares (EWH) ending the week at the highest level in two years. I recently suggested that a more stable Hong Kong dollar was attracting money (versus mainland stocks that are denominated in Chinese yuan). A more international audience and better liquidity is another factor. So is the fact that Hong Kong stocks yield more than 3.5% which makes them attractive for yield-chasing investors. I believe it's just a matter of time before mainland Chinese stocks start rising as well. The red line plots the CSI 300 China A-Shares ETF (ASHR) which just recently hit an eight-month high. Rising Chinese shares would also be good for emerging markets in general.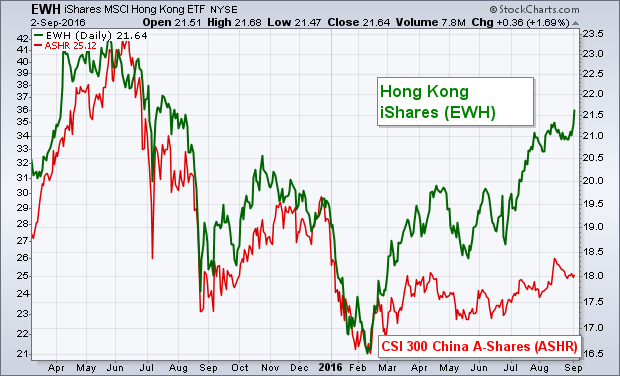 About the author:
John Murphy
is the Chief Technical Analyst at StockCharts.com, a renowned author in the investment field and a former technical analyst for CNBC, and is considered the father of inter-market technical analysis. With over 40 years of market experience, he is the author of numerous popular works including "Technical Analysis of the Financial Markets" and "Trading with Intermarket Analysis". Before joining StockCharts, John was the technical analyst for CNBC-TV for seven years on the popular show Tech Talk, and has authored three best-selling books on the subject:
Technical Analysis of the Financial Markets
,
Trading with Intermarket Analysis
and
The Visual Investor
.
Learn More