A comment on a recent DecisionPoint Alert blog article prompted me to review the Thrust/Trend Model indicator chart. During Friday's webinar I brushed over it as time was quickly disappearing. I promised to go over it in more detail in my ChartWatchers article. So here we go!
---
---
First, here's a quick refresher on the signal generation of the Thrust/Trend Model. When Sell or Neutral signals are generated by the trend component (basically the Intermediate-Term Trend Model) of the Thrust/Trend Model , the next buy signal is dependent on the "thrust" component--dual positive crossovers by Price Momentum Oscillator (PMO) and Percent Buy Index (PBI) (green lines). After that original signal, the trend component needs to confirm it by having a positive 20/50-EMA crossover (blue lines). Once the Trend Model confirms, the BUY signal will remain intact until a negative 20/50-EMA crossover (red lines). After the negative crossover, the PMO and PBI are in charge again.
As you can see on the chart, we are currently on a Thrust/Trend Model BUY signal that first generated in February. In the meantime, the PMO and PBI have been having crossovers of their own. Those I've highlighted in purple. Although we have a BUY signal right now, we can see how using the dual PMO/PBI crossovers do add an extra screen. The PBI had its negative crossover on Friday, so it would've missed the correction, but it implies their is more downside approaching. Most importantly, note that the 20-EMA is approaching a negative crossover the 50-EMA. That would generate a Neutral signal on both the Intermediate-Term Trend Model and the Thrust/Trend Model. Once that happens, we'll be watching the PMO and PBI closely for positive crossovers to generate the next Thrust/Trend Model BUY signal.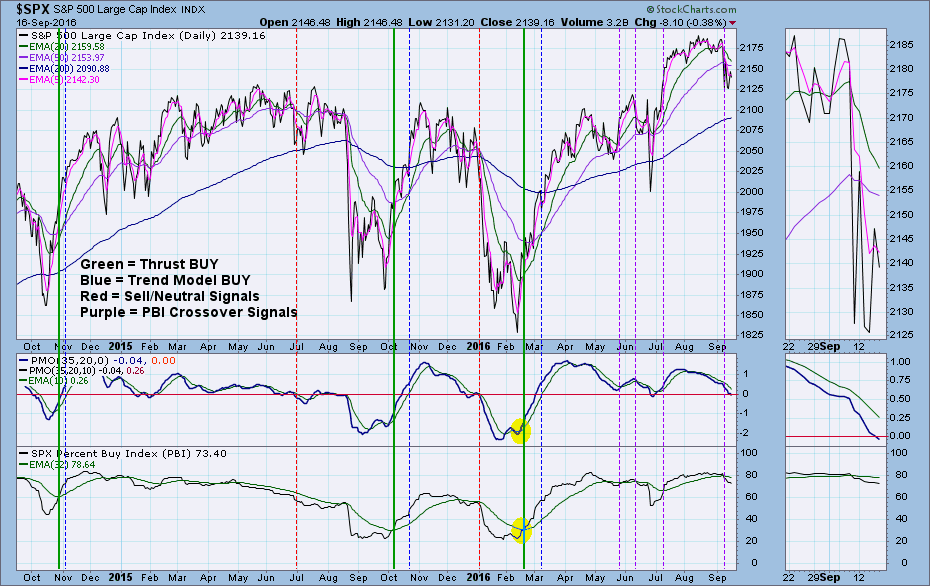 Conclusion: Although we're still on Intermediate-Term Trend Model and Thrust/Trend Model BUY signals, they are closing. The PBI likely gave us serious warning of an impending intermediate-term decline.
---
The NEW DecisionPoint LIVE public ChartList has launched! Click on the link and you'll find webinar charts annotated just before the program. Additional "chart spotlights" will be included at the top of the list. Be sure and bookmark it!
---
Come check out the DecisionPoint Report with Erin Heim on Wednesdays and Fridays at 7:00p EST, a fast-paced 30-minute review of the current markets mid-week and week-end. The archives and registration links are on the Homepage under "Webinars".
---
Technical Analysis is a windsock, not a crystal ball.
Happy Charting!
- Erin