Semiconductors are leading the charge in tech stocks as the Semiconductor SPDR (XSD) extends its gains and notches another 52-week high this week. Note that the ETF is up around 15% the last three months and it is one of the top performing industry group ETFs. The Semiconductor iShares (SOXX) is also trading at a 52-week high. On the price chart, XSD broke out and the breakout zone in the 45-46 area turns first support to watch on a throw back. A throw back occurs when prices breakout and then return to broken resistance, which then becomes support. The indicator window confirms upside leadership as the price relative broke (XSD:SPY ratio) above its 2015 highs. Overall, it is positive to see this cyclical group leading the stock market.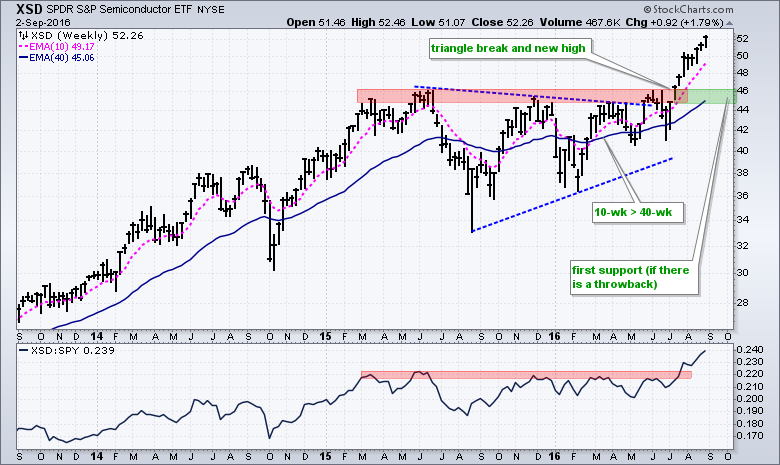 ---
Intel surged over 2% this week and exceeded its 2014 high. The stock already hit a 52-week high in June and this week's high is a multi-year high. Any stock trading at a multi-year high should be considered a chart leader. In a separate, but perhaps related observation, note that Microsoft hit a 52-week high last week. This makes me wonder where DELL would be if it were still trading. Note that the newly formed Hewlett Packard Enterprise (HPE) is trading a new high.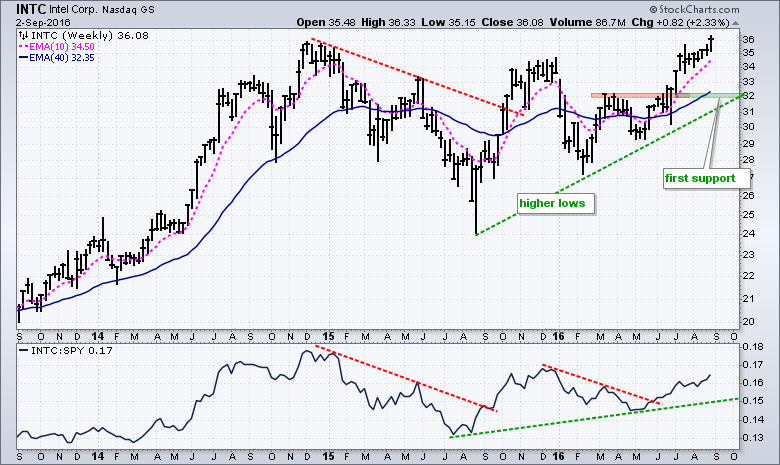 ****************************************
Thanks for tuning in and have a good weekend!
--Arthur Hill CMT
Plan your Trade and Trade your Plan
*****************************************
About the author:
Arthur Hill
, CMT, is the Chief Technical Strategist at TrendInvestorPro.com. Focusing predominantly on US equities and ETFs, his systematic approach of identifying trend, finding signals within the trend, and setting key price levels has made him an esteemed market technician. Arthur has written articles for numerous financial publications including
Barrons
and
Stocks & Commodities Magazine
. In addition to his Chartered Market Technician (CMT) designation, he holds an MBA from the Cass Business School at City University in London.
Learn More