Deutsche Bank dominated the news late in the week, but US banks have been largely unaffected and bullish flags are taking shape in two bank-related ETFs. The charts below show the Bank SPDR (KBE) and the Regional Bank SPDR (KRE) in long-term uptrends. Notice that the 50-day EMAs are above the 200-day EMAs and both ETFs hit their highest levels of the year in late August. Both ETFs pulled back in September, but I view short-term pullbacks as opportunities when the bigger trend is up.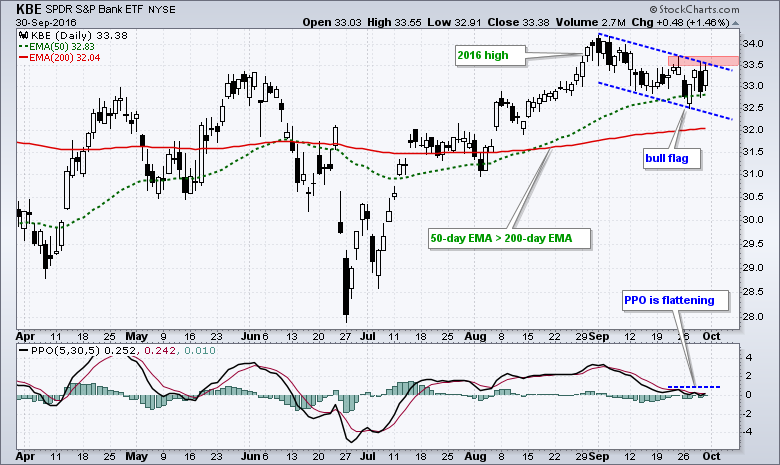 ---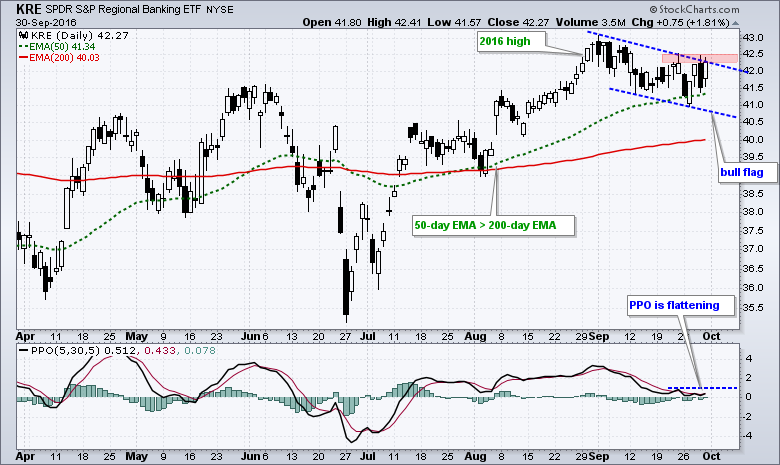 The ETFs pulled back after the August surge and these pullbacks look like bull flags. Note that bullish flags slope down and mark corrections within an uptrend. A move above the late September highs would break flag resistance and signal an end to the correction. This would also signal a resumption of the bigger uptrend. Chartists can also watch the Percentage Price Oscillators (PPOs) because they are flattening and could be poised for an upturn.
Follow me on Twitter @arthurhill - Keep up with my 140 character commentaries.
****************************************
Thanks for tuning in and have a good weekend!
--Arthur Hill CMT
Plan your Trade and Trade your Plan
*****************************************