Technology stocks (XLK) produced gains of more than 10% in the third quarter of 2016, more than double that of any other sector. Industrials (XLI) were the second best group, posting a quarterly gain of 4.80%. We all know the bigger names in technology, so this article will focus on other names in key technology industry groups that perhaps you haven't been paying attention to. Let's start with computer hardware ($DJUSCR).
---
Computer Hardware
Of course Apple (AAPL) is the stock that everyone watches in this space and rightfully so. It's been among the best performing technology stock for decades so why wouldn't we watch it closely? But instead of AAPL, let's focus on the strengthening technical indications of Network Appliance (NTAP). Here's the chart: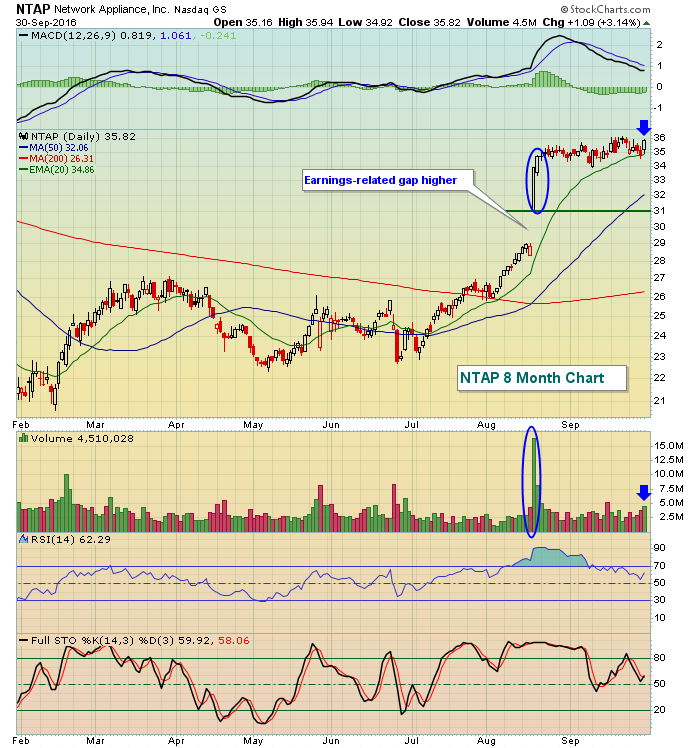 The market's reaction to NTAP's last earnings report was very impressive. It began with maribozu candle, which means that NTAP opened on its low of the day and closed on its high, producing a very bullish hollow candle. Despite the imbalance of orders at the open, putting market makers on the short side, NTAP continued surging higher - very bullish indeed as signs of accumulation were apparent. Friday's action suggests the uptrend could be on the verge of resuming as volume accelerated and NTAP neared another breakout. Finally, that earnings surprise broke a 20 month downtrend line dating back to late 2014. I expect we'll see more positive news out of NTAP in the 4th quarter. Why? Well, for starters, NTAP has averaged gaining 8.7% during the 4th quarter over the past 20 years. It's hard to ignore that fact with technical conditions rapidly improving.
Semiconductors
Ok, we've all heard of Intel (INTC), which rose approximately 16% in the 3rd quarter, and Advanced Micro Devices (AMD), a competitor of INTC that rose a staggering 34% in the past three months, but have you heard of FormFactor (FORM)? There were a number of semiconductor stocks ($DJUSSC) to choose from but FORM posted solid quarterly results that topped Wall Street's revenue and EPS estimates and subsequently broke out to highs not seen since early 2011. Check out the improving technical picture: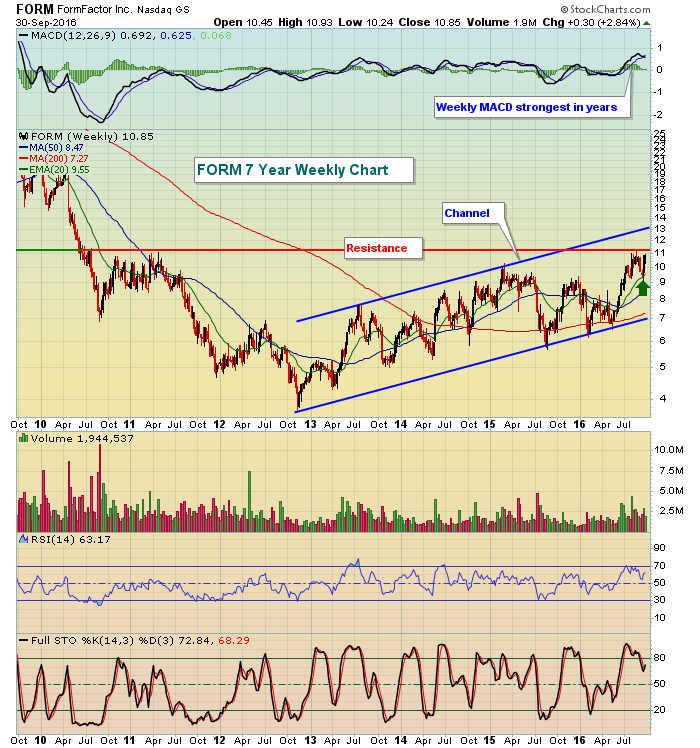 The 11.00 area has been a wall of resistance since FORM's attempt to break through this level in early 2011. A breakout above could result in a parabolic rise because FORM completely fell apart prior to breaking below 11.00 back in the first half of 2010 - on massive volume. It's not unusual to see mirror images on charts so a very quick pop - 50% or more - shouldn't be ruled out during the 4th quarter. One final note: Despite its overall mediocrity during much of this bull market, FORM has produced impressive 4th quarter gains during its current four year channel higher.
Internet
I have posted on many occasions that internet stocks ($DJUSNS) absolutely love the period from September 1 through December 31. Over the past 20 years, every calendar month during the period - September, October, November and December - has risen more than 70% of the time and their average monthly gains have been 4.1%, 10.7%, 1.5% and 2.0%, respectively. That's a lot of gains. So am I surprised that the DJUSNS just posted a gain of nearly 2% in September to help lead technology higher? Not at all. We all know about Alphabet (GOOGL), Facebook (FB) and Baidu (BIDU), which all posted solid quarterly gains between 10-15%, but are you familiar with Carbonite (CARB), which just racked up 58% gains in the last quarter? I'm normally not too excited to chase companies that have posted recent results like this, but the technical picture is improving and a key long-term post-IPO resistance level is approaching as you can see below: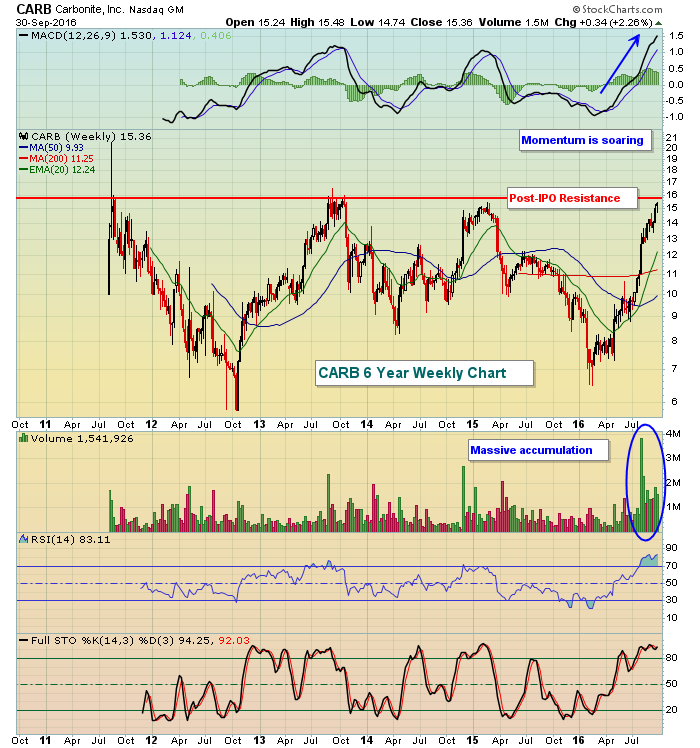 They say a picture can paint a thousand words. Well, in CARB's case, 999 of them are bullish. The only downside to this chart is that CARB is extremely overbought. Should we get a pullback at some point to get closer to that rising 20 week EMA, it'd be difficult to ignore the potential here - especially for those who maintain a higher risk tolerance level. The most impressive part of this chart - besides the price gains obviously - is the massive volume that suggests accumulation. CARB has never had a weekly close above the 15.75-16.00 area. Such a move would likely generate more technical buying interest so keep an eye on this one as we enter a period that is historically very bullish for internet stocks.
Happy trading!
Tom