No one can argue with the fact that the market has been fascinating to watch since the election with all of the major indexes substantially higher since the most recent bottom on November 4. There's been a few minor pullbacks along the way, but not many as traders seem to be eager to jump in on any moves lower. And now traders will have another reason to get excited; earnings season is about to begin!
For a long time now the market has recognized Alcoa's earnings report as the "official" start to earnings season. And AA will report its numbers after the bell on Monday. Then you will see thousands of companies reporting their numbers over the next several weeks.
I have found over the years that many things can move the market, from economic reports to Fed statements to world events. But when everything is said and done the one thing traders care about more than anything else is earnings. This includes earnings for the most immediate quarter as well as guidance for the future.
I have also found that the market can react in very unpredictable ways to numbers. For example, you might see a company beat earnings expectations but go lower. Or, you could see a company miss its earnings expectations and go higher. But in most cases if a company beats earnings expectations and guides higher there is a decent chance it will receive a positive response from the market.
At EarningsBeats we always remind our members to know when any stock they are holding is reporting earnings so they are not surprised once results are released. In fact we have always believed it makes sense to avoid being involved - long or short - in a stock on the day it reports earnings because it's simply too risky. Instead we like to see a company report its numbers, watch the market reaction and then get involved in a trade when there is strong reward to risk potential.
For example, you can see in the chart below that Donaldson (DCI) reported its numbers and gapped up sharply on December 1. But it peaked just above $46 before pulling back recently to its 20 day moving average which potentially presents a much better buying opportunity than it did during the post earnings euphoria. So chasing a stock that explodes higher as a results of earnings is not necessarily the best strategy.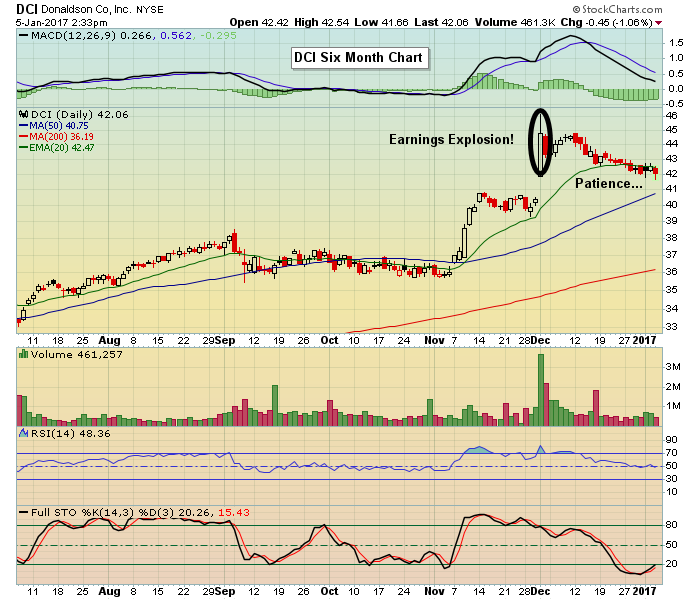 At EarningsBeats we keep track of all companies that report and beat earnings expectations. We then consolidate them into our "Candidate Tracker" for our members to review as potential trading candidates. We also use the Candidate Tracker to issue alerts to our members on those stocks we think are strong reward to risk trading candidates. If you would like to see a sample of the Candidate Tracker just click here.
There are many things to consider when trading but none more important than earnings. This is why you need to make sure you know when companies that are part of your portfolio are reporting their numbers so you can avoid unnecessary risks while looking for profitable opportunities.
At your service,
John Hopkins
EarningsBeats