I had already figured out what I would write about in today's ChartWatchers article, but that was put on hold when I received a Technical Alert in my email box telling me that we had IT Price Momentum Oscillator (PMO) signal changes on both the S&P 500 and S&P 100. These signals are generated on the weekly charts. Now, looking at the DP Scoreboards below, there is a clear story being told. Major markets are bullish in all three timeframes. Of course, the Dow has the a "red arrow" SELL signal left. Let's see how the IT PMO BUY signals came about and look at where the Dow is in relation to the others.
---
---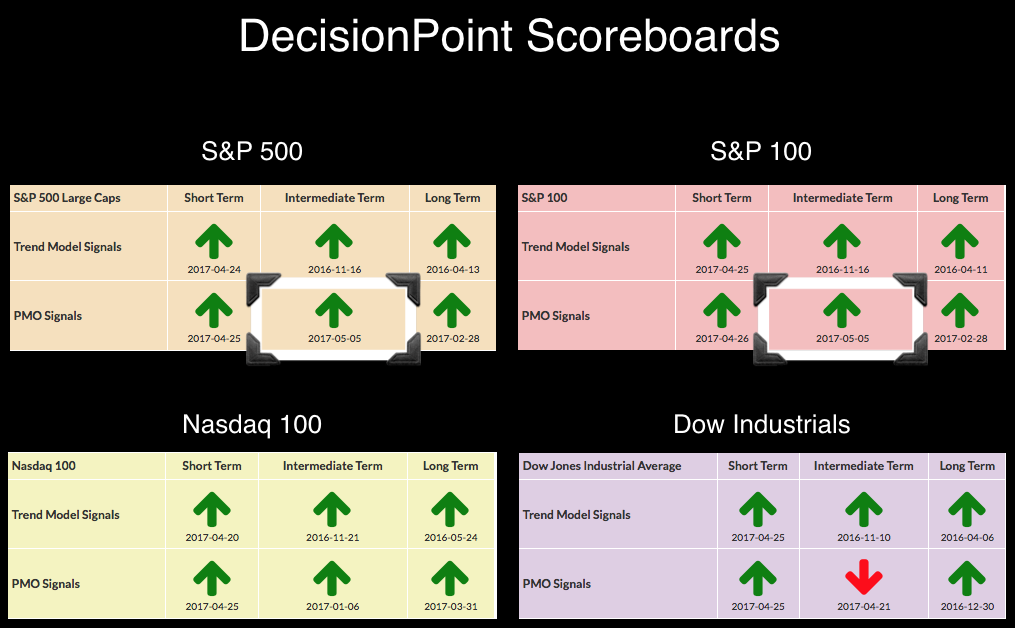 My concern is that the margin is very thin between the PMO and its signal line. We have the same problem we had last week, I'm not particularly confident that this PMO BUY signal will remain. We are currently in a long-term rising trend channel. Price is near the top of the channel which leaves plenty of white space below for price to dip yet still remain in a rising trend. If we see any type of pullback next week, look for these new BUY signals to fall by the wayside.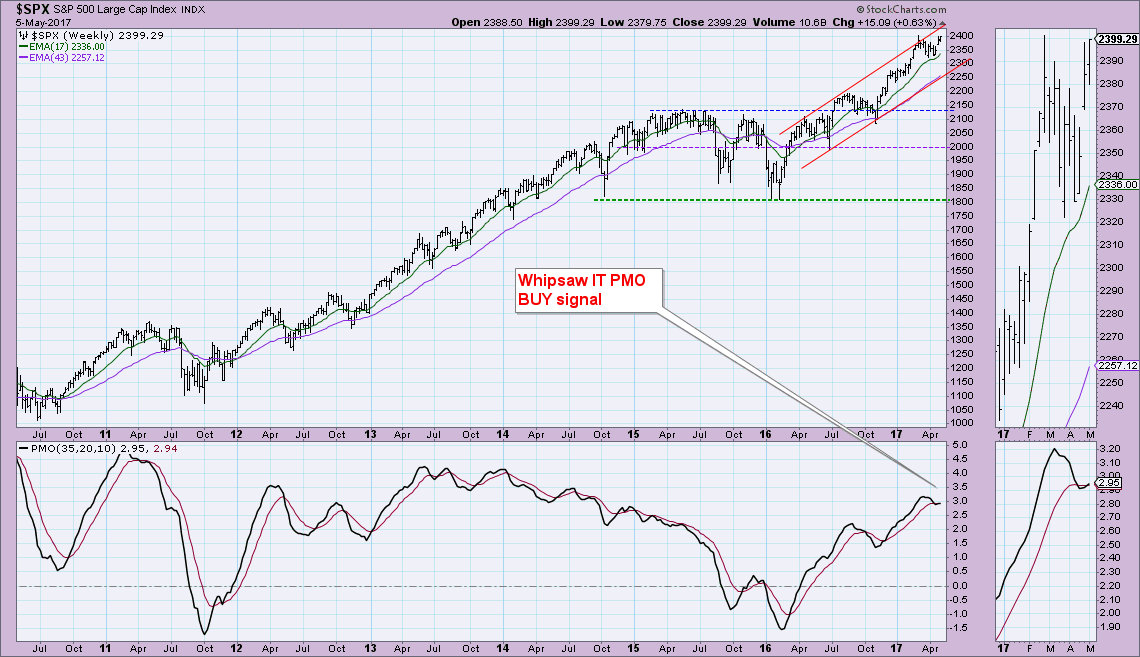 The OEX has actually steepened its rising trend with a breakout. I've opted to leave the current trend channel annotated, as I believe price is vulnerable, like the SPX, to pulling back, yet remaining in a rising trend.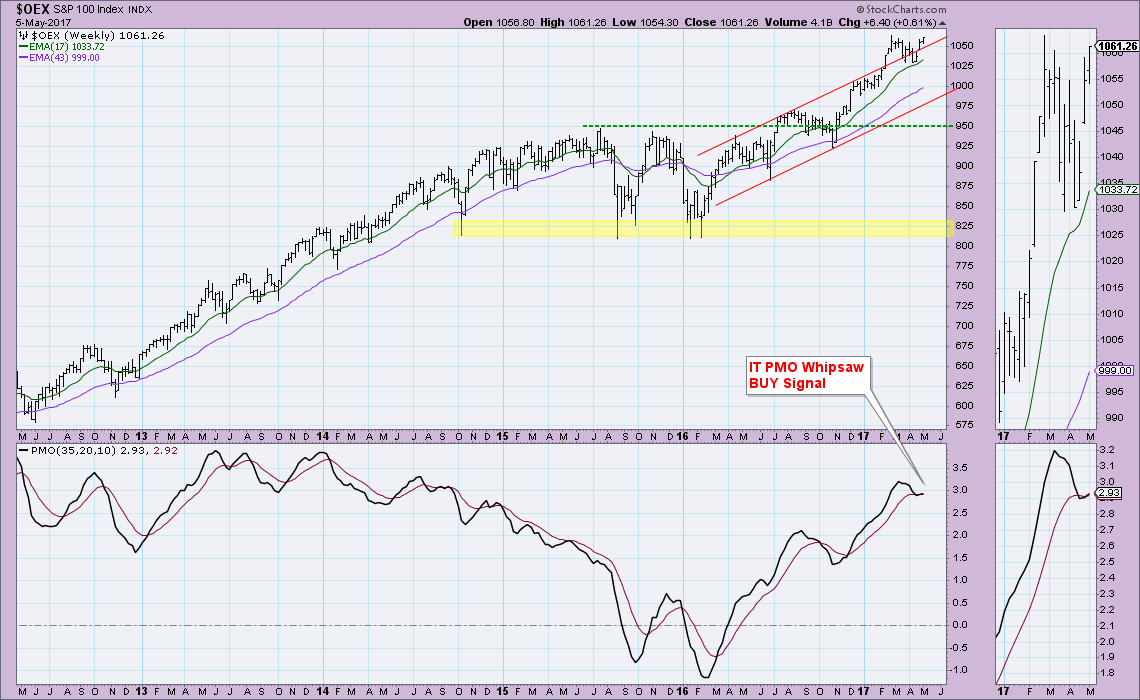 The Dow on the other hand shows an IT PMO still declining. It has flattened which could be implying an eventual turn, but technically it is still falling. I never like to see a week closing higher and not getting an IT PMO to turn back up. There was a gap up last week, followed by another positive close, yet the IT PMO is still in decline...this is concerning.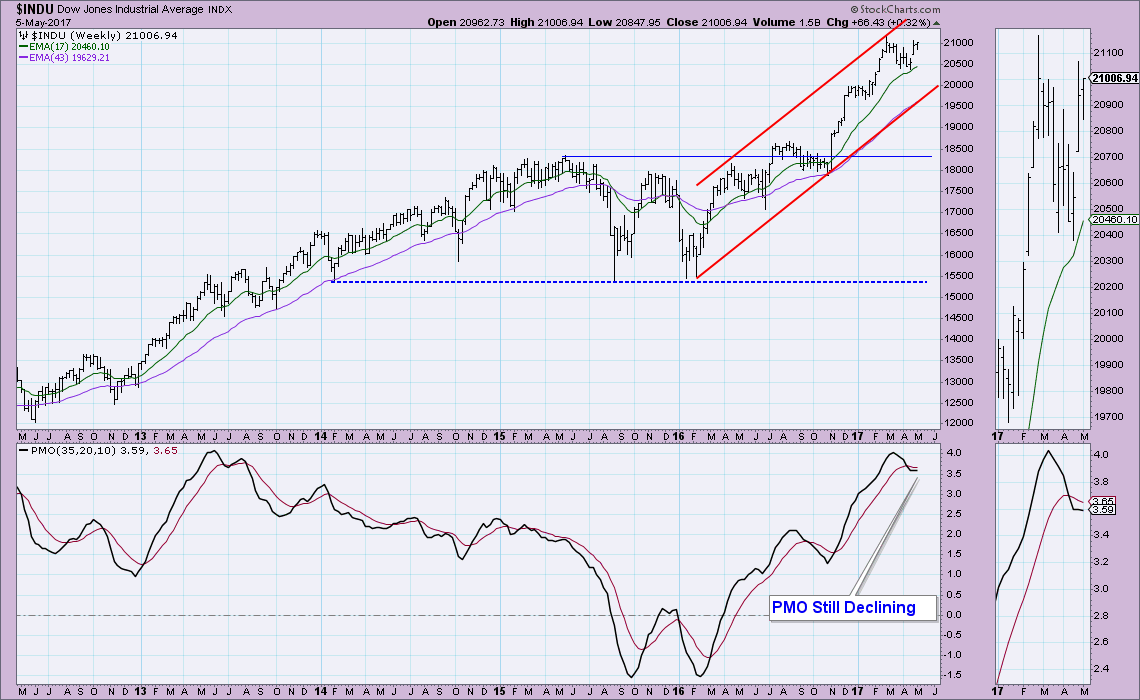 ---
The DecisionPoint LIVE Shared ChartList is available now! Click on the link and you'll find all your favorite DP charts all annotated! Be sure and bookmark it!
---
Technical Analysis is a windsock, not a crystal ball.
Happy Charting!
- Erin