The market has been on fire lately with all of the major indexes hitting all time highs. In spite of some recent weak economic reports, including a miss on Friday's jobs report, and in spite of all of the political "noise" swirling around, stocks have powered higher. In fact, both the NASDAQ and S&P are technically overbought with the Dow not far behind. And the VIX is right near all time lows as it dipped back into the 9's on Friday showing traders are very willing to own stocks.
When the market gets stretched like it is now it starts becoming harder to jump in; who want to jump in when the market could be ripe for a pullback? But in all market conditions there are stocks that have lagged, for whatever reason, that could move higher while "catching up" with the rest of the pack.
---
For example, who wants to chase Amazon, a stock that just crossed 1000, and is up 30% for the year? Of course it could go higher but I like to find stocks that look fundamentally and technically sound that could be readying for a move higher. Here's an example below, Twitter, a stock that recently beat earnings expectations and looks technically sound: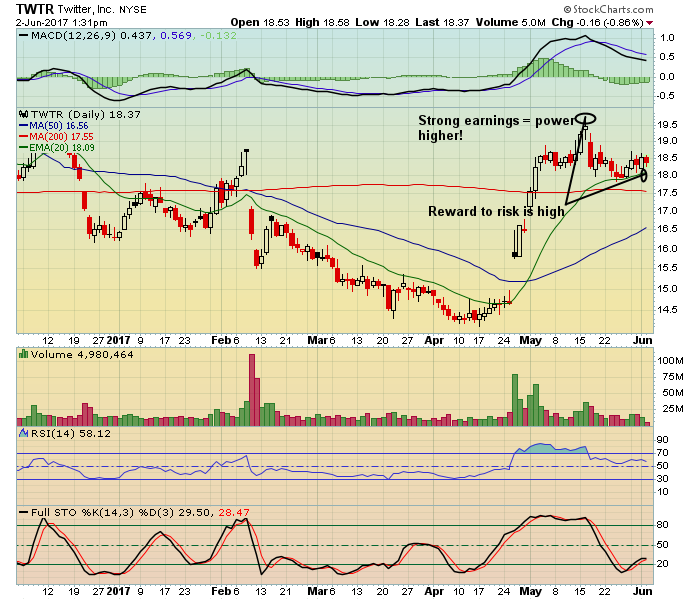 You can see the stock moved up sharply on strong volume after reporting earnings near the end of April. Since then the stock has pulled back and has held above all key technical levels as it moved into consolidation mode. It hasn't participated in the move higher of late but it had moved higher by 35% in just a few weeks and was simply very overbought. But if traders start looking for good reward to risk trading candidates (like we do at EarningsBeats) they would see that TWTR could possibly revisit its most recent high which would be a gain of close to 8%. To the downside a very tight stop of any close below the 20 day moving average - a technical level I would like to see hold - would result in a 1.5% loss. So we're looking at a 5 to 1 reward to risk ratio; I like those odds.
I'm going to conduct a Webinar this Tuesday, June 6 at 4:30 PM eastern. During this webinar I will share some stocks that look both fundamentally and technically sound and could be ripe for a move higher. If you want to join me for this FREE webinar just click here.
The market has show tremendous resilience since last year's presidential election. Every time it looks like the market is ready to cave the bulls step in, right on cue. Now with the market at record highs it has become tougher to find stocks that might still have some gas left in the tank, but they do exist. The key is to make sure they are both fundamentally and technically sound.
At your service,
John Hopkins
EarningsBeats.com