Internet stocks ($DJUSNS) have climbed roughly 44% since their bottom in late June 2016. But there are now negative divergences appearing across various time frames and that suggests the summer time could be a period of consolidation, or even a correction. First, let's take a look at the daily chart:
---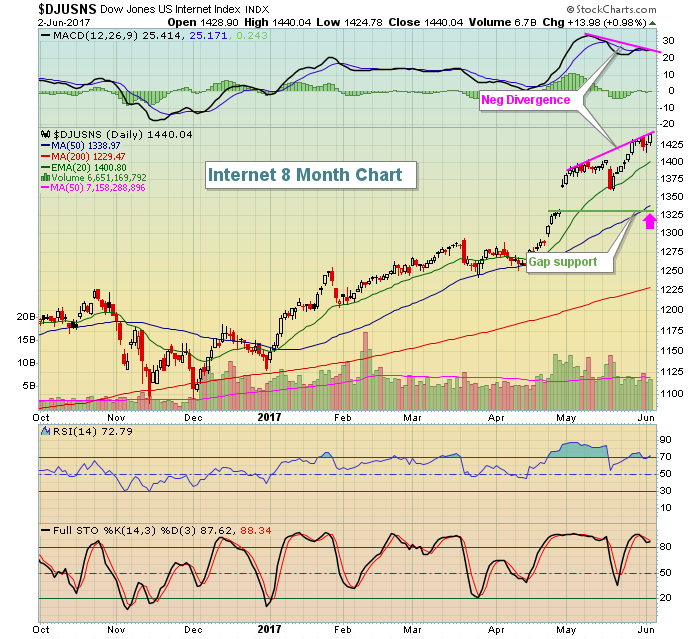 The daily RSI is currently at 73 and there's gap support near 1330 and the rising 50 day SMA support (pink arrow) - a likely target given the negative divergence in play - at 1339. Also, Friday's breakout was accompanied by volume that was just below average - another sign of slowing momentum.
Looking at a weekly chart, long-term momentum is solid. But we're incredibly overbought. Check this out: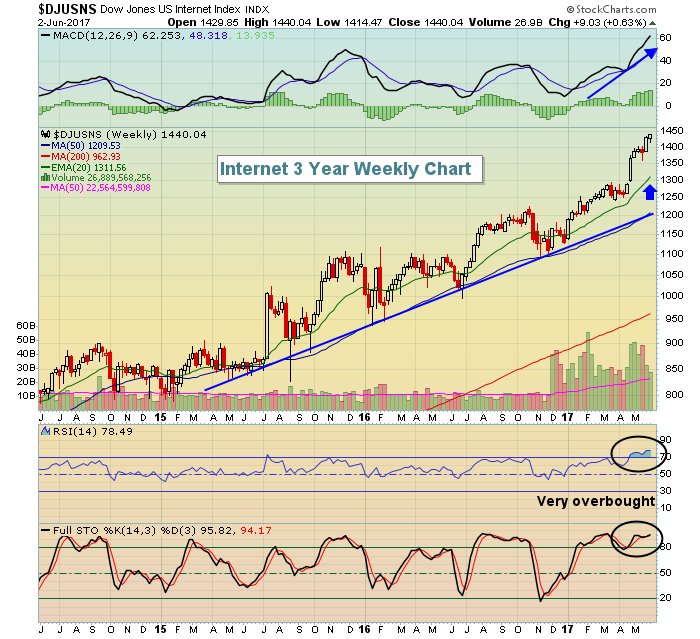 The weekly MACD is making new highs along with price so, from a longer-term perspective, momentum is very solid. However, check out the weekly RSI at 78. This type of reading doesn't occur often and suggests that the current parabolic move to the upside is probably nearing its conclusion with perhaps a correction this summer to unwind the overbought conditions. The blue arrow shows that the rising 20 week EMA is currently at 1312 and is rising rapidly.
Based on the daily and weekly charts, potential downside targets vary from 1312-1339, a potential drop of approximately 100-130 points from the current 1440 level. History would tend to favor some selling this summer as well as June (+0.3%), July (-0.2%) and August (-1.4%) have been the three worst consecutive months in terms of calendar month DJUSNS performance over the past 17 years.
Happy trading!
Tom
About the author:
Tom Bowley
is the Chief Market Strategist of
EarningsBeats.com
, a company providing a research and educational platform for both investment professionals and individual investors. Tom writes a comprehensive Daily Market Report (DMR), providing guidance to EB.com members every day that the stock market is open. Tom has contributed technical expertise here at StockCharts.com since 2006 and has a fundamental background in public accounting as well, blending a unique skill set to approach the U.S. stock market.
Learn More