Several of my recent messages have focused on the divergence between large and small cap stocks. Wednesday's message suggested that part of that divergence was due to stronger foreign markets. Large cap multinationals do better when foreign markets are strong, which is the case at the moment. Small stocks are more closely tied to the U.S. economy. So which one is giving us the right story? Midcap stocks may be giving us the truest story of the state of the U.S. market. That's because they're right in between the two other extremes. So far this year, midcaps have gained 4% which is half as much as the S&P 500 gain of 8%. But it's still twice as much as the 2% gain in the Russell 2000 Small Cap Index (and 4% better than the S&P 600 Small Cap Index). And the midcap chart looks positive. The chart below shows the S&P 400 Mid Cap Index (MID) in a sideways consolidation pattern since its early March peak. In addition, the two converging trendlines look like a bullish "symmetrical triangle" formation. That increases the technical odds for an eventual upside breakout. That would broaden out the market uptrend which has been led mainly by large cap stocks. [Small caps are leading today's market bounce with the Russell 2000 regaining its 50-day average. That's encouraging if it continues].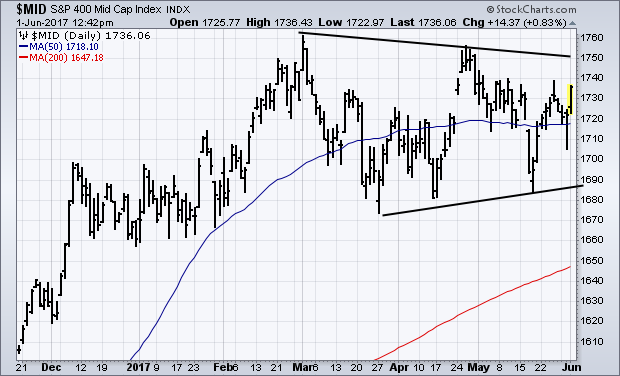 About the author:
John Murphy
is the Chief Technical Analyst at StockCharts.com, a renowned author in the investment field and a former technical analyst for CNBC, and is considered the father of inter-market technical analysis. With over 40 years of market experience, he is the author of numerous popular works including "Technical Analysis of the Financial Markets" and "Trading with Intermarket Analysis". Before joining StockCharts, John was the technical analyst for CNBC-TV for seven years on the popular show Tech Talk, and has authored three best-selling books on the subject:
Technical Analysis of the Financial Markets
,
Trading with Intermarket Analysis
and
The Visual Investor
.
Learn More