Bull markets are fueled by sector and industry group rotation. Throughout the bull market since 2009, we've seen each of the key aggressive sectors take their turn leading on a relative basis. Within each sector, we also see relative leadership and weakness among industry groups. For example, over the past month, aerospace stocks ($DJUSAS) have performed extremely well. In fact, the DJUSAS is one of only two industry groups in the sector that have moved higher and its 4.17% gain over the past month easily beats defense stocks ($DJUSDN). Take a look at the one month performance chart among industrial groups:
---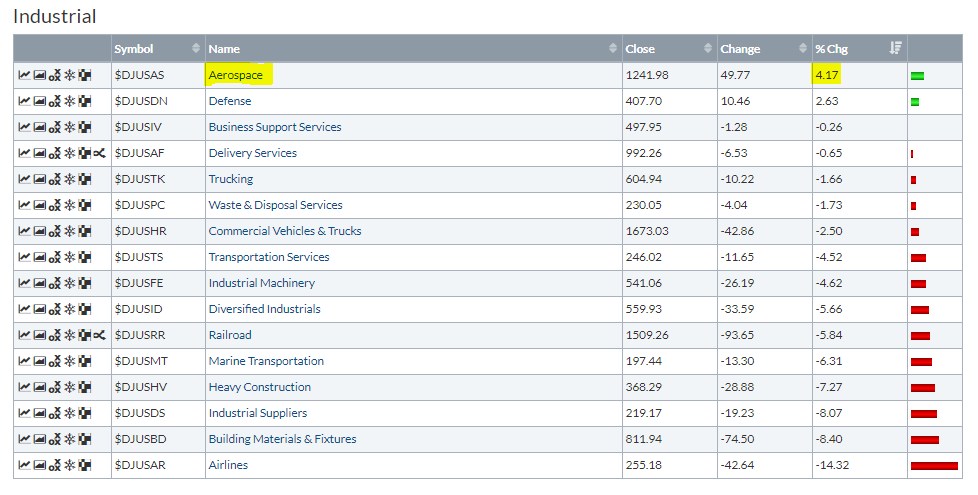 At the other end of the spectrum is airlines ($DJUSAR), where we've this group plunge over 14% in the past month. So far, groups like aerospace have kept the overall market from losing major price support. But we're getting closer and closer to doing just that and, perhaps more importantly, the relative strength from the DJUSAS is becoming quite suspect. Check out the DJUSAS:$SPX ratio below: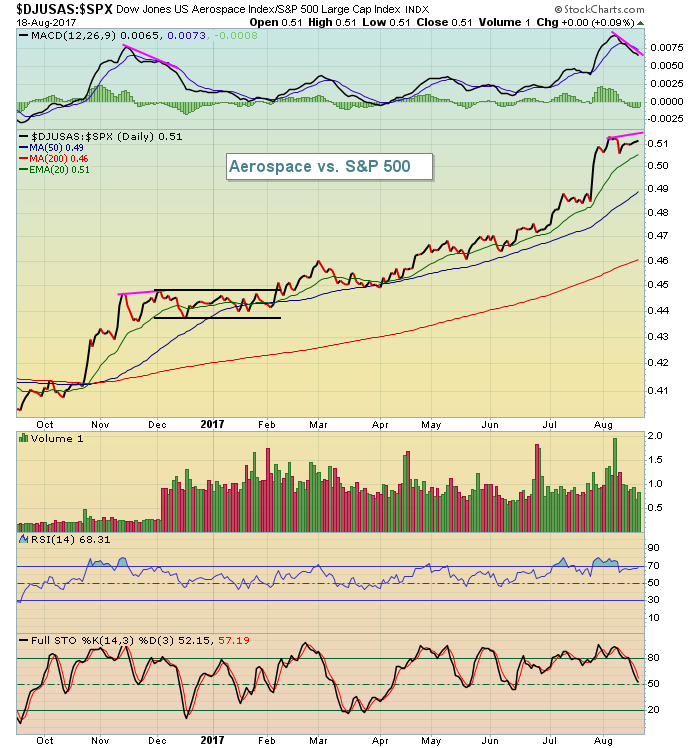 Aerospace has shown significant relative strength over the past year, but this strength did struggle for two months after a relative negative divergence emerged at the early December 2016 high. The relative MACD now looks quite similar to how it looked then so don't be shocked if the stock market loses relative strength from the DJUSAS over the next couple months. It doesn't mean that aerospace is headed lower, but I would expect it to no longer be the leader it's been.
What does that mean? Well, if the bull market is to stay intact and key support levels are to hold, we'll need to see the relative strength torch passed to other areas of industrials, as well as other areas within the S&P 500 (other sectors).
Happy trading!
Tom