Q2 earnings season has come and gone and traders liked what they heard and saw. This is the primary reason the market has come to life, in spite of some things going on out there that might normally spook the market.
For those of you out there who don't know what we do at EarningsBeats it's actually a simple - but powerful - concept. We scan for companies that beat earnings expectations, have strong looking charts and present high reward to risk trading opportunities. I wanted to point this out because an important part of the equation is to exercise patience after a strong earnings report and response, taking advantage of subsequent pullbacks to key technical or price support levels.
For example, look at the chart below on SGMS, a stock that beat earnings expectations, gapped up on strong volume and then pulled back perfectly to a key level of support.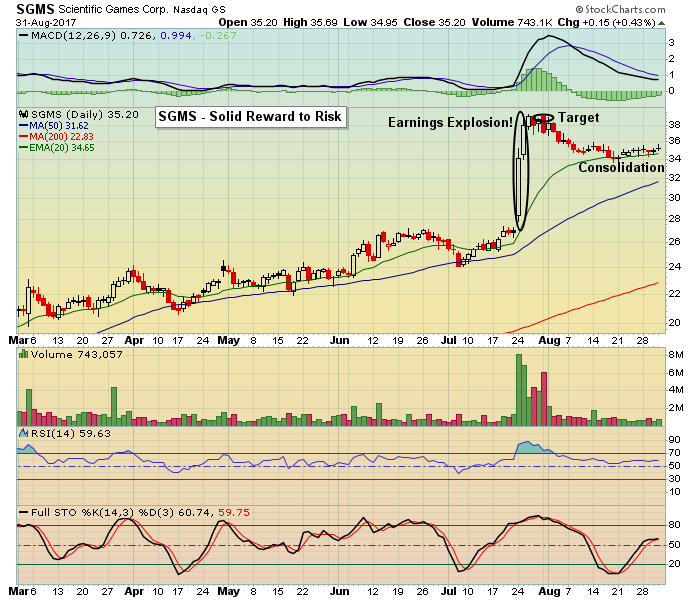 You can see the skyrocket move the stock made over a two day period that resulted in more than a 45% move higher. Yet if you had chased the gap higher you would have been buying in right at the top, and who likes to buy at the top? Instead, this is a case where patience can be rewarded. And this is why we waited to alert our members with an initial entry price of $34.90 on August 10 with a second entry on a pullback to $34 (which did happen) with a stop loss of any close below the 20 day moving average (it held) and a price target of $38.90. In other words, a very high reward to risk potential made possible by exercising patience.
The stocks that we scan for - those that beat earnings expectations and have strong charts - end up in our "Candidate Tracker." If you would like to see a sample just click here.
Finding suitable trading candidates can be very tricky. But if you do your homework you can zero in on those stocks that beat earnings expectations and get a positive market response. These are the types of stocks traders gravitate to and if you can exercise patience as part of the process it has the potential of being very rewarding.
At your service,
John Hopkins
EarningsBeats