A month ago, I posted an article looking at 3 NASDAQ 100 stocks that were looking to make technically significant breakouts. Sirius XM Holdings (SIRI) had a cup in play that, if broken, would measure to 5.90, or nearly 8%. It broke out on heavy volume and hit a high of 5.89, essentially hitting its measurement on the day of the breakout. Automatic Data Processing (ADP) had been sideways consolidating and, with a breakout above 105, appeared poised for a trip to 117. One day after breaking out, ADP surged to 120, reaching its nearly 12% profit target. Finally, there was Verisk Analytics (VRSK), which had consolidated for months and I was awaiting a breakout above the 86 level. VRSK did finally make the breakout in mid-July, topped near 88 and quickly fell back, closing just beneath 83 on Friday.
---
There's one lesson to take away from these three potential trades and how well they worked or didn't work. SIRI and ADP exploded through resistance on very heavy confirming volume and both quickly made their measurements. VRSK broke above resistance on very average volume and that rally ultimately failed. Many times, accompanying volume is the difference between a successful trade and a failure. I have much more confidence in a trade where a breakout is accompanied by heavy volume as it shows accumulation rather than manipulation.
Here's another look at NASDAQ 100 components with a couple stocks featured:
1. Biogen (BIIB):
The first thing I like about BIIB is its industry group - biotechnology ($DJUSBT). I see building momentum in this space with one breakout after another. BIIB has pulled back to its rising 20 day EMA after recently threatening a breakout so it looks good on the daily chart. On the weekly chart, there've been several attempts to clear 300 price resistance. I see it happening within the next month: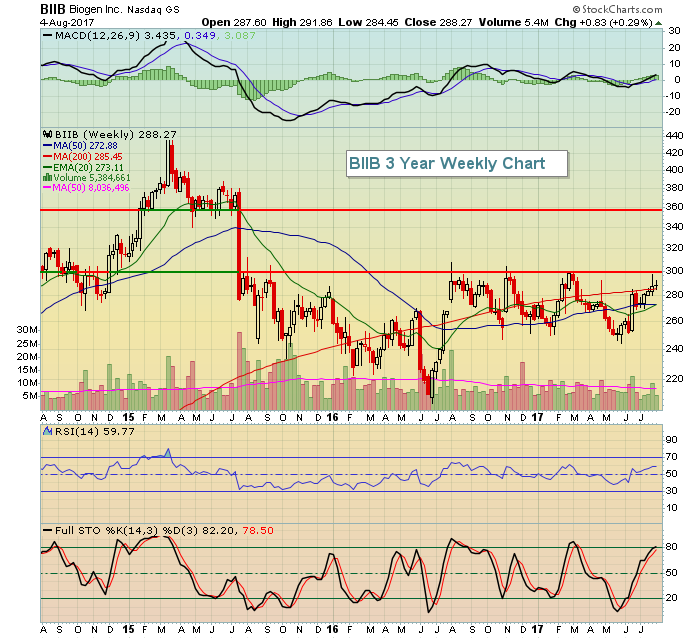 2. PACCAR, Inc. (PCAR):
On the long-term chart, PCAR has been uptrending for the past 18 months. It did, however, recently pause and test its rising 50 week SMA as it formed a rounded bottom in its current cup with handle formation. Have a look: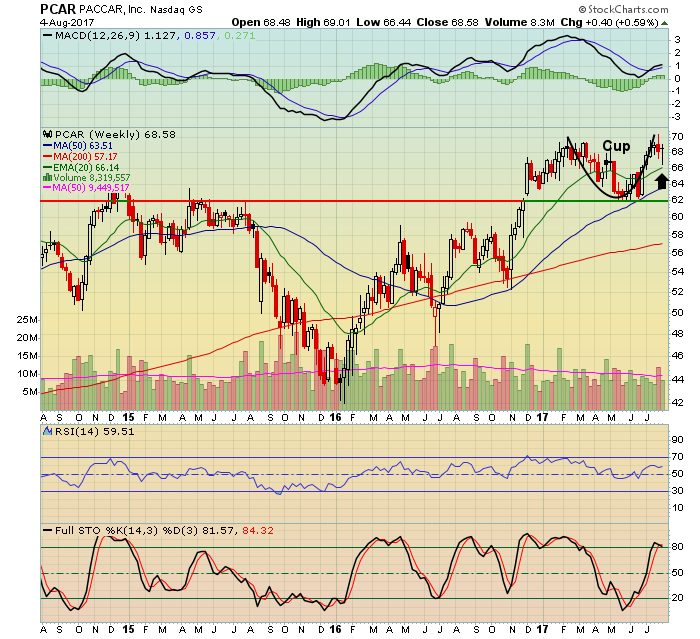 A breakout above the top of the cup (near 70) would result in an anticipated measurement or target of 78. Watch the rising 20 week EMA as I'd expect to see that continue to hold as support on any selling episodes.
Happy trading!
Tom