Doubles Tops are forming in two key ETFs, the Semiconductor SPDR (XSD) and the Consumer Discretionary SPDR (XLY), and chartists should watch these important groups for clues on broad market direction in the coming week or two. First, let's talk about the Double Top. These patterns form with two peaks near the same level and an intermittent trough that marks support. A break below support confirms the pattern and targets a move based on the height of the pattern.
Achtung! A Double Top is just a POTENTIAL Double Top until confirmed with a break below the intermittent low. In other words, the trend is still up as long as support holds. Furthermore, Double Tops are bearish reversal patterns and trend continuations are more likely that trend reversals.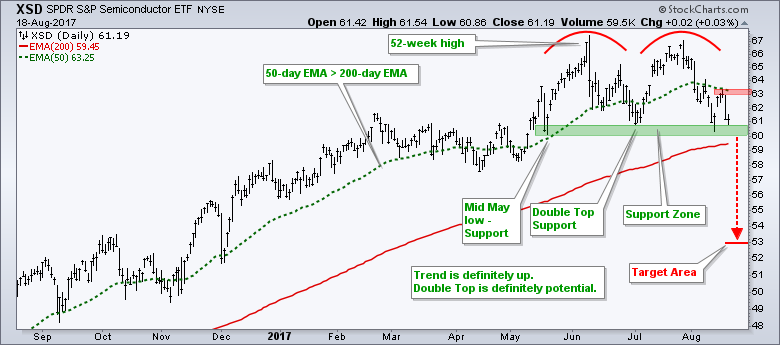 ---
The chart above shows a potential Double Top brewing in XSD over the last three months or so. Because this is an ETF with dozens of moving parts (components), I am marking a support zone using the mid May low and the June low. A close below 60 would confirm the pattern and project a move to the 53 area. Note that the height of the pattern is 7 points (~67 to ~60). As long as XSD is near support, chartists should also be on guard for a bounce off support and break above first resistance at 63. The next chart shows a Double Top brewing in XLY with similar characteristics.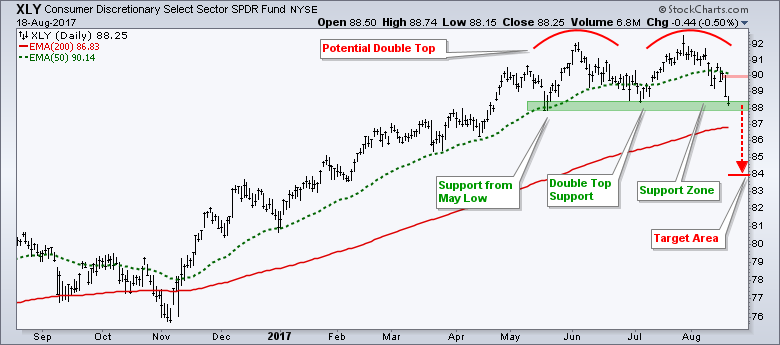 A number of things can happen going forward on both charts. First, support could hold and the uptrend could continue from here. Second, support could fold and the Double Top could play out. Third, there could a support break and then a bounce off the rising 200-day EMA (bear trap). Just keep an open mind and prepare for different outcomes.
The Semiconductor SPDR (XSD) is a broad-based ETF with 35 stocks. Quick! Can you guess the top two holdings? Stop for a moment and think.....Would you have guessed First Solar (FSLR 4.33%) and SunPower (SPWR 3.77%).? I certainly would not have guessed those two. According to SPDRs.com, the top ten stocks account for around 35% of the ETF. The Consumer Discretionary SPDR (XLY) is a market-cap weighted sector ETF with Amazon weighing in at a whopping 15.13%. According to sectorspdr.com, the top ten components account for around 57% of the ETF. Chartists interested in XLY should also watch AMZN, CMCSA, HD, DIS and MCD.
Follow me on Twitter @arthurhill - Keep up with my 140 character commentaries.
****************************************
Thanks for tuning in and have a good day!
--Arthur Hill CMT
Plan your Trade and Trade your Plan
*****************************************