One of my trading strategies is to trade the best stocks in the best industries at the best price. Sounds easy enough, right? But what does this mean exactly? Well, first I take a top down approach and review every industry group within each aggressive sector - technology, industrials, financials and consumer discretionary. Below are my favorites in each of these sectors and why.
---
Technology
If I simply looked at recent returns, computer hardware ($DJUSCR) and software ($DJUSSW) would top my list as they've both risen more than 5% over the past three months and they've outperformed all of the other industry groups in this sector. But this exercise isn't about what's performed well the last three months. It's about what looks to perform well the next three months. Both the DJUSCR and DJUSSW have broken out with weekly negative divergences in play. That doesn't mean they'll drop over the next couple months, but it does suggest there's more risk involved in trading these groups. Should we see a market downturn in September, I'd be shocked if computer hardware and software weren't among the biggest losers.
So what looks good? I'm going with computer services ($DJUSDV). Here's an industry that's actually been down (-0.77%) the past three months as it consolidates in a bull wedge. Weekly RSI has just bounced off of 40 support and this is looking very reminiscent of the summer consolidation in 2016. Check out this chart: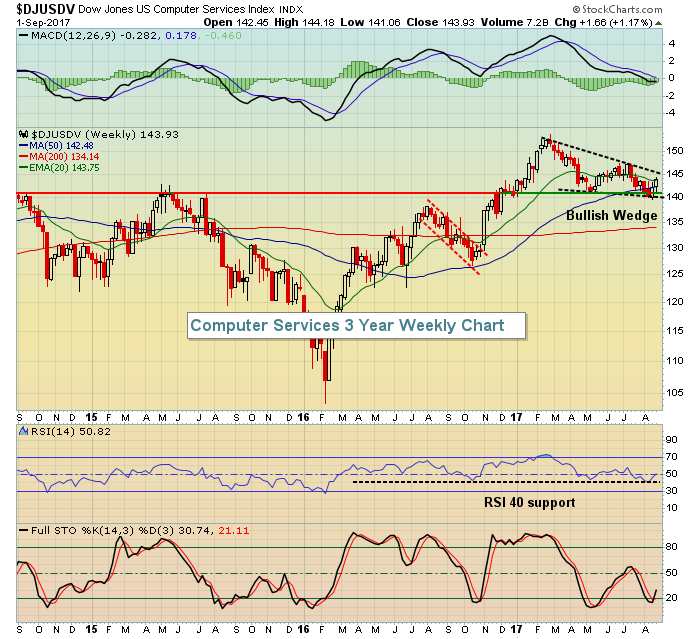 Stocks to consider: Wipro (WIT), VeriSign (VRSN), Leidos Holdings (LDOS)
Honorable mention - index: Mobile Telecommunications ($DJUSWC)
Industrials
This time I will select one of the industry groups that's performed quite well over the past three months. The Dow Jones U.S. Delivery Services Index ($DJUSAF) has gained nearly 7% over the past 90 days, trailing only aerospace ($DJUSAS) and truckers ($DJUSTK) within the industrials sector. I chose the DJUSAF because it is currently consolidating in a bullish continuation cup with handle pattern that measures another 12% higher on a breakout of cup resistance. Here's the visual:
Stocks to consider: FedEx Corp (FDX), Atlas Air Worldwide Holdings (AAWW), Air Transport Services Group (ATSG)
Honorable mention - index: Truckers ($DJUSTK)
Financials
Next up is the most difficult sector to judge. Why? Well, financials are significantly impacted by the direction of the 10 year treasury yield ($TNX). When the TNX rises, banks ($DJUSBK) and life insurance ($DJUSIL) are primary beneficiaries. But when the TNX declines, others like REITs ($DJR) tend to perform better. I'm going to stray outside these areas, however, and select the real estate services group ($DJUSES). I love the sustained advance in 2017 with predictable pullbacks to and then bounces from price support and its rising 20 day EMA: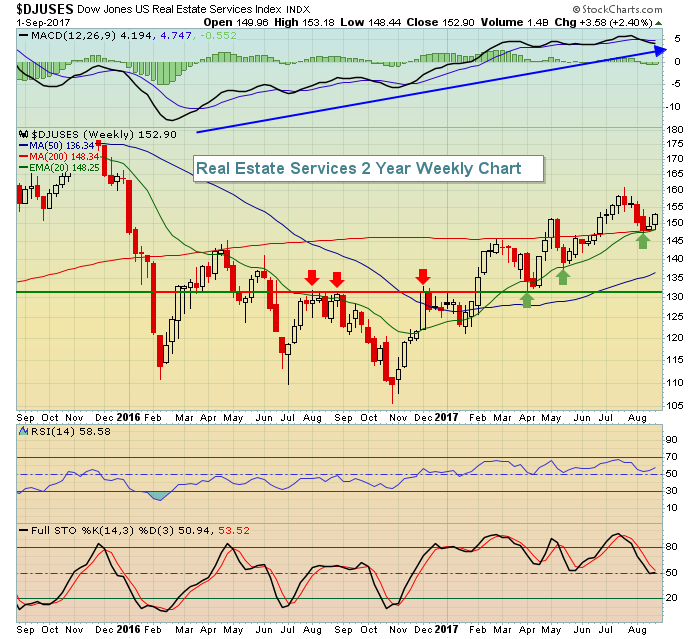 Stocks to consider: Realogy Holdings (RLGY), CBRE Group (CBG)
Honorable mention - index: Asset Managers ($DJUSAG)
Consumer Discretionary
In my Friday Trading Places blog article, I featured an industry group within this sector that was on the verge of making a 3 1/2 year breakout. It made the breakout on Friday and is clearly my favorite within this sector. You can CLICK HERE to link to my Friday article, then scroll down to "Sector/Industry Watch" for more details.
September is known for its unpredictability and, in some instances, severe drops. That makes it imperative to stick with areas of the market that aren't ridiculously overbought or that are void of nasty negative divergences to improve your odds of trading success. As always, keep your stops in place. Sometimes, a small loser is a great trade.
Happy trading!
Tom