The EW S&P 500 ETF, S&P MidCap SPDR and S&P 500 SPDR moved to new highs this week, but the S&P SmallCap iShares and Russell 2000 iShares are lagging and remain below their early October highs, which were 52-week highs. The PerfChart below shows the performance for seven major index ETFs this month. SPY, MDY, QQQ and DIA are leading with gains exceeding 2%. IJR and IWM are lagging with gains around 1%.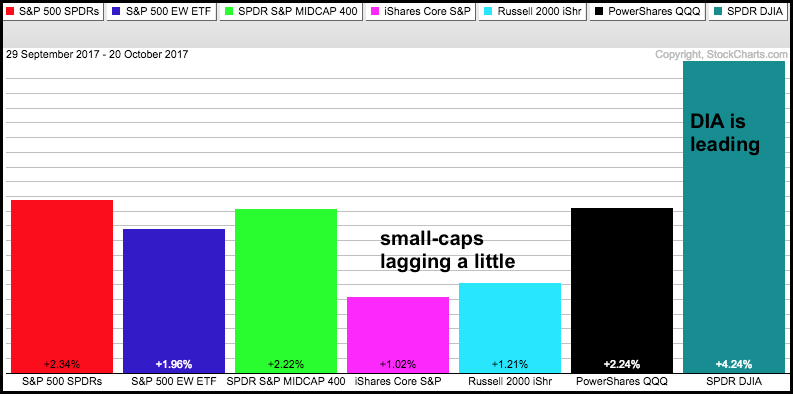 ---
Even though IWM and IJR are lagging this month, I would not feel too bad for small-caps because they are still leading since mid August. The chart below shows both surging over 12% from mid August to early October and then correcting with falling flag patterns. These are bullish continuation patterns that typically form after a sharp advance. The downward drift represents a correction, which can be the pause that refreshes. It looks like these corrections ended on Friday as both ETFs broke above their flag lines with gaps.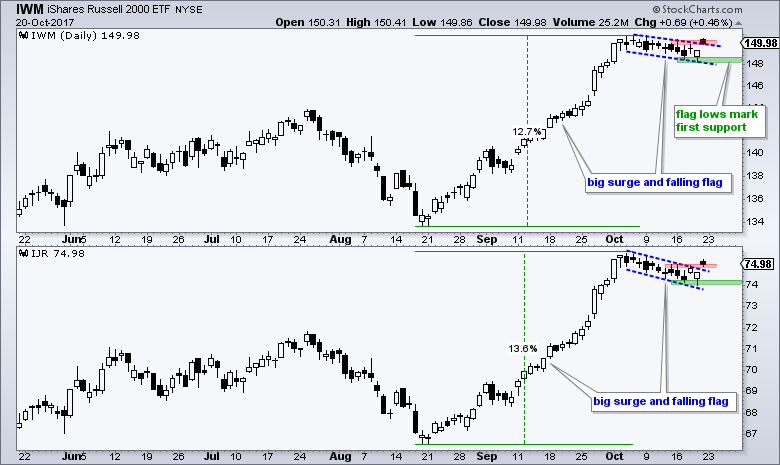 Follow me on Twitter @arthurhill - Keep up with my 140 character commentaries.
****************************************
Thanks for tuning in and have a good day!
--Arthur Hill CMT
Plan your Trade and Trade your Plan
*****************************************