There are different ways to view best seasonal stocks depending on whether you're interested solely in average returns for a particular month or time period or if you're interested in the percentage times that a security rises for a particular month or time period. Thus, is consistency more important or the absolute returns? I'll concentrate on the latter. The following list of stocks highlights the best performing stocks during the month of November on the S&P 500 (average November returns):
---
Akamai (AKAM): +16.2% (last 10 years: -0.3%)
*Citizens Financial (CFG): +14.0
Equinix (EQIX): +13.1% (last 10 years: -1.3%)
NVIDIA (NVDA): +12.0%
*CSRA Inc (CSRA): +11.7%
Advanced Micro Devices (AMD): +11.5%
Red Hat (RHT): +11.5%
*Navient (NAVI): +10.8%
*Synchrony Financial (SYF): +10.8%
Autodesk (ADSK): +9.9%
American Tower (AMT): +9.9% (last 10 years: -1.1%)
eBay (EBAY): +9.8% (last 10 years: +0.0%)
Corning (GLW): +9.8%
Amazon.com (AMZN): +9.5%
Mettler Toledo (MTD): +9.1%
* denotes stocks that have very short histories and, therefore, I'd ignore their seasonal strength. CSRA only shows 3 years of data, while CFG, NAVI and SYF have 4 years of history. All of the others on this list have at least 18 years history, which in my opinion, is much more reliable.
Let's weed out several stocks from this list before we review technical conditions. The above "Top 15" list for November is reduced by the number of short history stocks (4) and I'm also ignoring those that have poor November histories over the past ten years. They include AKAM, EQIX, AMT and EBAY, so four more. That leaves me with the following seven stocks:
NVDA
AMD
RHT
ADSK
GLW
AMZN
MTD
The next question becomes, "do I like any of these stocks technically as we approach November?"
Of these stocks, NVDA and RHT, are very overbought on their weekly charts. They could certainly push higher in November, but the overbought conditions present more risk. ADSK has a negative divergence on its weekly chart, but continued price strength could eventually eliminate it. AMZN had a negative divergence and its recent consolidation is helping to alleviate that slowing momentum issue. MTD is overbought and has a negative divergence in place.
The two stocks on this list that are most appealing at today's price would be AMD and GLW and here are their two charts:
AMD:
AMD enjoyed a parabolic rise throughout 2016 and into early 2017, but it has since been consolidating in a bullish ascending triangle pattern. These types of patterns get very frustrating for traders as a stock consolidates, but the eventual breakout can be quite exciting. Will AMD's upcoming earnings report be the catalyst for the breakout? We'll see, but the pattern here is bullish.
GLW: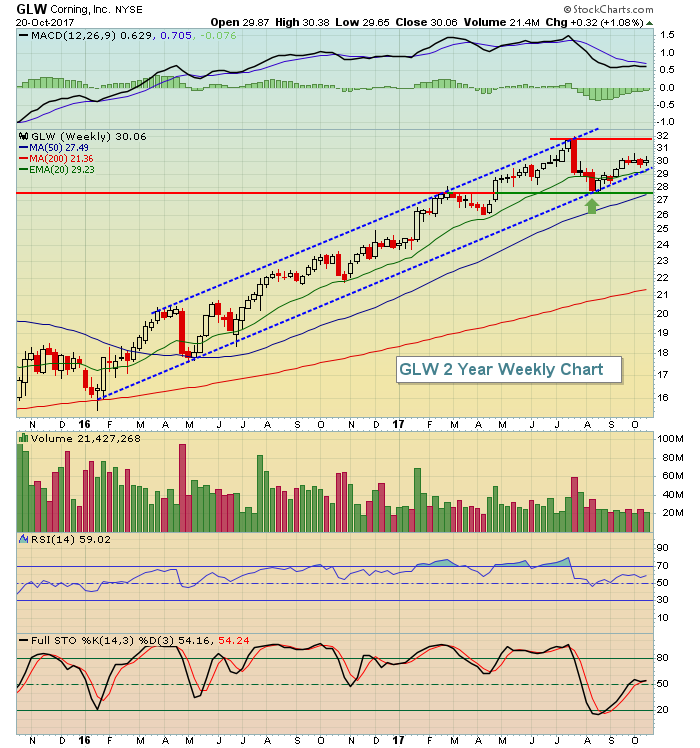 GLW has traded in a well-defined up channel for two years. It has consolidated since its top in mid-July, allowing its overbought RSI to fall from 80 down to the 40s a few weeks later. While volume increased during the selling in July, GLW did not violate price nor channel support and is poised to continue its longer-term ascent. The key accumulation range is from price support (27.60) to channel support (approximately 29.50). I'd be looking for GLW to challenge, and perhaps exceed, its summertime high over the next couple months.
On Friday, I provided a seasonal look at both the S&P 500 and NASDAQ 100 stocks (best and worst). If interested, you can CLICK HERE to check that out.
Happy trading!
Tom