Earnings Season is winding down. So far it's been quite positive. How do I know? Just look at the overall market.
We certainly saw strong earnings from the tech giants including Amazon, Apple, Facebook and Google. In fact all of these are ripe for nice trades IF you are willing to be patient.
As an example, take a look at the chart on Amazon below which rose sharply on massive volume after they reported their earnings.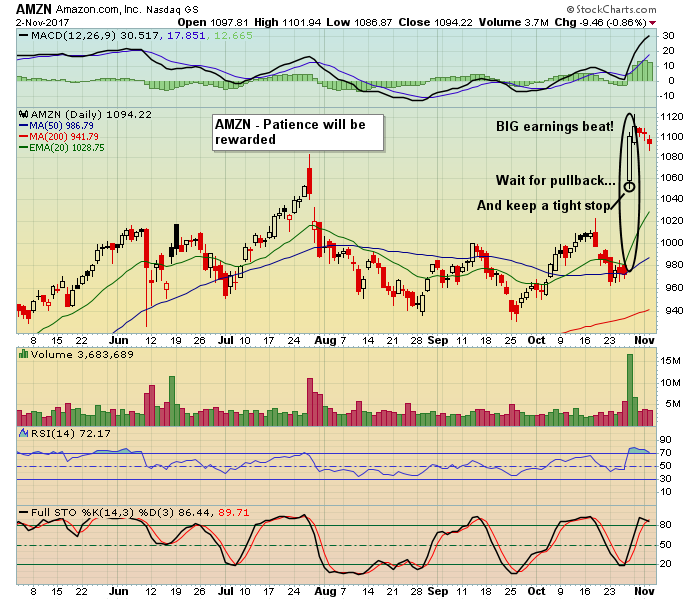 It would have been great to have owned the stock into the earnings report but we have found this to be a risky proposition; there's no telling how the market might respond to an earnings report. But the next best thing is to let an earnings event take place and then wait for a strategic place to get involved in a trade. In the case of AMZN it was higher by 15% within two days of its earnings report. It has pulled back some since then but could pullback even further where it could become a high reward to risk trading candidate.
There are MANY stocks that have beaten earnings expectations and risen sharply. So it becomes a matter of identifying the "best of the best", determining proper entry, price target and stop loss levels, then executing the trade while being very disciplined. This means taking profits on those trades that are successful and taking losses on those that do not work out. In fact I've decided to conduct a webinar this Monday, November 6, that will include StockCharts.com's Senior Technical Analyst, Tom Bowley, where I will be revealing specific stocks that beat earnings expectations and could become high reward to risk trading candidates. Tom will also discuss how you can create your own Chart Lists while identifying those characteristics you feel are most important when trading. If you want to join us, just click here for additional information.
Earnings season brings with it additional excitement while presenting many opportunities for those who do their homework. The first step is identifying those companies that beat earnings expectations and then exercising patience while getting involved in trades on your terms.
At your service,
John Hopkins
EarningsBeats