I love to combine bullish seasonality with strong or strengthening technical conditions. As we move into December, it's important to realize that there has been no better month for the S&P 500 since 1950 than December, which has produced annualized returns of +19.51%. Also, December has resulted in rising S&P 500 prices 50 of the last 67 years, easily the best such month of the year. So we know that history is on our side to look for long trades.
---
So which individual stocks also perform well in December and beyond? Well, I examined all 500 stocks in the S&P 500 and here are two of the best seasonal performers and I can make technical bullish arguments for both as well:
1. Biogen, Inc. (BIIB)
BIIB is in the biotechnology area ($DJUSBT) and this group has been dormant for the past several weeks after leading the bull market over much of the summer months. I'm seeing bullish signs of returning leadership in the DJUSBT and BIIB could be a significant beneficiary if I'm right. Take a look at the charts: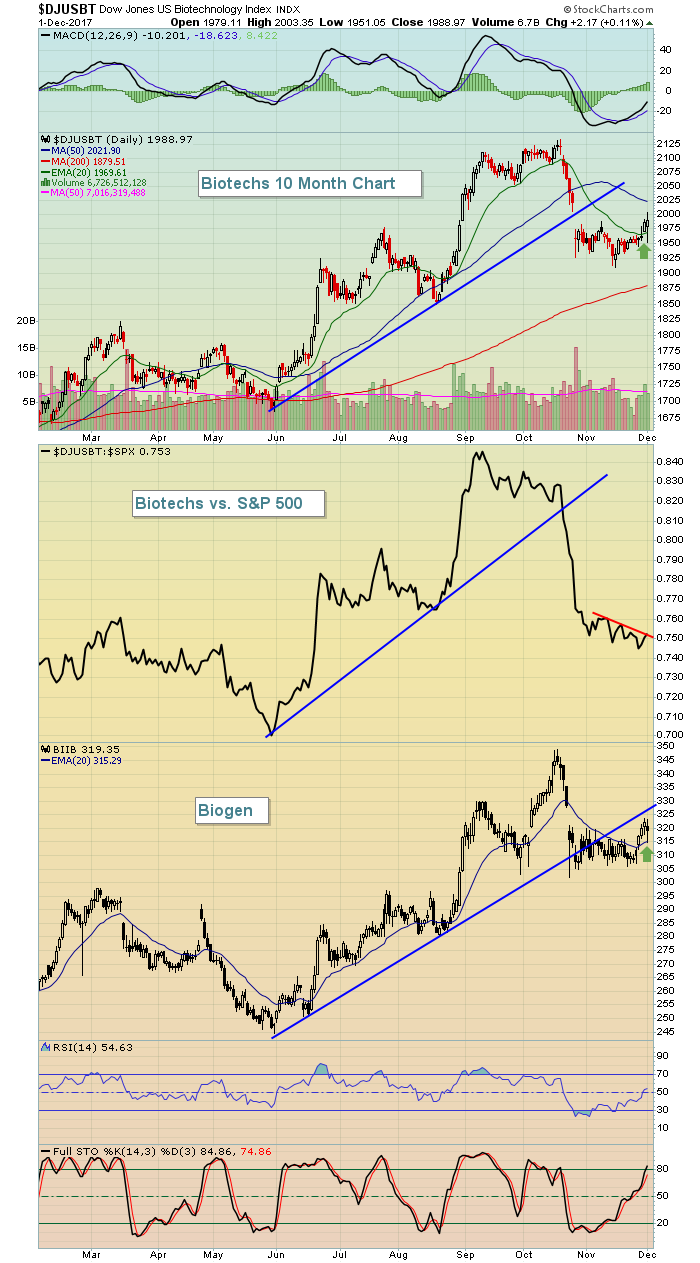 I like that the biotechs have moved back above 20 day EMA resistance. BIIB has done the same. Note that on Friday, they both tested support at their now-rising 20 day EMAs and they held. From a seasonality perspective, BIIB has averaged gaining 6.1% and 4.0% in December and January, respectively, over the past two decades. Therefore, I'm of the opinion that the recent breakout above 20 day EMA resistance is not only solid technical evidence, but could also be the catalyst for a two month seasonal advance.
(Disclosure: I own BIIB shares)
2. Helmerich & Payne, Inc. (HP)
Energy (XLE) has been the weakest sector since mid-2014. But over the past three months, energy trails only financials (XLF) as the best performing sector. Recently, the sector saw some profit taking, but it's leadership returned last week and I'm seeing solid reward to risk trades in the energy space. Enter HP. Here's the chart of HP and its struggling industry group: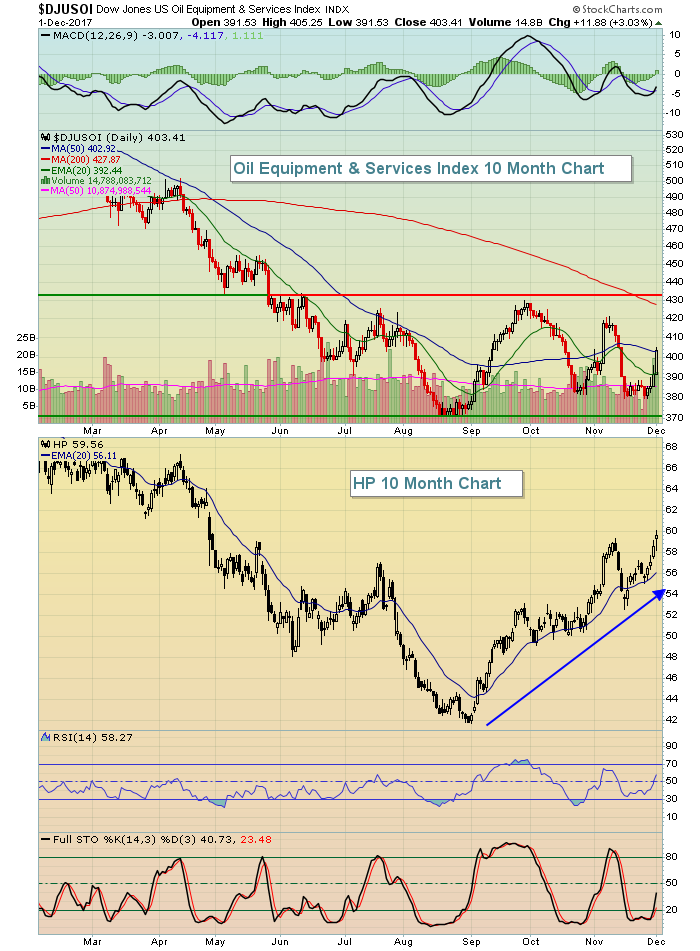 HP's relative strength vs. its peers is fairly evident from its performance the past few months. To add to the technical bullishness, consider that HP has averaged gaining 22% from December through April over the last 20 years. December clearly begins its best seasonal period and, based on history, the current strength could just be beginning.
So is there one stock to think about avoiding as we enter December? Yes.
1. HanesBrands, Inc. (HBI)
HBI recently tumbled on very heavy volume in early November. We've since seen the stock rebound, but it's just moving into a gap resistance zone and is not too far from hitting a declining trendline. It's not exactly in a great technical position as you can see: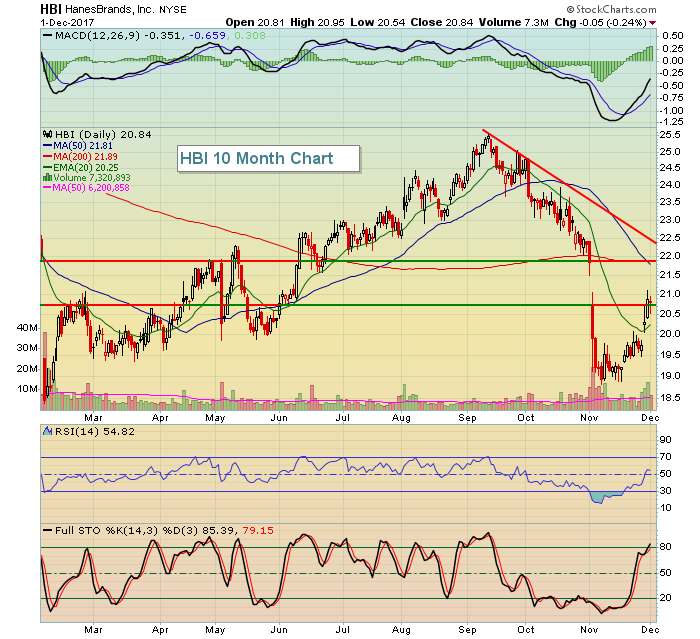 An equally significant issue could be its seasonal history, which turns bearish in December and lasts for two months. HBI has averaged losing 2.0% and 3.8% in December and January, respectively, over the past 20 years.
Happy trading!
Tom