One of key principals of a global bull market is the major moves in the sectors as the market expands. As we head into 2018, there are a significant number of charts that suggest we could be on the platform for a significant move in commodities. The Commodities Countdown blog tries to show some of the major themes, including oil off the July lows. One of the major setups now is the metals. The chart of the steel ETF has been consolidating for months. Copper has had a great run this year, and with the love of electric vehicles (EV), looks set for many great years ahead. Along with copper, metals like zinc, cobalt, lithium, nickel, and iron all have uses in the global transition to EV.
Five global mining companies shown below all look to be pausing on the weekly charts. Teck, Vale and Freeport McMoran have turned up the full stochastics. BHP and Rio Tinto still have declining full stochastics. These companies have all consolidated big moves from 2016 and look set to go on another run. Adding them to your watchlist will help you catch the move.
Teck Resources has moved above 75 on the SCTR which is a fresh entry into the top performing stocks. The full stochastics have turned up. The $26 level is very important, as it marks the 2016 high and a year of consolidation. With the head/shoulders base setting up through 2017, a breakout from here would be very bullish.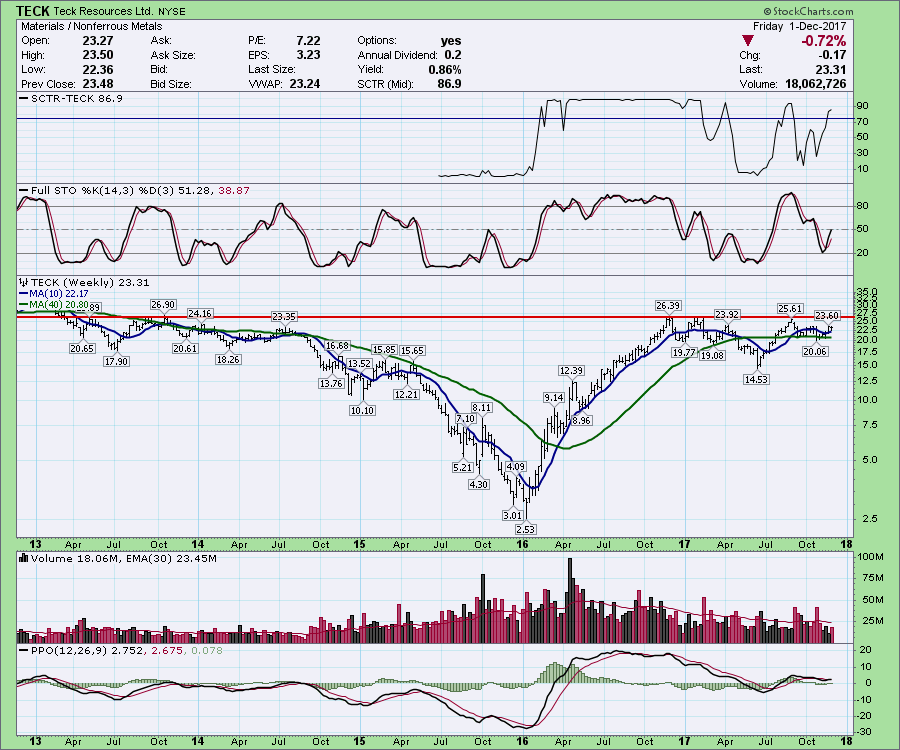 ---
Freeport-McMoRan looks similar to Teck. The SCTR and the full stochastics don't look quite as bullish but the stock has consolidated sideways in a tight range since July. A break above $16 would be worthy of attention and a push through $17 suggests the 2-year highs will be a major break.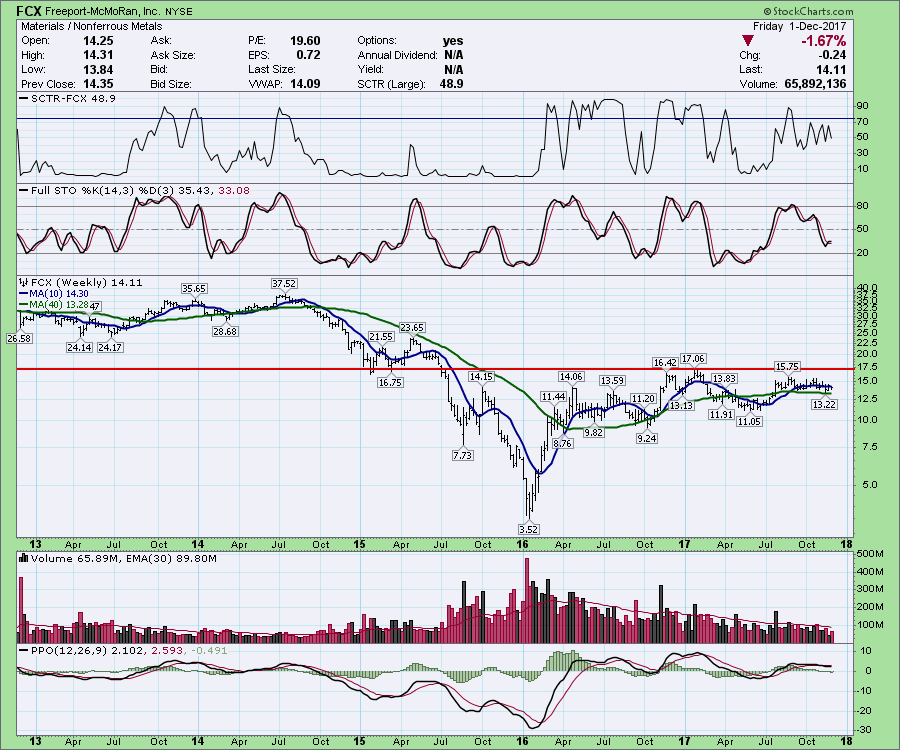 Vale tried to breakthrough the highs this week. The full stochastics have turned up and the SCTR is above 75. Don't ignore three-years highs on one of the world's biggest miners.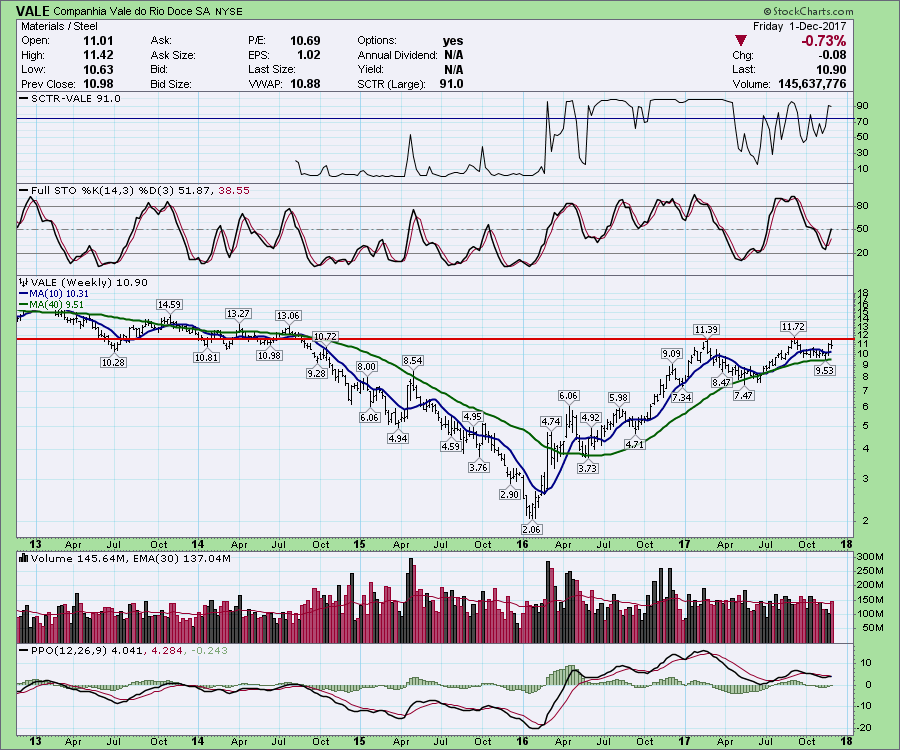 BHP Billiton is testing a major support resistance level currently. The price action for the last 4 months has traded in a tight range. A break above $44 could turn this sideways consolidation up to target for the $56 level. Nothing wrong with a 25% move.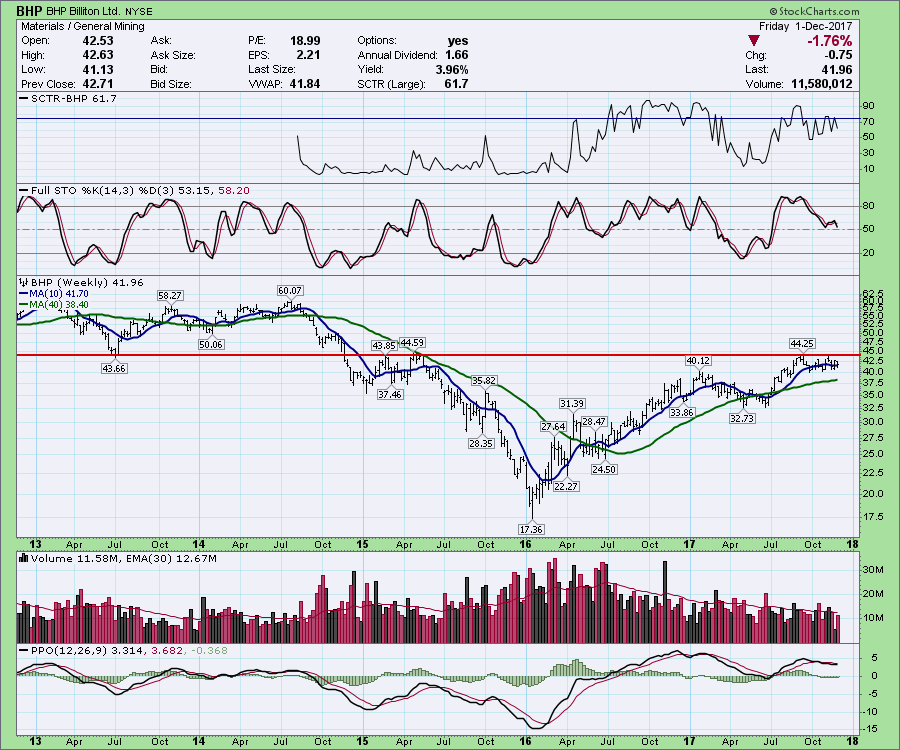 Rio Tinto is hovering just below 5 year highs. A breakout here would surely be indicative of a big push through resistance and a major bullish signal.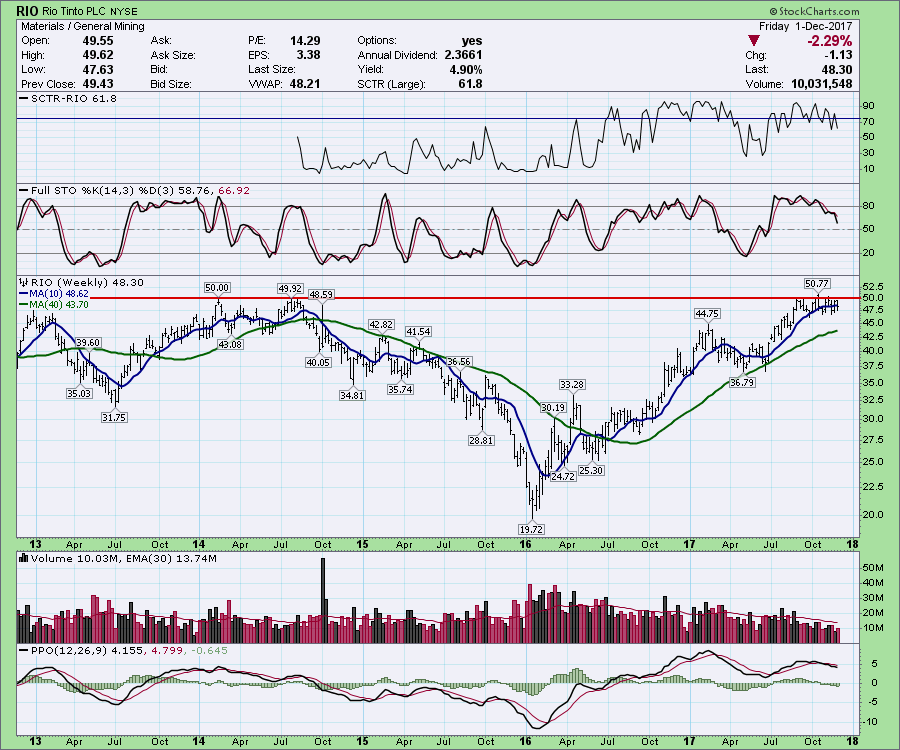 Together, this bundle looks ready to break out. You can click on any of these charts to get an update at any time.
Good trading,
Greg Schnell, CMT, MFTA.