HAPPY NEW YEAR!
In my first Trading Places blog article of 2018, "Here's One Chart That Screams BUY As We Begin 2018", I highlighted my favorite relative chart in the Current Outlook section. It's one of the biggest reasons why I believe 2018 will simply be an extension of what we saw in 2017. The bull market appears to be quite sustainable as we enter 2018. But what areas will lead the stock market in 2018?
---
The two best performing industry groups in 2017 were renewable energy ($DWCREE) and home construction ($DJUSHB). The DWCREE was actually one group that I highlighted when Greg Schnell and I hosted the StockCharts Outlook show in January 2017. When looking at potential big movers in the year ahead, it's generally a good idea to review price history to anticipate those rallies. It's typically great to see basing patterns (or even an intermediate-term downtrend) in a long-term uptrend and then await a breakout. For instance, let's review the DWCREE and DJUSHB charts: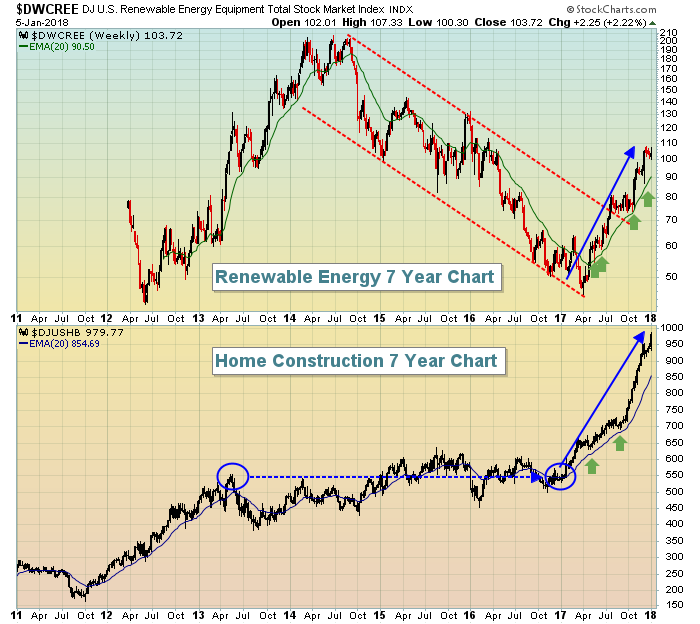 The DWCREE had been downtrending into 2017, but once it finally cleared its downtrending 20 week EMA, it was off to the races! The DJUSHB was simply basing for a few years before its 2017 breakout launched a massive rally.
If I had to pick between these two now, I'd be more comfortable holding the DWCREE. Higher crude oil prices tend to coincide with more interest in renewable energy companies and the recent breakout in crude suggests we'll see higher prices in 2018 - a bullish tailwind for renewables. Home construction ($DJUSHB) has been rising parabolically and is less likely, in my opinion, to sustain this move throughout 2018. Note that neither of these industry groups were strong heading into 2017, but once they broke out, the rising 20 week EMAs (green arrows) provided excellent support. Failure to hold these levels would be the first sign that their runs could be ending - or at least pausing.
So where might we see similar 2018 surges based on current price action?
First, keep in mind that we are deep in a 9 year bull market. I play by bull market rules and realize that every industry goes through long-term periods of rising prices, then pullbacks/basing. So 2017's winners are not likely to be 2018's winners. Likewise, rotation out of groups in 2017 can create some awesome opportunities as we head into 2018 and money rotates back into these groups.
I believe 2018 will be a strong year for consumer stocks, so here are a few consumer-related industries to keep an eye on:
Dow Jones U.S. Broadcasting & Entertainment Index ($DJUSBC)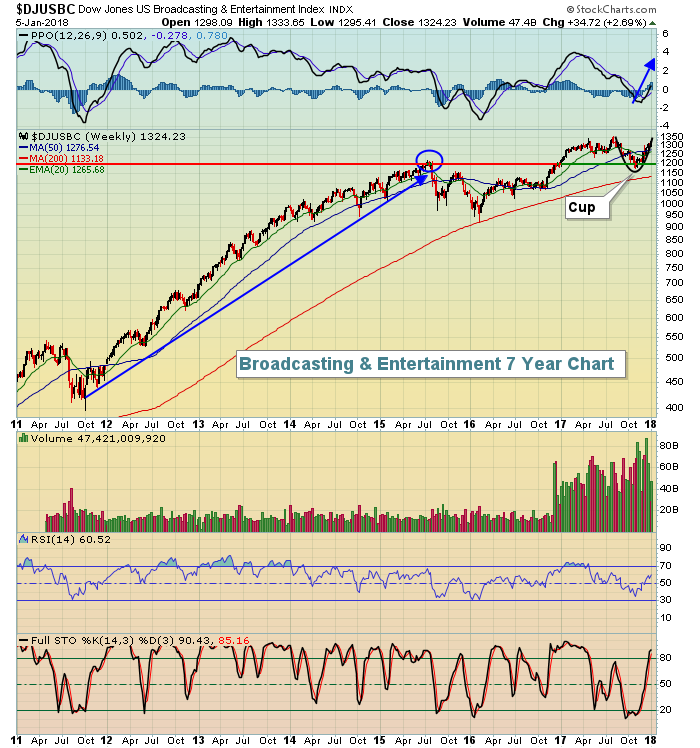 When the DJUSBC hit price support a few months ago, it was at a price level that we saw in mid-2015. So the group was essentially flat for 2 1/4 years. I see strength accelerating now and I look for the DJUSBC to have a very nice 2018. I love the rally that we've seen in consumer discretionary (XLY) over the past few months and I expect to see more money rotate into this sector. The DJUSBC will be a beneficiary. Looking at the chart above, the DJUSBC is currently in the late stages of forming the right side of a bullish cup after testing a key area of price support in the fourth quarter of 2017.
Dow Jones U.S. Auto Parts Index ($DJUSAT)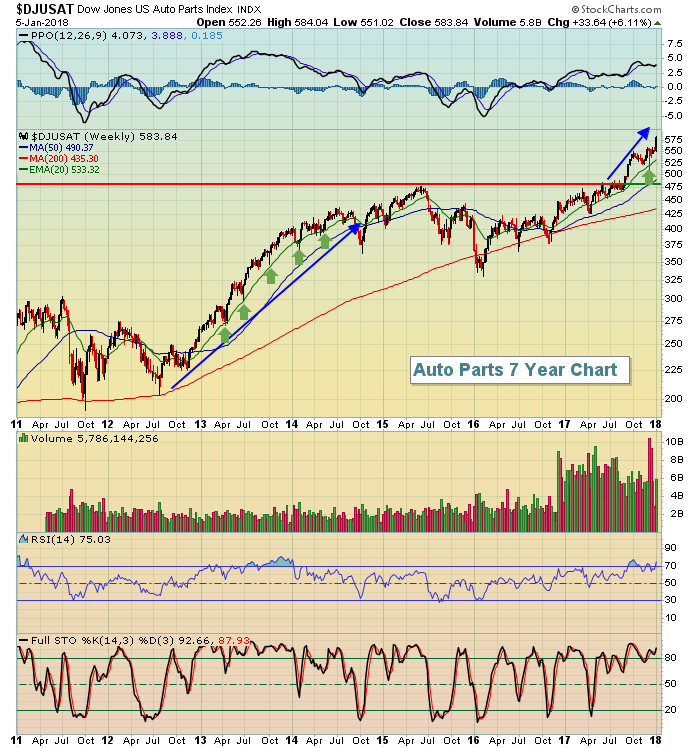 This is another consumer discretionary industry that looks really good. I love the long-term basing period that finally broke to the upside in August 2017. Since that time, the rising 20 week EMA has been solid and I'd look for that to continue throughout 2018.
Dow Jones U.S. Footwear Index ($DJUSFT)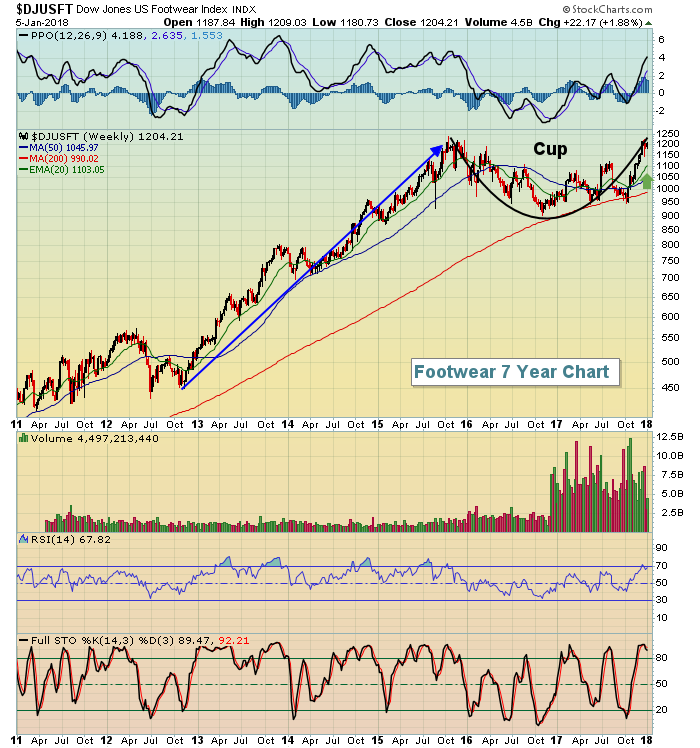 The DJUSFT is in a very bullish continuation pattern. We haven't seen a breakout above the 1250 level, but when it occurs, the measurement will be to near 1600.
Dow Jones U.S. Brewers Index ($DJUSDB)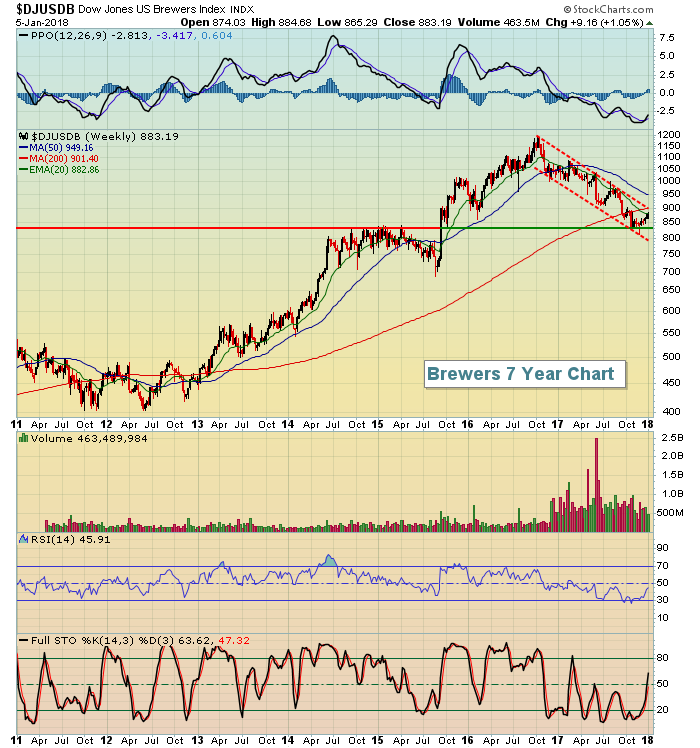 This represents another consumer area, but this time it's staples instead of discretionary. The DJUSDB really struggled in 2017, but remains in a solid longer-term uptrend. I'm watching to see the down channel break, which would be a weekly close above 900. In my opinion, that would likely lead to significant outperformance in 2018.
I favor a number of other industry groups in most sectors and I'll discuss many of them when I join John Hopkins of EarningsBeats.com for a 90 minute "2018 Stock Market Forecast" webinar on Monday, January 8th at 4:30pm. I'll be including lots of details and explanations with respect to my forecast. I'll do a major index and sector review, provide several industry group charts that look very interesting, point out one area of the market that I would completely AVOID in 2018 and even provide a diversified stock portfolio to consider in 2018. To get more information and to register for this one-time event, CLICK HERE.
Happy new year and happy trading!
Tom