Traders have been waiting patiently for Q2 earnings season to begin and now they need to wait no longer. Already we've heard from some of the largest banks in the world and on Tuesday we heard from EBAY, who came up short and then Thursday from one of the largest Market Cap tech companies, Microsoft, who exceeded expectations.
To me the market is at its finest when companies that come up short of expectations are punished while those that meet/beat expectations are rewarded, which is the way it should be. We can see this in the two charts below with EBAY moving down sharply on their disappointing numbers while MSFT hit an all time high as traders showed them some love.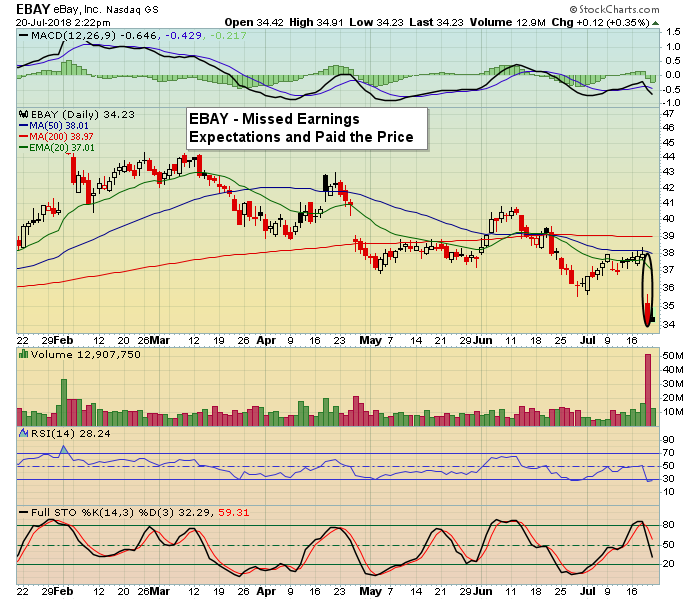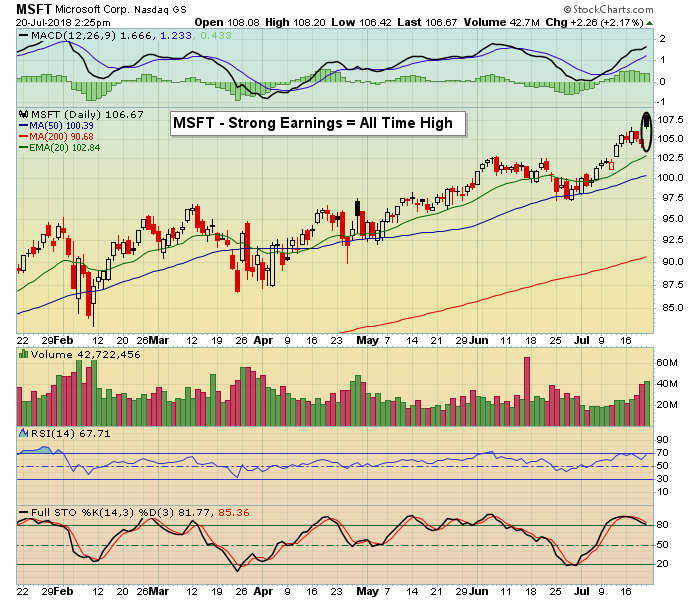 I had mentioned in my last ChartWatchers article that the Dow/S&P could use a jolt and suggested that might come with strong bank earnings which is exactly what happened with the XLF finally clearing some key technical levels. But it's going to take well rounded performance all the way around for the bulls to keep the recent momentum.
Earnings season will move into full swing this upcoming week with some giant tech firms reporting their numbers including Google, Facebook and Amazon, to name a few. And as more companies report it will bring with it some high reward to risk trading candidates for those who are patient. This includes searching for those companies that beat earnings expectations, gap up on strong volume and waiting for them to pullback to key price or technical support levels. That's what we do at EarningsBeats and it's a formula that works and allows us to consistently beat the S&P by a significant margin. If you want to see some specific results from the past five quarters just click here (
https://www.earningsbeats.com/public/Performance.cfm
).
The totality of earnings season provides a macro picture of the strength of Corporate America. Zeroing in on those companies that beat expectations is a great way to put yourself in a position to profit handsomely.
At your service,
John Hopkins
EarningsBeats