The Financials SPDR (XLF) and Industrials SPDR (XLI) weighed on the broader market the first six months of the year, but perked up in July and started to show some upside leadership.
The PerfChart below shows the percentage change for the ten sector SPDRs from December 29th to June 29th, the first six months of 2018. Only three sectors stand out: the Consumer Discretionary SPDR (red), the Technology SPDR (green) and the Energy SPDR (black). The rest were either fractionally higher or down. Notice that the Financials SPDR (blue) and Industrials SPDR (magenta) were down 3.97% and 4.58%, respectively.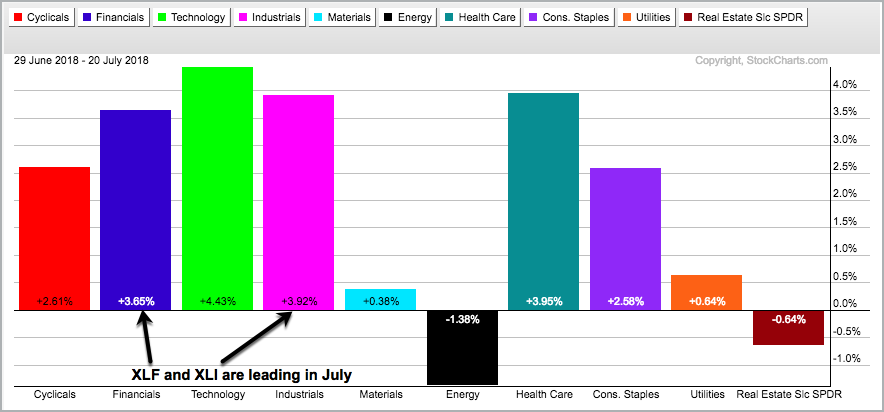 The second PerfChart shows the percentage change from June 29th to July 20th, which covers the month of July. The Technology SPDR is still the leader overall with the Health Care SPDR in second place. After lagging the first six months, the Industrials SPDR and Financials SPDR perked up considerably. They are the third and fourth best performing sectors this month, and part of the leadership group.
The industrials and finance sectors are quite important to the broader market. Finance (13.90%) is the second biggest sector in the S&P 500 and industrials (9.65%) is the fifth largest sector.
Both are down fractionally year-to-date and weighing on the S&P 500 in 2018. July, however, is starting different and continued strength these two key sectors would be quite bullish for the broader market.
---
On Trend on Youtube
Available to everyone On Trend with Arthur Hill airs Tuesdays at 10:30AM ET on StockCharts TV and repeats throughout the week at the same time. Each show is then archived on our Youtube channel.
Topics for Tuesday, July 17th:
Index New Highs Still Dragging, but Net Bullish
Tech, Staples and Healthcare Lead New High List
Materials SPDR and Top Component Look Weak
XLE Forms Bull Pattern as XES Hits Moment-of-truth
Stocks to Watch (Big Banks and Big Healthcare)
---
- Arthur Hill, CMT
Senior Technical Analyst, StockCharts.com
Book: Define the Trend and Trade the Trend
Twitter: Follow @ArthurHill
---