The bulls have remained in charge for a long time now in large part due to continuing, strong earnings. Even with the constant daily noise surrounding the market it almost always comes down to the bottom line. Thus when traders are looking for high reward to risk trades it makes a lot of sense to zero in on those companies that handily beat earnings expectation.
As an example, take a look at the chart below on SWIR, a company that reported its earnings at the beginning of August and easily beat both top and bottom line expectations.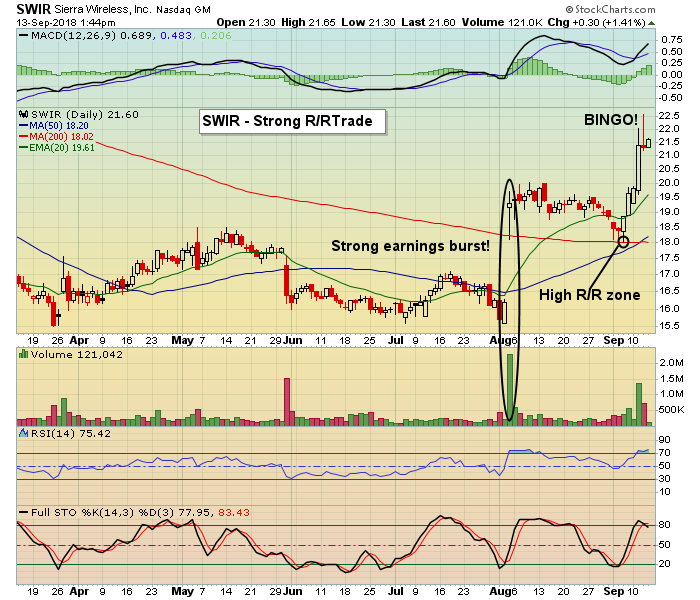 You can see that the stock moved up sharply on extremely heavy volume once earnings were released. The stock then settled down for a few weeks until it pulled back to a key technical level, its 200 day moving average, at which point it became a high reward to risk trade, and it did not disappoint, moving higher by 25% over the course of a week.
Of course not every stock that pulls back to a key support level is going to jump 25% in a week. But it goes to show the power of zeroing in on stocks that do exceed expectations and pull back to zones that provide high reward to risk opportunities.
At EarningsBeats.com, we continuously scour the market for companies that beat revenue and earnings expectations and have charts that show technical promise. We then add these companies to our "Candidate Tracker" ChartList at StockCharts.com and wait for solid reward to risk trades to develop. If you wonder why the stock market continues to set new records, look no further than the number of companies that are producing excellent quarterly results. We now have over 300 stocks on our ChartList for the first time ever!
In fact, I am excited to announce that EarningsBeats.com is close to launching a FREE newsletter between now and the start of Q4, only a few weeks away. First and foremost, it will be FREE to everyone. It will be very educational in nature and will help both short-term and long-term traders and will include charts that (1) illustrate our reward to risk style of trading that focuses exclusively on companies that beat Wall Street estimates, (2) highlights stocks that display technical behavior worth mentioning and (3) highlights companies with upcoming earnings that could expect a major pop or drop. As an example, consider Trade Desk (TTD), which has been on our ChartList for several months. TTD has a history of strong quarterly earnings results and gaps higher: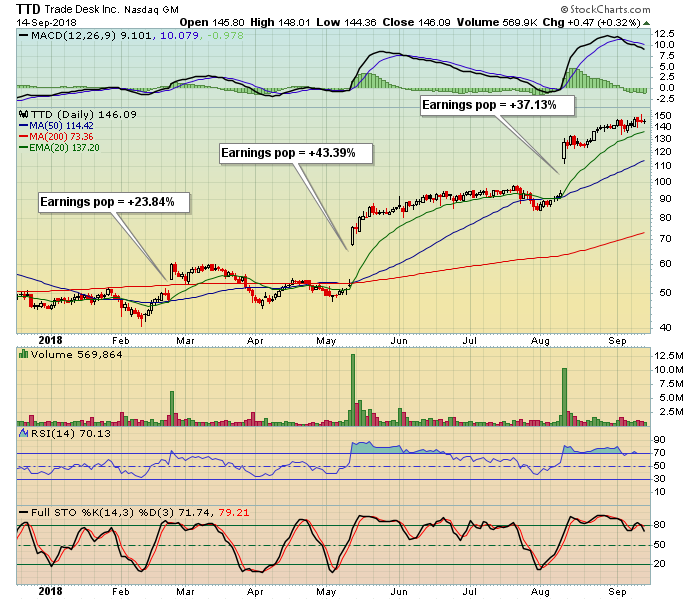 While we don't recommend holding stocks into earnings reports, I know many of you do. Part of our FREE service will help to point out the potential for big gaps like those on the TTD chart. If you'd like to sign up for our FREE newsletter, simply send an email to "john@investedcentral.com." (Invested Central does business as EarningsBeats.com) and once we launch our newsletter you will be notified.
We have witnessed a powerful bull market for many years now. Traders can't get enough of stocks! But they REALLY can't get enough of those stocks that produce strong earnings.
At your service,
John Hopkins
EarningsBeats