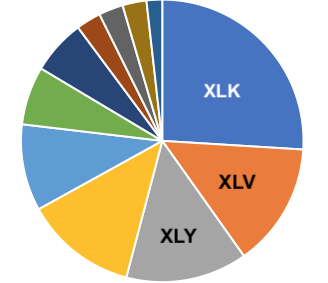 The S&P 500 hit a new high in August, but only four of the ten sector SPDRs joined in on this high: the Consumer Discretionary SPDR, the Technology SPDR, the Health Care SPDR and the Real Estate SPDR. This suggests that the other six are lagging in some way shape or more. Even so, this is not a problem for the S&P 500 because the four that hit new highs account for around 57% of the index. Leading versus lagging is important when selecting individual sectors, but the weight of the evidence is what really counts for broad market analysis.
The customized CandleGlance chart shows weekly bars with the 52-week Price Channel, which marks the prior week's 52-week high and low. A new high is recorded when price moves above the upper line of this price channel. The sector weightings are also shown on the chart.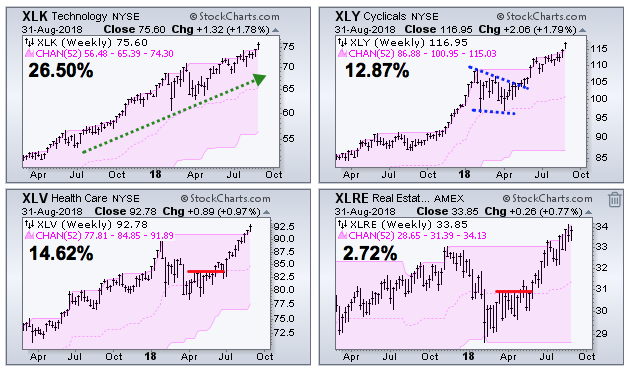 Even though it has been a four-horse market since April, the lagging sectors are still up and not actually weighing on the market. The Energy SPDR is pitching in with double digit gains since April and the Utilities SPDR is up around 7%. The five month laggards are the Financials SPDR, Industrials SPDR and Materials SPDR, which are up less than 5%.
The CandleGlance chart below shows XLF and XLI with wedge breakouts, but both are still below their 52-week highs and struggling a bit. The green lines mark the first support areas to watch going forward. XLB also has a wedge breakout working, but is struggling even more because its failed to exceed its June high. XLE hit a new high in May and then fell back with a falling channel, which looks like a corrective pattern (think falling flag).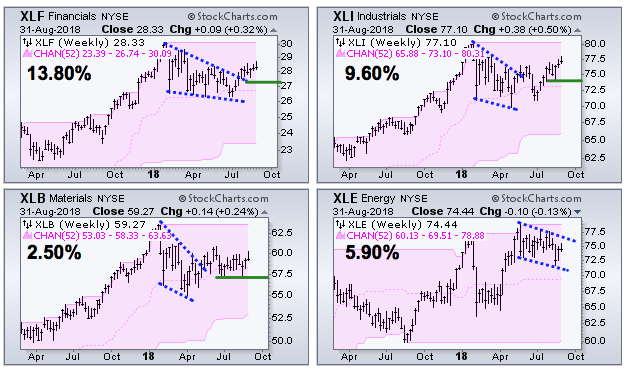 As far as broad market analysis is concerned, the weighted majority of the sectors is more important than the rotation of the sectors. The market can move higher as long as the weighted majority of sectors are strong, regardless of which are leading or lagging. Broad market weakness occurs when the weighted majority of sectors turn down.
---
On Trend on Youtube
Available to everyone On Trend with Arthur Hill airs Tuesdays at 10:30AM ET on StockCharts TV and repeats throughout the week at the same time. Each show is then archived on our Youtube channel.
Topics for Tuesday, August 28th:
Industrials Extend as Materials Surge (ITA, DWDP)
Finance and Brokers Pop, but Regionals Flatline
Focus on Finance (GS, JPM, MS, BAC, C, SCHW)
Biotech ETFs Surge (XLV, IHI, IHF hit new highs)
Ask Arthur: GoldenX, Market Timing, Bond/$ Correlation, Scan Code
Stocks/ETFs to Watch: ITB, PX, TMUS, MRO, NOV, ICE
---
Plan Your Trade and Trade Your Plan.
- Arthur Hill, CMT
Senior Technical Analyst, StockCharts.com
Book: Define the Trend and Trade the Trend
Twitter: Follow @ArthurHill
---