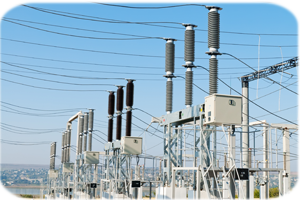 Utilities are not the most exciting stocks in the world, but the Utilities SPDR (XLU) is the third best performing sector since February and the second best performing sector last week. The could have further to run. Let's look at the charts.
The first chart shows weekly bars over the last ten years. Prices are moving from the lower left to the upper right and there is clearly a long-term uptrend at work. The red lines show pullbacks within this uptrend, the longest of which was 32 weeks in 2015.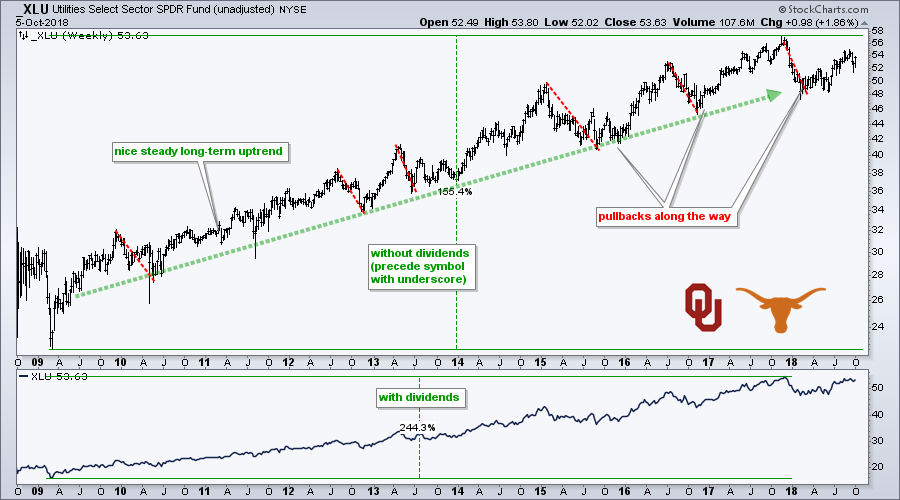 The top window shows XLU without the dividend adjustments (_XLU) and the bottom chart shows total return XLU (with dividends). From the March 2009 low to the November 2017 high, price appreciated 155%. The total return increases to 244% when we add in the dividends, which are clearly important.
The next chart shows unadjusted XLU (_XLU) with an uptrend since early February. There was a correction in May-June and a breakout in late July. A triangle in July and another breakout in early August. Most recently, XLU became short-term oversold as RSI moved below 30 in late September. This oversold condition gave way to a bounce as the ETF surged over 4% from this low.
The Utilities SPDR is in an uptrend since February and one of the leading sectors over the last eight months. The recent oversold bounce is bullish and I would expect XLU to continue its uptrend in the coming days and weeks.
---
On Trend on Youtube
Available to everyone, On Trend with Arthur Hill airs Tuesdays at 10:30AM ET on StockCharts TV and repeats throughout the week at the same time. Each show is then archived on our Youtube channel.
Topics for Tuesday, October 2nd:
Keeping Perspective (SPY, QQQ, MDY, IJR)
Higher Yields and Rising Energy Prices (plus UUP)
Market Drags (XLF, XLC, IAI, ITB, KRE)
Focus on Energy-Related ETFs (XLE, XES, XOP, FRAK)
#AskArthur: ETFs vs Indexes, ChartLists, Funnymentals
Stocks to Watch: NOV, OKE, ORCL, OXY, PSX VZ
---
Plan Your Trade and Trade Your Plan.
- Arthur Hill, CMT
Senior Technical Analyst, StockCharts.com
Book: Define the Trend and Trade the Trend
Twitter: Follow @ArthurHill
---