The quarter beginning 10-1-18 has been challenging for a lot of traders. The NASDAQ has lost almost 10% while the S&P has lost 6%, both well off the quarter's low. Volatility has reigned with the VIX at elevated levels for most of the quarter. It has been challenging for us at EarningsBeats as well, though you might not know it from our results even though, of the 29 trade alerts we issued to our members since October 1, 18 stocks came off with losses. But on a risk adjusted basis - assuming an equal amount of money invested in all 29 stocks - so far we've seen a net gain of over 2.5%, which easily outperformed both the NASDAQ and S&P. How was this possible? It was possible because the average loss on those stocks that stopped out was 3.1% while the average gain on the winners was almost 7.6%.
I'm pointing this out to show that, in spite of having more losers than winners, it is still possible to outperform the market if you get involved in the "right stocks" and stay disciplined by keeping your losses manageable and taking profits when they come your way. By "right stocks" I mean companies that beat earnings expectations, because these are the stocks traders gravitate to. As an example of what I'm talking about, take a look at the chart below on GOGO, where we issued a trade alert on 11-12-18 with an entry price of $5.95, a price target of $7 and a stop of any close below $5.75. What happened? The stock made a 12% move in one day. But we issued a profit alert when the stock was up 9% - just too good to pass up in one day, even though it was below our target price. Then, just a few days later, the company announced a secondary offering and got absolutely slammed, losing almost 24% this past Friday.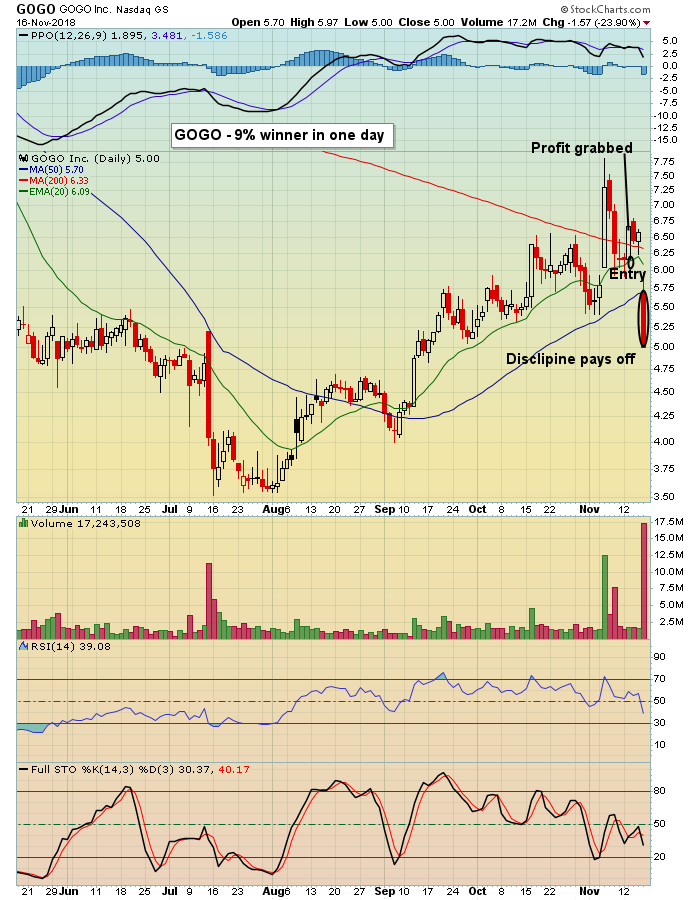 Of course we had no way of knowing a secondary offering was pending but it didn't matter. We took advantage of a pullback after strong earnings and then stayed disciplined and grabbed a nice profit, not needing to get every penny out of the trade.
All of our trade alerts come from our Candidate Tracker (aka our Strong Earnings Chart List) - i.e., companies that beat top and bottom line expectations and could become high reward to risk trading candidates. In fact this list will be the subject of a webinar that I will be conducting this Monday, November 19, and I will be joined by StockCharts.com Senior Technical Analyst Tom Bowley where we will identify the top 10 stocks on our Chart List and specific trading strategies. I will also discuss how we have consistently been able to outperform the market through "extreme patience and discipline." And as a bonus to StockCharts.com members you will get access to the 200 stocks on our ChartList! If you would like to join us for this highly education webinar just click here.
Wishing everyone a Happy Turkey Day!
At your service,
John Hopkins
EarningsBeats