Analysts meet with the management teams of companies and then return to their firms and either buy or sell based on the information they gather. It's the primary reason why technical price action precedes fundamental information. If you understand the dynamics on Wall Street, you're in a much better position to profit from it. Over the past 3-4 months, the stock market endured much volatility and turmoil, sold off hard and then rallied strongly. Many stocks appear to be technically sound, however, holding up well during the Q4 misery, and are poised for solid quarterly earnings reports. Here are three that I believe will exceed expectations based on their recent price performance:
---
1. El Pollo Loco Holdings, Inc. (LOCO)
Throughout the Q4 market meltdown, consumer discretionary (XLY) stocks held up fairly well on a relative basis and restaurants & bars ($DJUSRU) steadily outperformed both its consumer discretionary peers and the benchmark S&P 500. I expect we'll see solid reports from the restaurant group as a whole. But one name that really stands out to me is LOCO. It's just broken out to a 3 1/2 year high with a very strong SCTR, excellent volume trends and surging momentum:
The primary risk here, in my view, is that LOCO is short-term overbought. A near-term pullback to approach or test the rising 20 day EMA would provide a much better reward-to-risk entry.
2. Alarm.com Holdings, Inc. (ALRM):
Software ($DJUSSW) is another very solid area within the stock market and, despite all of the selling the past few months, the DJUSSW is on the verge of a relative breakout vs. the S&P 500. A number of software stocks look solid heading into earnings, but I'll go with ALRM, a smaller software company. On Friday, ALRM closed at its highest level since going public in 2015. It's been a steady 4 year climb and volume trends suggest the rally hasn't ended: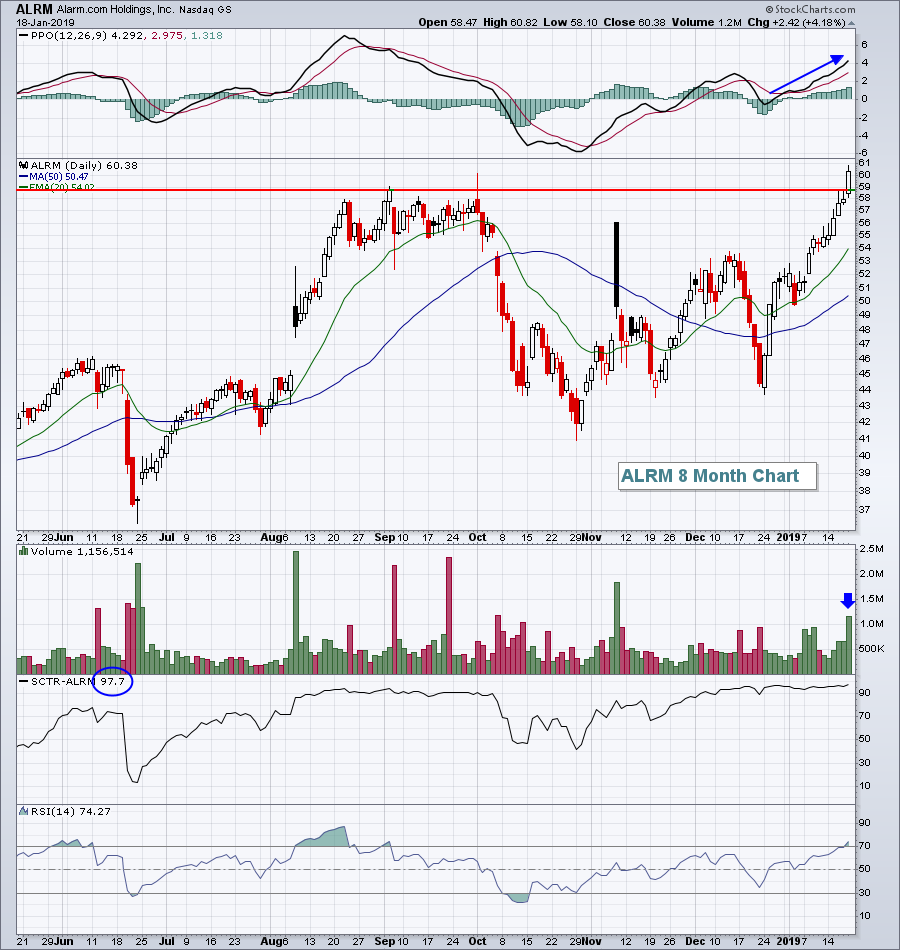 ALRM is similar to LOCO in that it's short-term overbought. There appears to be accumulation taking place ahead of its next quarterly earnings report.
3. Crocs, Inc. (CROX):
Here's another solid consumer discretionary company with a SCTR at 98.7. CROX is part of the Dow Jones U.S. Footwear Index ($DJUSFT), which has been outperforming both the XLY and S&P 500 since October 2016. In its last quarterly earnings report, CROX posted a $.07 profit, well ahead of consensus estimates looking for a $.02 loss. We saw CROX break out to a new recent high on increasing volume to open 2019, suggesting another blowout quarter is on its way. Check out the chart: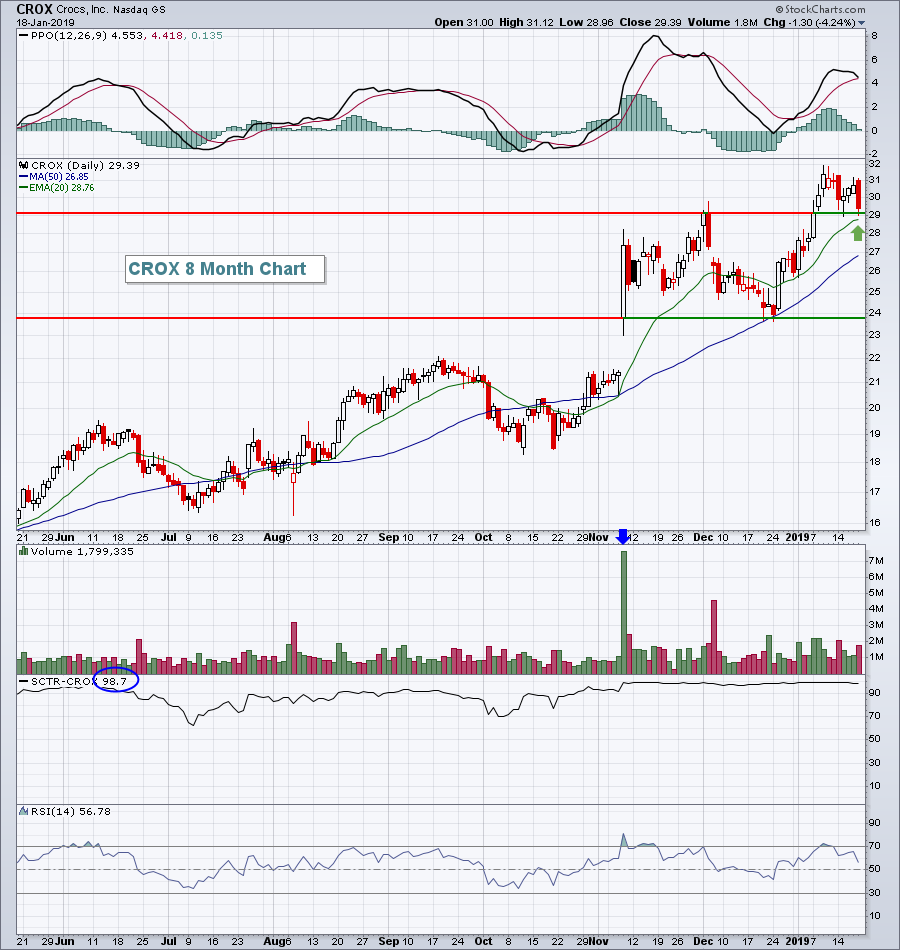 Unlike LOCO and ALRM, CROX has seen recent selling down to initial price support and is no longer overbought. The low on December 24th was noteworthy because I look for the top of gap support to hold after a heavy volume gap higher resulting from earnings. It held beautifully before resuming its uptrend and breaking out in early 2019.
I'll be joining John Hopkins of EarningsBeats.com on Tuesday, January 22nd at 4:30pm EST to discuss earnings season, the three companies above and several others that are likely to report solid earnings in the days and weeks ahead. You can join us by CLICKING HERE to register.
Happy trading!
Tom