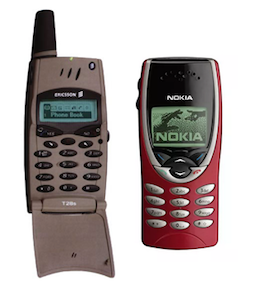 Anyone recognize these two phones? A good old indestructible Nokia candy bar was the first phone for many of us. I had a few Nokia cellphones over the years and they always worked great, back in the day. And, we all remember the Nokia ring tone, which was the most played tune in the world as late as 2009. You can hear it about four and a half minutes into this Ted talk (The 4 Ways Sound Affects Us), which is worth watching (and hearing).
Nokia (NOK) and Ericsson (ERIC) were leading telecom stocks some 20 years ago and both took part in the tech-telecom boom of the late 90s. Ericsson crashed when the bubble burst and went dormant for well over a decade. Nokia also fell on hard times and did not find its footing until 2012.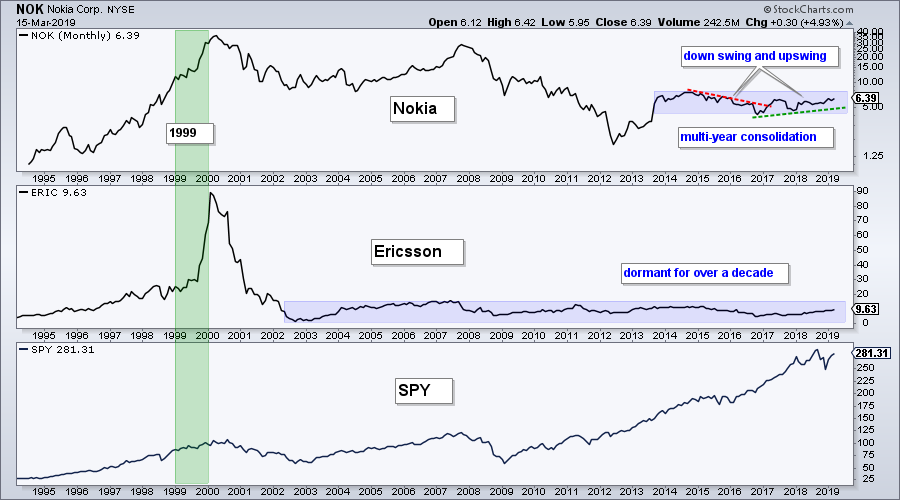 Both stocks have been moving higher since October 2016 and current charts suggest that things are looking up for these two stocks. They recorded 52-week highs recently and are in clear uptrends.
The chart below shows Ericsson breaking out in April with a massive gap and then continuing higher into October. The advance took a breather from October to December as the stock consolidated with a large triangle into January. Note that ERIC held up well while the S&P 500 broke down in October and December. Relative strength foreshadowed absolute strength as the stock broke out of its triangle in mid February and hit a new high this week.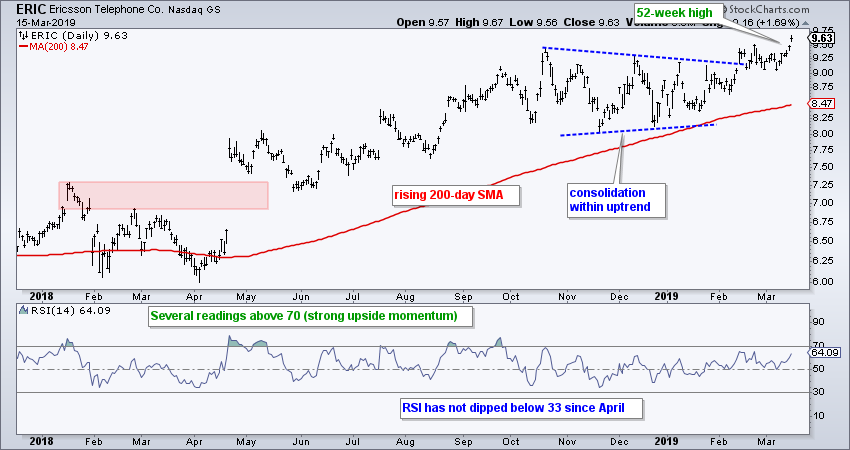 The second chart shows Nokia moving higher from January to April 2018 and then trading within a range from May to December. The stock moved sharply higher in January and broke out of this range. After recording new highs in early February, the stock fell back and successfully tested support in the 6 area. It looks like the bigger uptrend is resuming with this week's surge off support.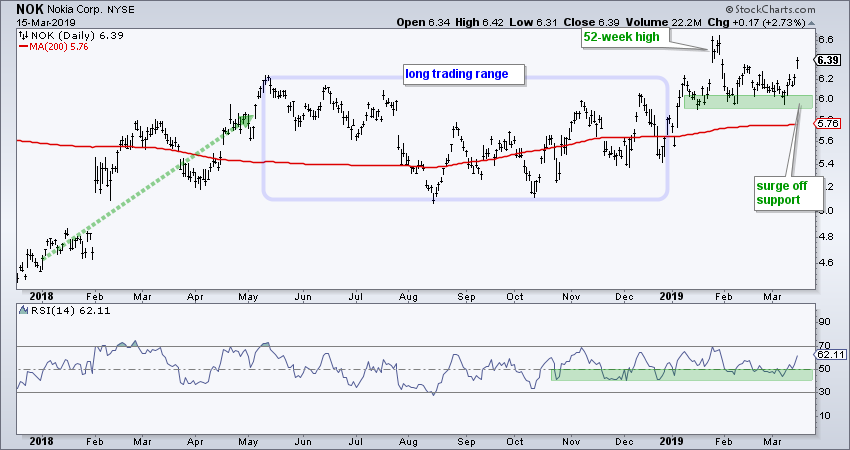 While I do not think the candy bar cellphone is back, something is attracting buyers in these two stocks. Perhaps they are poised to benefit from 5G. At the very least, these are two names I will have on my radar. Note that ERIC and NOK are low-priced stocks with above average risk. Trade accordingly!
---
On Trend on YouTube
Small-caps Mid-caps and Momentum Lag
SPY and QQQ Go it Alone (Small-caps Lag)
Checking on the Fab Five (GOOGL, AAPL ...)
3 Flags to Watch for the Next Move
Two Stocks with Reversals in the Making
A Creeping Uptrend in Fabrinet
---
Big Techs Lead as Banks Stall
Key Levels to Watch for S&P 500
QQQ Leads the Oversold Bounce
Breaking Down XLK and XLC (MSFT, GOOGL, FB)
Homebuilders Hold Up (ITB, LEN, DHI, PHM)
Banks Extend Stall (GS, BAC, C, JPM)
---
- Arthur Hill, CMT
Senior Technical Analyst, StockCharts.com
Book: Define the Trend and Trade the Trend
Twitter: Follow @ArthurHill
---