From what I can see, global bank charts are continuing to weaken. The banks as a whole have rolled over in the last two weeks, but we have some major banks around the world making new multi-year lows. This is problematic. First of all, we have the chart for KBE below. If this is an average of the banks, that average is now below both the 10-week and 40-week moving averages. The price action is also continuing the downtrend. Notice that momentum, shown by the PPO, is rolling over at zero. This is not good.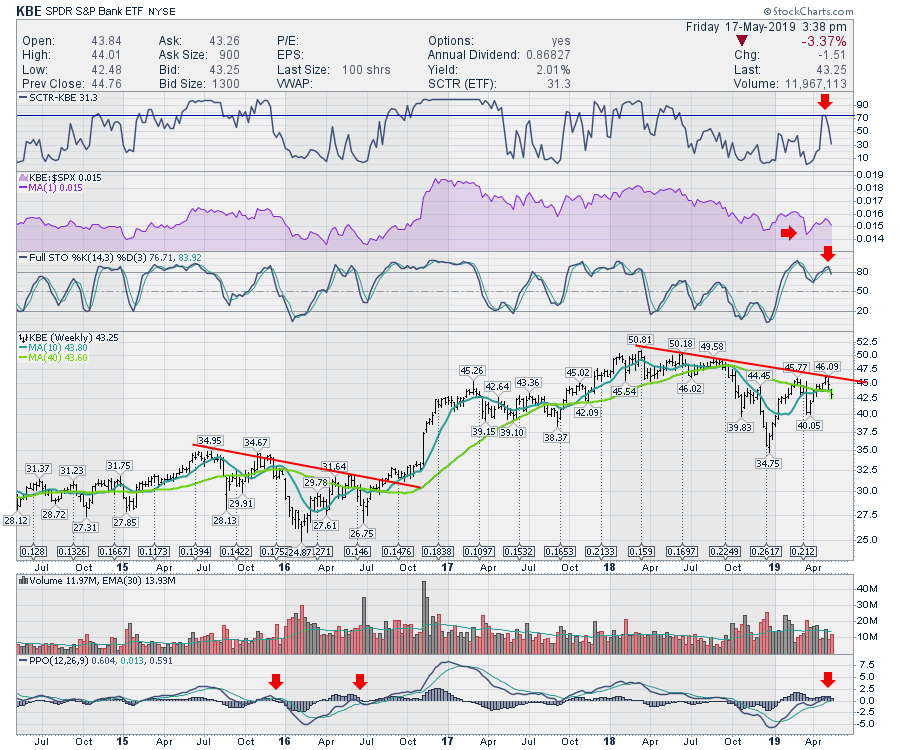 But the world has some banks in serious trouble from a chartist's perspective. Australia, in particular, has a couple of trouble spots.
Australia and New Zealand Banking Group (ANZBY) is fading away here. The stock is down 5% on the week and now looks like it will test multi-year lows as the PPO rolls over at zero. Meanwhile, Australia National Bank lost 10% this week and is barely above 6 year lows.
Barclays is testing 2019 lows and is only a $1 or 15% away from its three-year lows.
Goldman Sachs is rolling over below its 40-week and 10-week moving averages. The PPO is rolling over at zero.
Wells Fargo is 30% off its highs and 15% above its 5-year lows. The problem is that the chart looks aimed toward the lows as it is $0.25 above the 2019 lows. Compare that to the $SPX. Ouch!
Sumitomo Mitsui is only 10% away from 3-year lows. Another Japanese bank, Mizuho Financial, is down 5% this week. It has made new 2019 lows this week and is $0.02 above 3-year lows. Mitsubishi UFJ Financial Group broke to new 3-year lows.
Societe Generale is marginally above 6-year lows made earlier in 2019.
Deutsche Bank made new all-time lows and new closing lows this week.
These are just some names that are looking extremely weak. Many of the US and global bank charts are rolling over with momentum near zero or at zero on the PPO. This is extremely important. The breadth of the problem in the big financials appears to be global. While the US names don't look as desperate, many are failing at the 40-week moving average again.
When the financials are not participating in the rallies, I want to stay focused on credit. The markets are in a very tense setup here. I'll have more information on my Weekend Market Roundup, which you'll find in the playlist here later on Saturday night.
Good trading,
Greg Schnell, CMT, MFTA
Senior Technical Analyst, StockCharts.com
Author, Stock Charts For Dummies
---
Want to stay on top of the market's latest intermarket signals?
– Follow @SchnellInvestor on Twitter
– Connect with Greg on LinkedIn
– Subscribe to The Canadian Technician