By all accounts, people enjoy eating out, with the National Restaurant Association projecting a record high in U.S. restaurant sales at $863 billion this year, up 3.6% from last year. From global expansion plans to technological advances, many restaurants are catering to consumer's changing tastes while easing the delivery process. All of this has boosted same-store restaurant sales to levels not seen since 2015, with 4 successive quarters of improvement.
Below is a chart of the Dow Jones US Restaurants & Bars Index, which is comprised of larger, better-known companies. As you can see, the results so far this year have been impressive. It's not only heavyweight restaurant stocks that are advancing on strong growth prospects, though, as we'll cover a couple of attractive stocks not contained in this Index.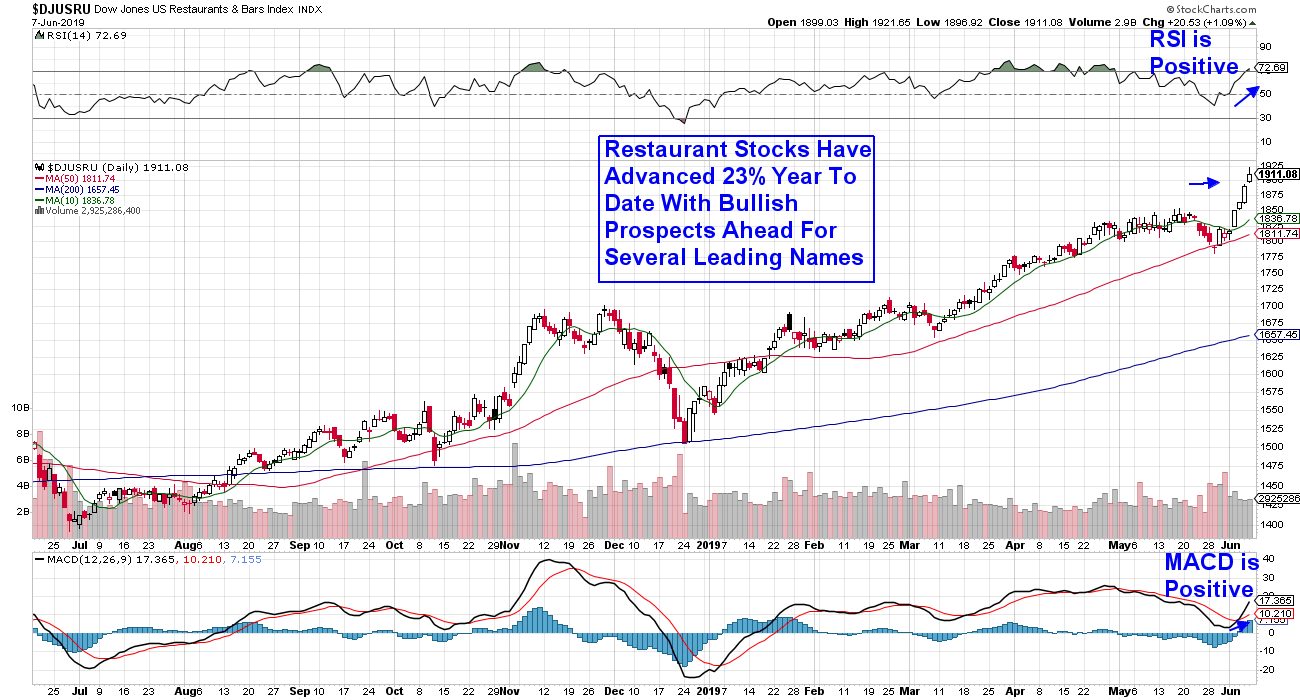 First up is Darden Restaurants (DRI), which runs over 1,500 restaurants in the U.S. and Canada. This includes the well-known eatery Olive Garden, which accounts for over half of the company's revenues. The restaurant has seen same-store sales explode since initiating a turnaround campaign several years ago.
Other restaurants in their portfolio are seeing solid growth as well, helping DRI report earnings that were ahead of estimates for the last 3 quarters in a row. Analysts are raising earnings estimates higher for this 2.5% yielder, which is due to report again later this month. The stock is bullishly approaching a buy point of $123.00, following a brief pullback below its 50-day moving average.
DAILY CHART OF DARDEN RESTAURANTS (DRI)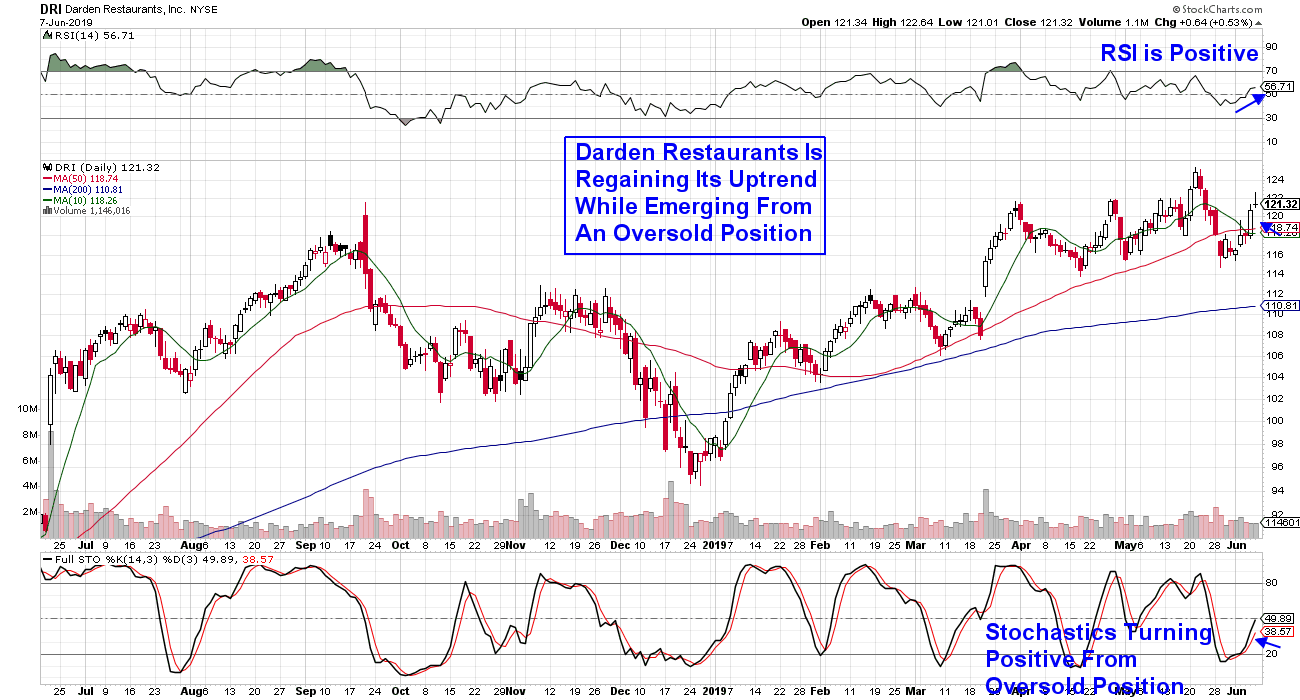 Anyone from the Northeast part of the U.S. will be familiar with this next company as Dunkin' Brands Group (DNKN) has been serving up their famous brewed coffee and donuts in the Massachusetts area since 1950. Known for their loyal customer base, the company has recently embarked on a growth campaign outside of the Northeast, with an eye toward adding 1,000 new locations throughout the U.S. by the end of 2020.
In addition to adding new locations, DNKN has seen a pickup in digital sales following the addition of new products to their menu. These initiatives have helped the company report earnings ahead of estimates for the past six straight quarters. The stock is extended following a sharp rally on Friday and can be bought on a pullback to the $77.00 level.
DAILY CHART OF DUNKIN' BRANDS GROUP (DNKN)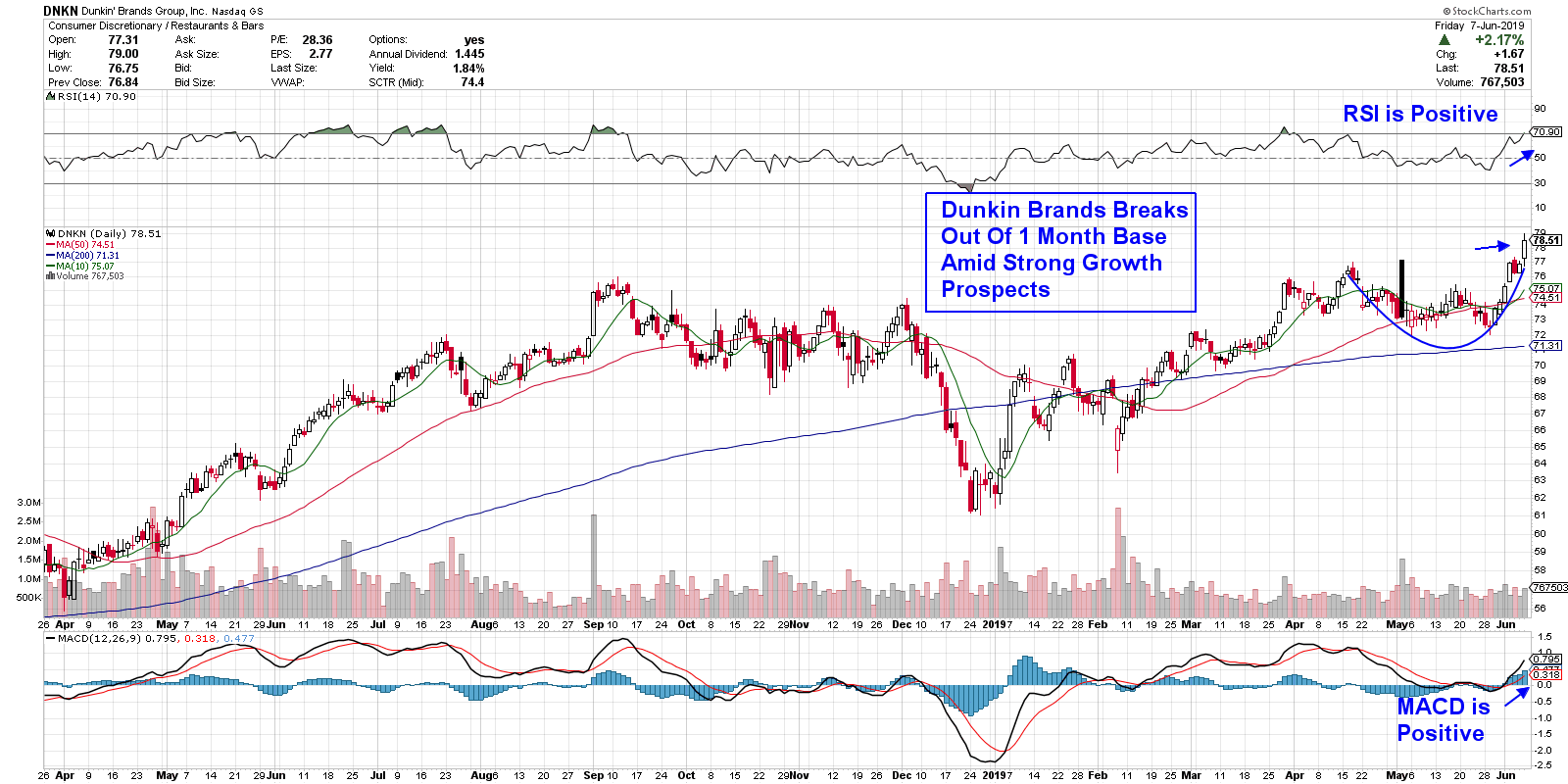 Let's now take a look at Starbucks (SBUX). The Seattle-based coffee purveyor surged to an all-time high on Friday following bullish remarks from their CFO regarding growth prospects in China. The company has already seen strong returns from their new unit investments there and are viewing China as their lead growth market for the long term.
The company is also on firm footing in the U.S., having grown same store sales by 4% in 2018. Higher pricing and the closure of 150 underperforming stores in the U.S., coupled with continued growth in Europe, has analysts raising estimates for both this year and the next. The stock is currently extended and can be purchased on a pullback to the $79.00 level.
DAILY CHART OF STARBUCKS CORP. (SBUX)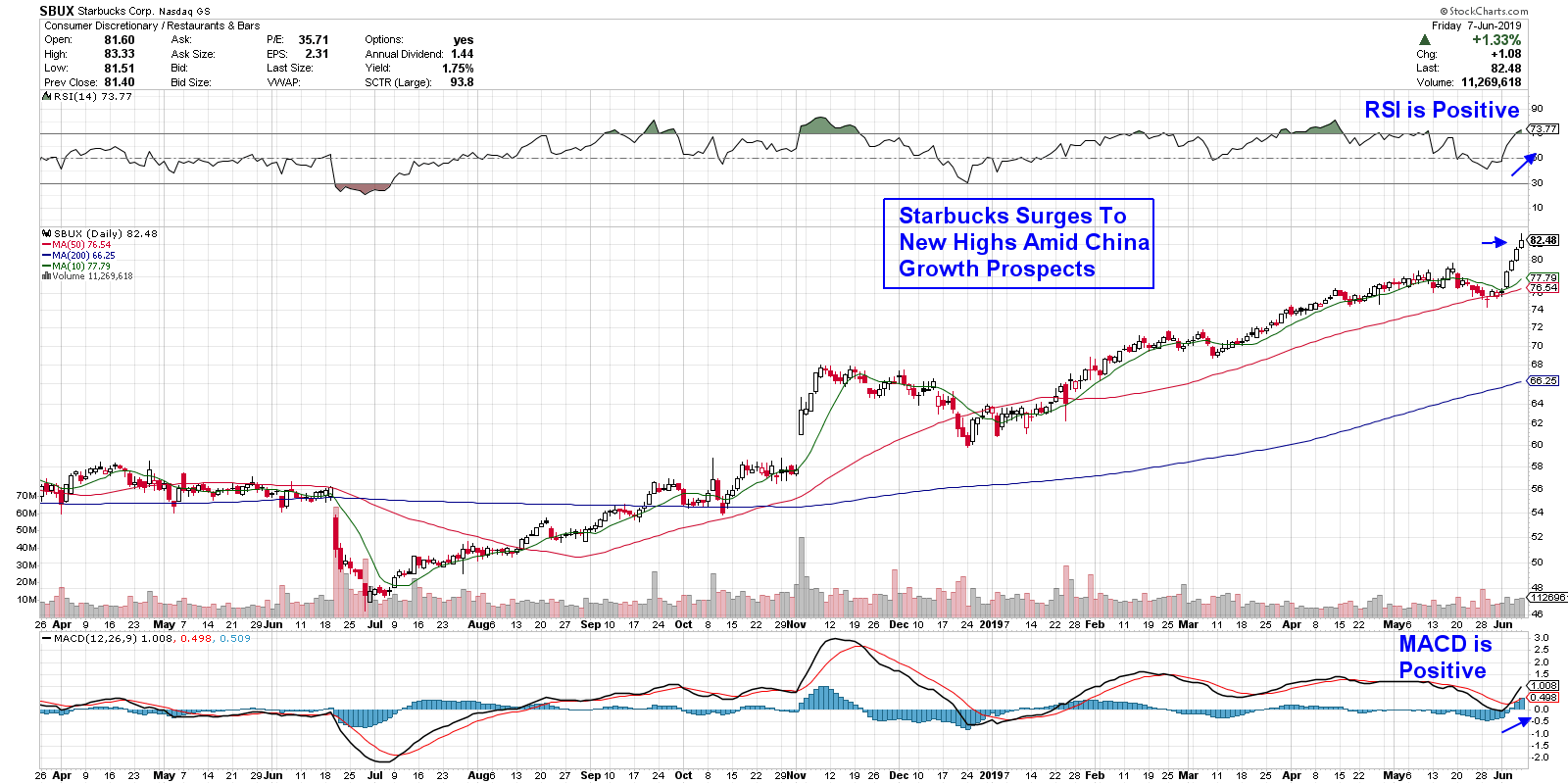 With technological advances that make ordering and quickly receiving hot, prepared meals as easy as a click on your iPhone, industry insiders are expecting the recent uptrend in many of these stocks to continue. The addition of new menu items such as alternative meat product Beyond Meat (BYND), as well as automated prep tools that speed up output, are also highlights that are expected to keep restaurant stocks in demand.
Mary Ellen McGonagle
MEM Investment Research