Yesterday, I had a great roundtable with Tom Bowley and Erin Swenlin on MarketWatchers Live, where Erin and I discussed comparisons between gold and Bitcoin.
Now, at first glance, that might seem like a bit of a spurious comparison. Gold has been around forever, while Bitcoin and other cryptocurrencies are just a couple years old. They couldn't be more different!
Not so fast.
You see, both have fanatical supporters. Both are polarizing topics; investors seem to either love them or hate them. Both have a demand that's often driven by severe mistrust of central banks. Most importantly for investors, both are relatively uncorrelated to the equity markets.
Erin did a fantastic job outlining the case for gold in this video. But what do the charts say about Bitcoin?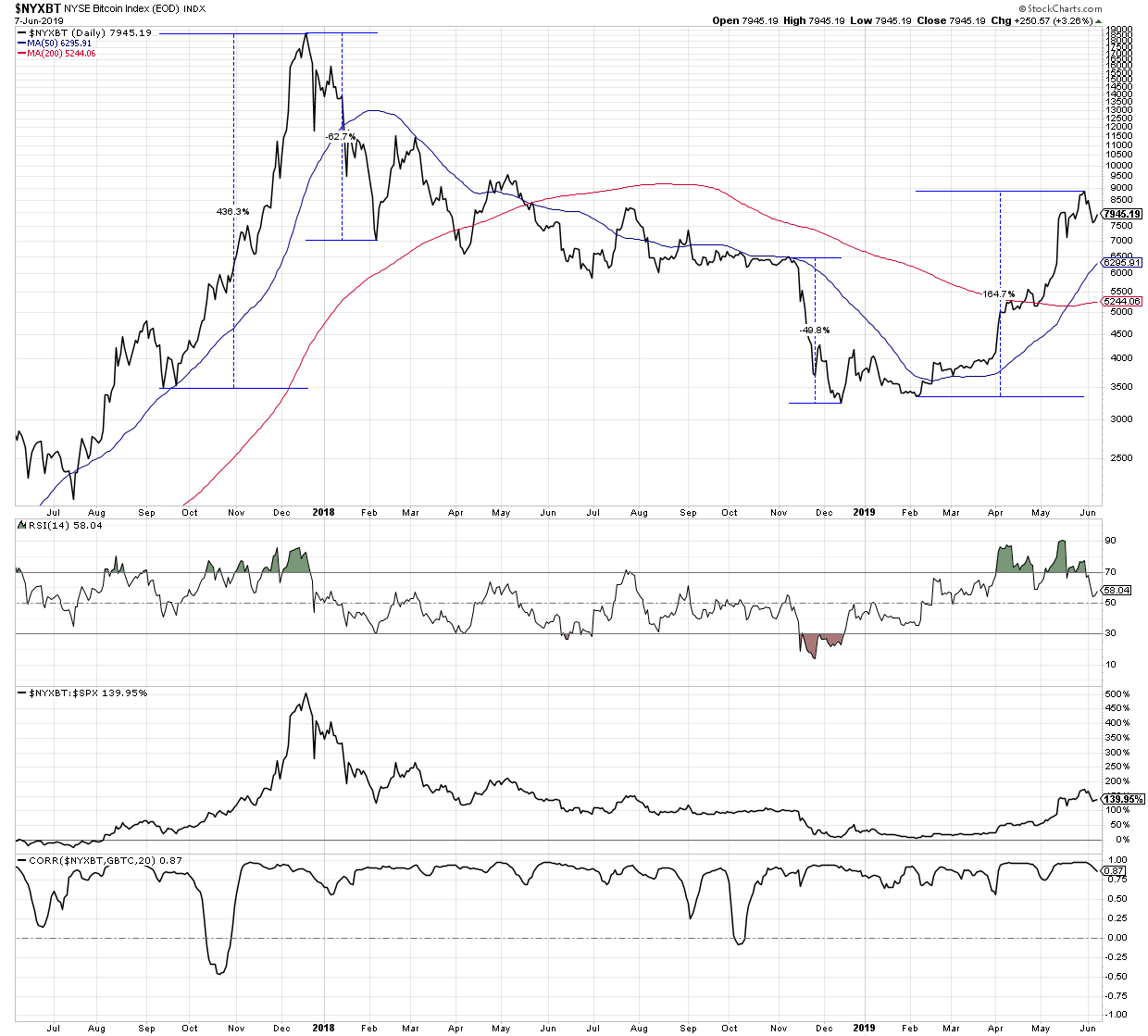 Well, the last two years illustrate the volatility at work with cryptocurrencies. Charts can often be deceiving, as the price line itself doesn't really tell you how big the price swings really are. Here, I've used the Percentage Change tool to show you that the two biggest price drops in 2018 were 50-60% declines.
After Bitcoin bottomed in early 2019, it rose over 160% to a peak just below 9000 at the end of May. So, while the price itself seems relatively straightforward, you have to realize that the price swings are indeed significant.
Further down the chart, you'll see the relative performance of Bitcoin compared to the S&P 500. The strong up and down moves in the value of Bitcoin have resulted in periods of serious outperformance and underperformance for the cryptocurrency. Even with the recent pullback, Bitcoin has still outperformed stocks by over 80% year-to-date!
In terms of where Bitcoin is headed next, check out the RSI indicator and note the bearish divergence. As Bitcoin moved to a higher high into the end of May, the RSI put in a lower high. This bearish divergence suggests a weakening of momentum and potential downside here.
One of the ways to bet on the direction of Bitcoin without opening a crypto account is to use something like the Grayscale Bitcoin Trust.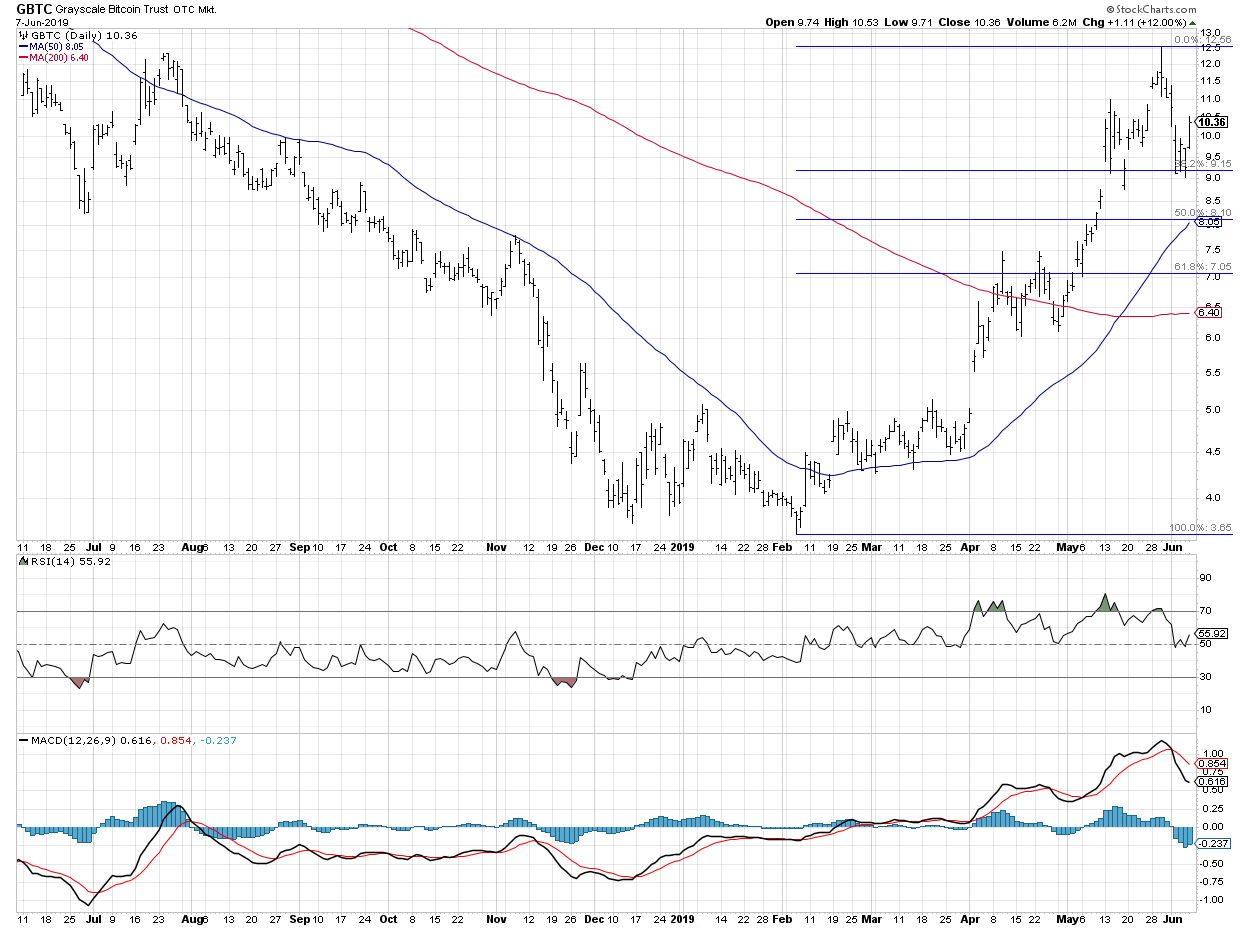 Here, we can see the up move from February to May in much better detail, as well as the bearish divergence we discussed on the Bitcoin chart. I've also included the MACD indicator, which confirms the recent pullback in price at the beginning of June. What's interesting here is that GBTC has retraced 38.2% of the way back down, suggesting short-term support in play just below current levels.
Here, we have the short-term dilemma for Bitcoin. Was this recent pullback to Fibonacci support enough to digest recent gains and resume the uptrend? Or does the RSI bearish divergence and bearish MACD configuration mean further downside is in store?
At this point, I would say that the support level around 9.00 for GBTC is the key line in the sand. As long as the price remains above this level, the uptrend is still in place. A break below that level, however, would suggest further downside to just above 8.00.
Regardless of the short-term direction of Bitcoin, the fact it has a distinct return profile with uncorrelated returns to stocks means it could provide a good opportunity to diversify.
RR#6,
Dave
---
David Keller, CMT
President, Sierra Alpha Research LLC
---
Disclaimer: This blog is for educational purposes only and should not be construed as financial advice. The ideas and strategies should never be used without first assessing your own personal and financial situation or without consulting a financial professional.
The author does not have a position in mentioned securities at the time of publication. Any opinions expressed herein are solely those of the author and do not in any way represent the views or opinions of any other person or entity.