Historically, stocks that report strong earnings and sales results go on to outperform the broader markets - and not just by a little. Using William O'Neil's famous CANSLIM formula, which emphasizes faster-growing companies, these stocks can outperform the S&P 500 by as much as 6,000%, as you can see in the chart below.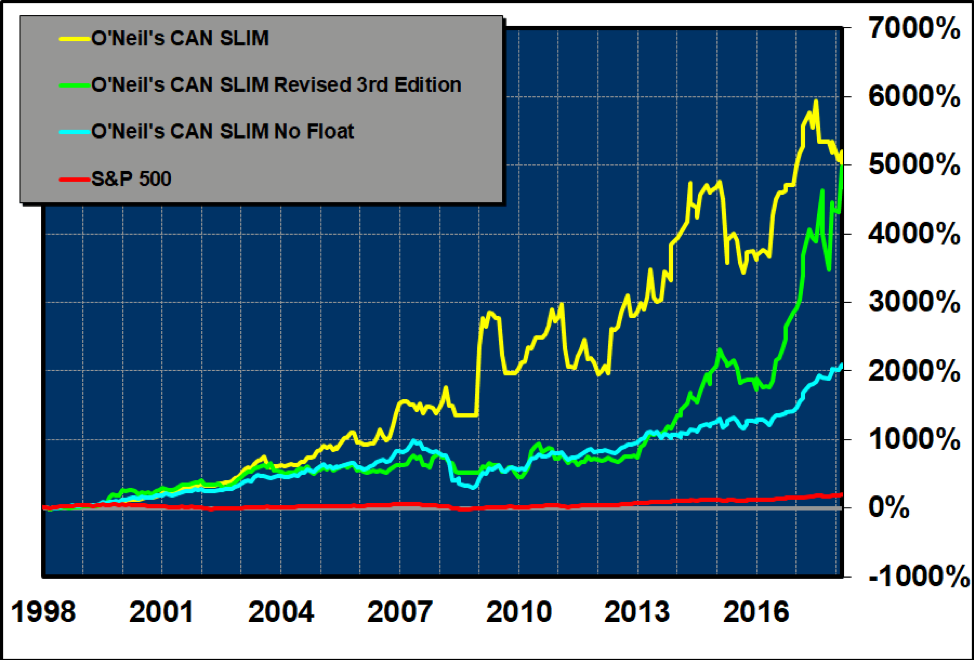 Source: AAII
While strong earnings is the primary driver, there are other characteristics evident in these winners – particularly at the beginning of their steep ascent. With earnings season entering full swing next week, I'd like to share some of these components so you can be on the lookout for stocks that are more likely to have liftoff.
To begin, in addition to paying attention to the fundamentals, investors must be able to interpret the chart. A company may have triple-digit growth prospects, but if the chart isn't healthy, it's telling you that investors are not interested and the stock will languish.
A healthy chart can take many shapes, but the most powerful one is when a stock breaks out of a base on volume following the release of a strong earnings report. The price action is indicating that institutions are interested in getting involved in the stock, which will help propel it higher. Oftentimes, analysts are continuing to revise estimates higher as the stock takes off and bullish sentiment spreads.
I'll begin to reveal other characteristics among winning stocks in my daily articles, which are due to begin next week on StockCharts.com. For now, I'd like to share 2 stocks that are due to report earnings over the next 2 weeks, each of which has a very healthy chart along with a history of reporting strong earnings and sales.
WEEKLY CHART OF CHEGG, INC. (CHGG)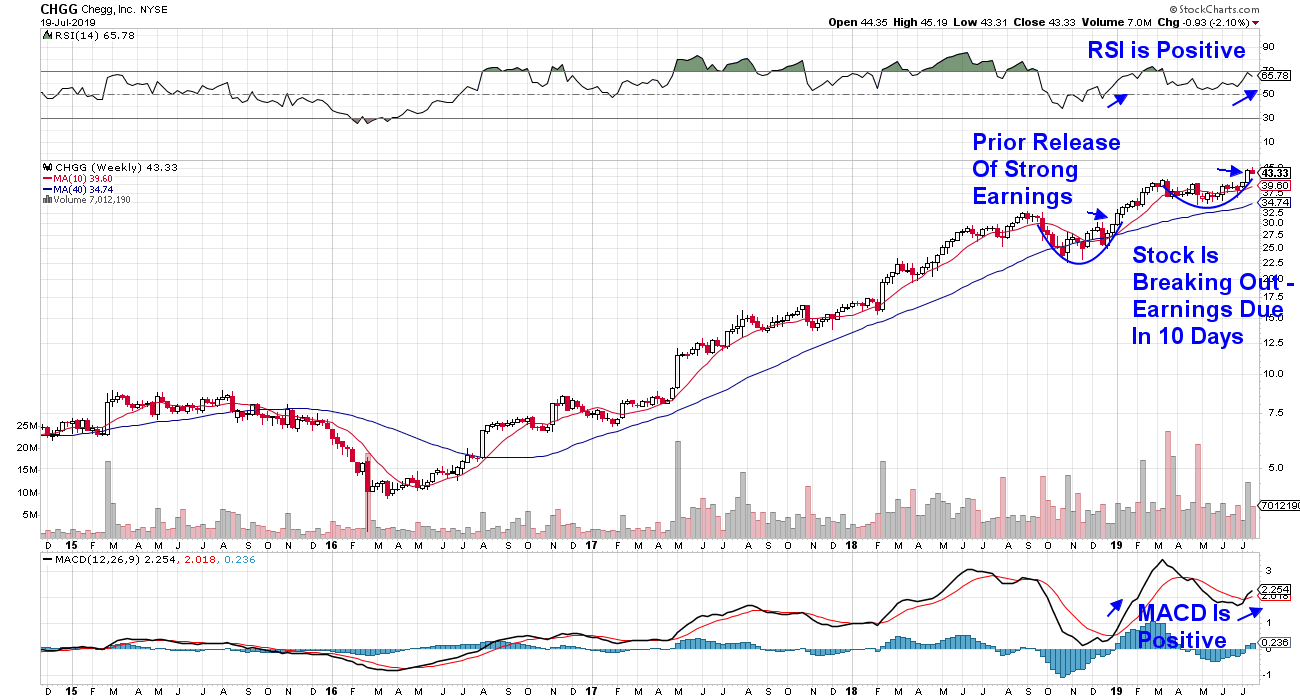 This first stock above has a history of reporting healthy earnings, another characteristic of a winner. Chegg (CHGG) has a 5-year earnings-per-share growth rate of 128% annually. In addition, the company's revenues are strong with quarterly year-over-year increases of close to 30% for the last 2 quarters.
So now we know that the stock is a strong candidate. From here, you will want to make sure that the chart is healthy. CHGG broke out of a 4-week base on volume last week and the stock is remaining above that breakout point in a tight, constructive manner. While we would not be a buyer of stocks going into earnings, you'll want to have this one on your radar as, historically, the advance following earnings can be significant if the report is positive.
DAILY CHART OF CHIPOTLE MEXICAN GRILL (CMG)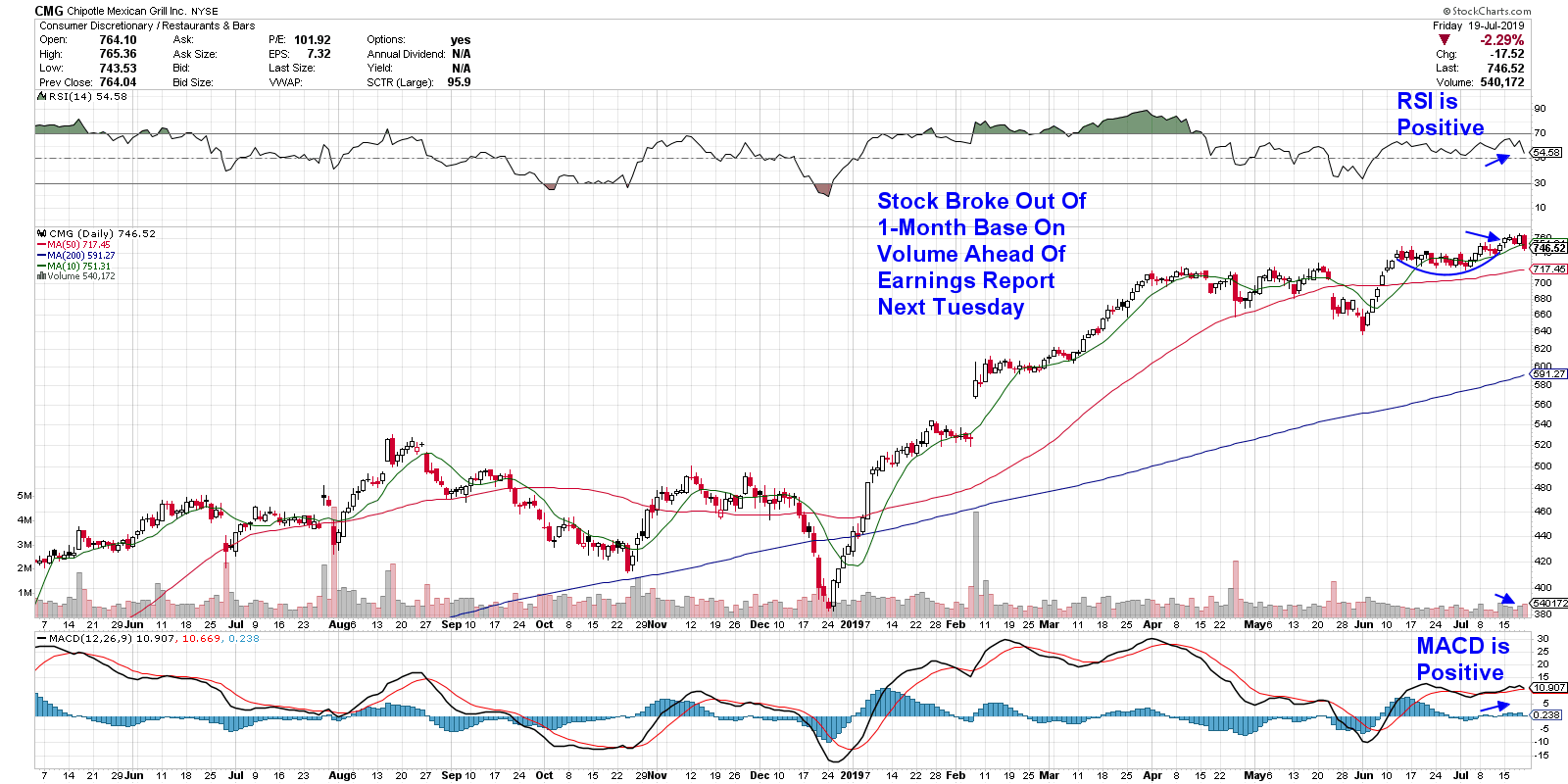 The next stock to pay close attention to is Chipotle Mexican Grill (CMG). This company does not have a terrific 5-year EPS growth rate, due to a health-related issues with their food in 2017. Since then, however, the company has turned things around with terrific growth rates over the last year. Since this is a Restaurant stock, you'll want to pay close attention to the same-store sales numbers, as well as earnings and sales.
As you can see, CMG broke out of a 1-month base this week prior to a slight pullback. In addition, analysts are revising estimates higher going into their report next Tuesday, which is another bullish signal.
In addition to paying attention to individual stocks, you'll want to get an idea of general market conditions surrounding the release of earnings reports. While only 10% of S&P 500 companies have reported, of those, 84% have reported above estimates. Despite a small sample pool, we can conclude that expectations from cautious Wall Street analysts have been excessively lowered for most stocks.
This is good news, as companies that report quarterly results that are above estimates gain (on average) at least 1%*, with select growth stocks seeing much greater immediate returns that can oftentimes escalate even higher.
Given the parameters above, you should be able to begin putting together a watchlist as we go into earnings season. Be sure and watch for my daily articles on StockCharts.com, as I reveal more characteristics common among outperforming stocks so that you can refine your list even further.
Be sure and watch my MEM Edge show on StockCharts TV on Monday at 10:30am Eastern Time. My guest will be Renato Leggi, Portfolio Manager at Ark Invest.
Mary Ellen McGonagle,
MEM Investment Research