Recently, Tom Bowley announced to the StockCharts community that he will soon be returning to his "roots" at EarningsBeats.com. When Tom first approached me with the idea, I let out a big "Woohoo!". In all seriousness, it was a joyful day for me, as Tom and I go back together over 30 years, when his accounting firm handled the books for a different company I owned at the time. When we both moved on from our respective ventures, we began a company called Invested Central in 2004, which was dedicated solely to technical analysis education.
At one point during the early years of Invested Central, Tom and I hosted a radio show that was ultimately broadcast in over 20 cities throughout the US - a radio show that was actually about technical analysis. You can imagine someone spinning the dial on their radio and landing on our show hearing things like "Slow Stochastics" and "Relative Strength Index" and "50-day moving averages" and wondering what in the world had they landed on! But the show did have a lot of loyal followers, and it was during that period of time that Tom and I struck up a relationship with Chip Anderson and the StockCharts team. This ultimately led to Tom becoming a Senior Technical Analyst for them just as EarningsBeats.com was getting off the ground. And what a great relationship it has turned out to be all the way around.
Now that Tom is "re-joining" me at EarningsBeats as Chief Market Strategist, we're looking forward to an even stronger relationship with the StockCharts team. For example, Tom plans to continue to provide content at StockCharts via the Trading Places, ChartWatchers and Don't Ignore this Chart blog articles, in addition to hosting a show at StockCharts TV. Stay tuned! And given Tom's unique experiences at both StockCharts and EarningsBeats, I believe members of both communities will benefit immensely. VERY exciting!
With so many great opportunities ahead for both StockCharts and EarningsBeats, I want to personally invite those of you who have not yet taken the plunge to sign up for our FREE newsletter, the EarningsBeats Digest. This newsletter is published every Monday, Wednesday and Friday, focusing on earnings-related topics and Relative Strength. Just click here to start receiving our FREE newsletter. In fact, this past Friday, Tom wrote an article in the EB Digest that focused on Relative Weakness, warning signs ahead of L Brands (LB) earnings. A sneak preview of the chart accompanying Tom's EarningsBeats Digest article is below.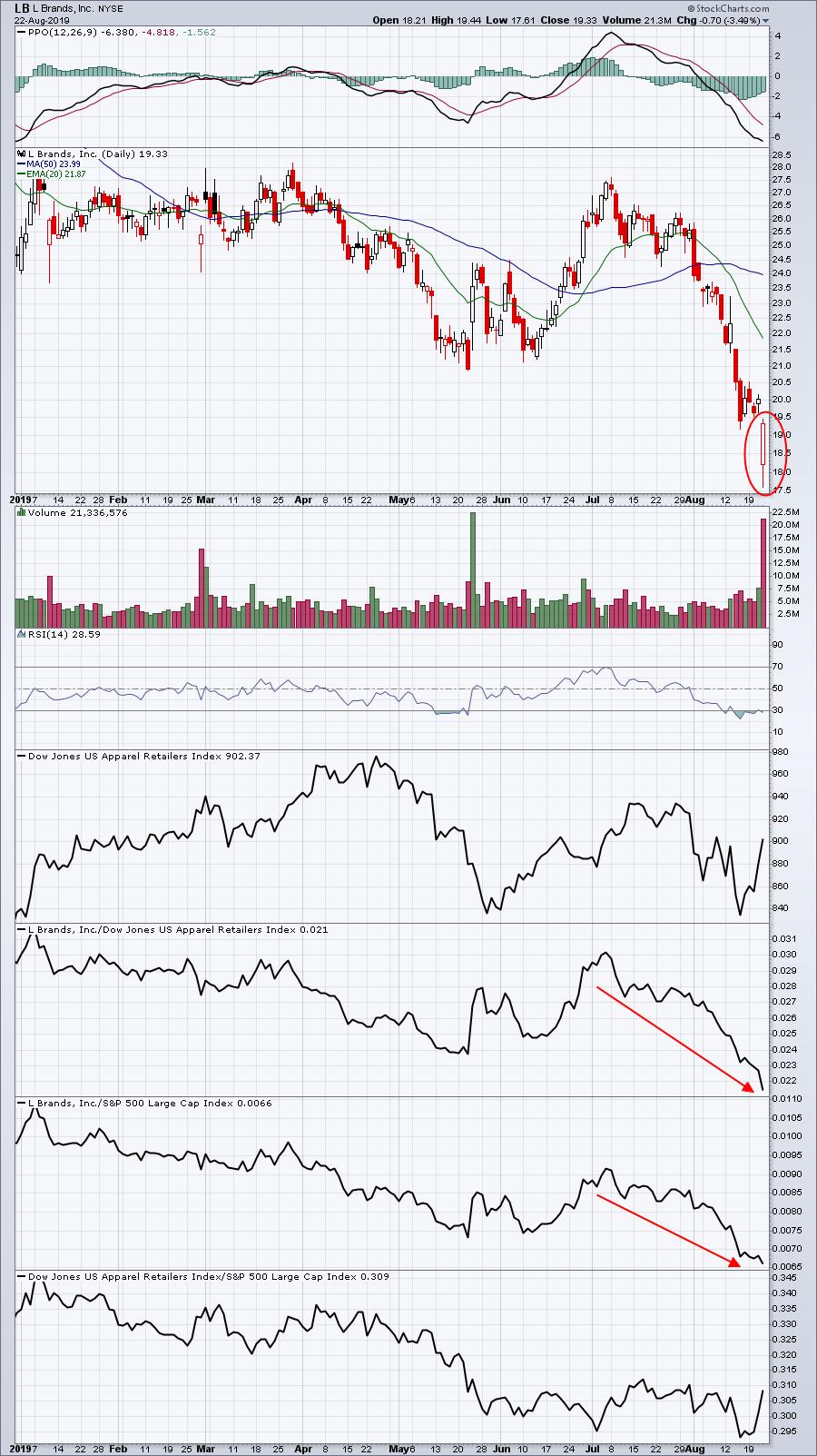 I have had the privilege of writing articles in ChartWatchers for many years now alongside some very smart and talented people. Tom and I look forward to continuing our collaboration with StockCharts while providing the best technical analysis education we can, especially to those of you who have been such a tremendous part of our success.
At your service,
John Hopkins
Better Timing. Better Trades.