Technically, it makes sense to lessen stock exposure any time a major price resistance level is challenged. The all-time high close on the S&P 500 is 3025.86, set on July 26, 2019. On Thursday, the S&P 500 hit 3021.99, less than 4 points from that key level. It was also quad witching day on Friday, and it's not at all unusual to see a pickup in the Volatility Index ($VIX) around such days. Right on cue, the VIX surged 9%, while the S&P 500 saw selling pressure. Here's a chart of the S&P 500: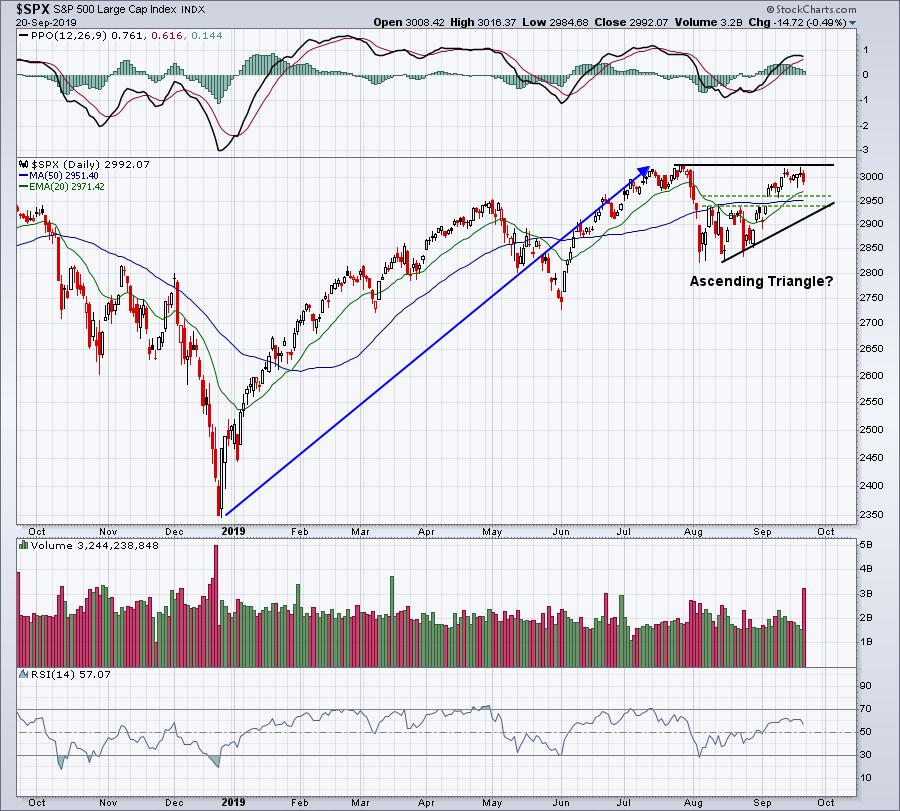 It was great having Tom Bowley rejoin EarningsBeats.com this past week. A powerful Daily Market Report was developed by Tom and it's been getting rave reviews from our members. You can CLICK HERE to review Friday's report.
Throughout the week, I marveled at Tom's ability to find and share golden nuggets of technical information with our community. Here were just a few samples:
American Renal Associates (ARA):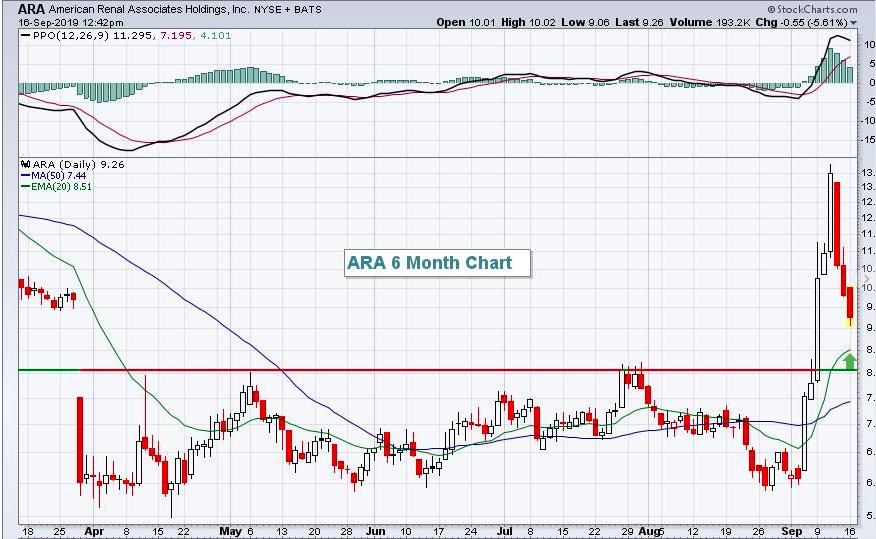 This was ARA's chart on Monday at noon. Tom's comments, in part, were "An intraday move down closer to 8 is possible, but a 20-day EMA test would provide a ton of upside. It's not for those who are risk-averse, however, as ARA carries an inordinate amount of risk."
Then, this happened: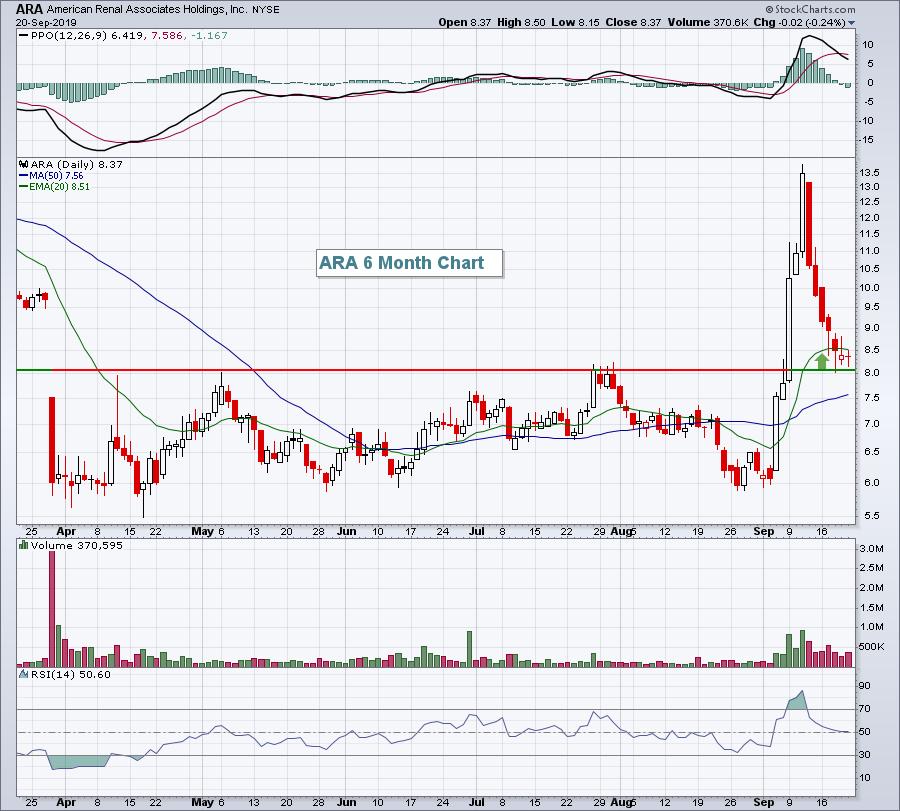 ARA was at 9.26 on Monday when the Daily Market Report was sent out, with Tom encouraging patience for the stock to settle back to close to 8.00. Wednesday's low was 8.02. I don't know where ARA will go next week, but I do know that buying a stock close to 8.00 is cheaper than 9.26 and would have saved a bundle.
Tom also provided his usual Monday setup, which this past week was Resmed, Inc. (RMD). The stock looked like this on Monday: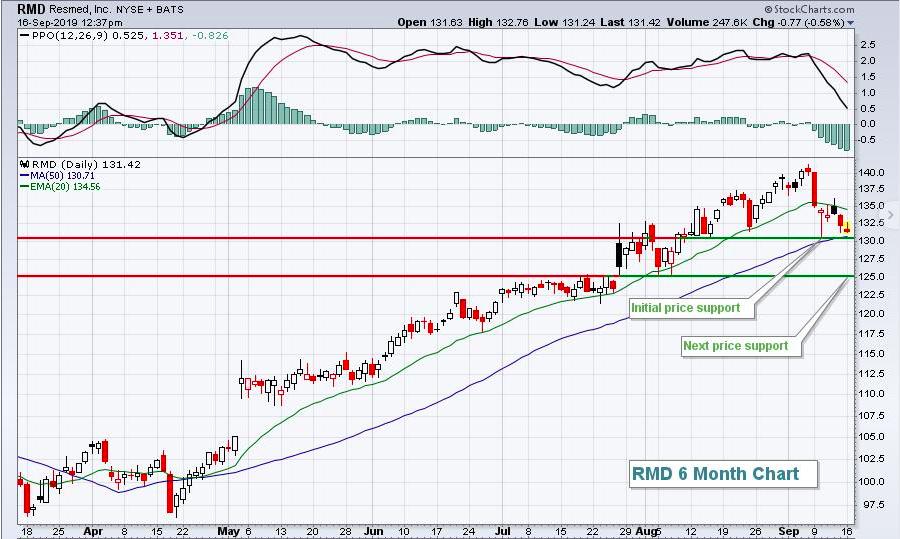 At Friday's close, RMD was at 134.53, a gain of 3.11, or roughly 2.3%. Not bad, given the fact that the S&P 500 was down approximately 0.50% over the same period.
Tom's ability to find trading gems using the StockCharts.com Scan Engine shone through on Tuesday. Using a high volume scan, DR Horton, Inc. (DHI) was dissected with the following comment:
"DR Horton (DHI) is in that home construction space that I mentioned above and it's currently bouncing off its 20-day EMA. 48.00 should be solid price support on any further selling/consolidation, but it's beginning to show leadership again, so I think we'll see another breakout here sooner rather than later."
Then, the breakout happened: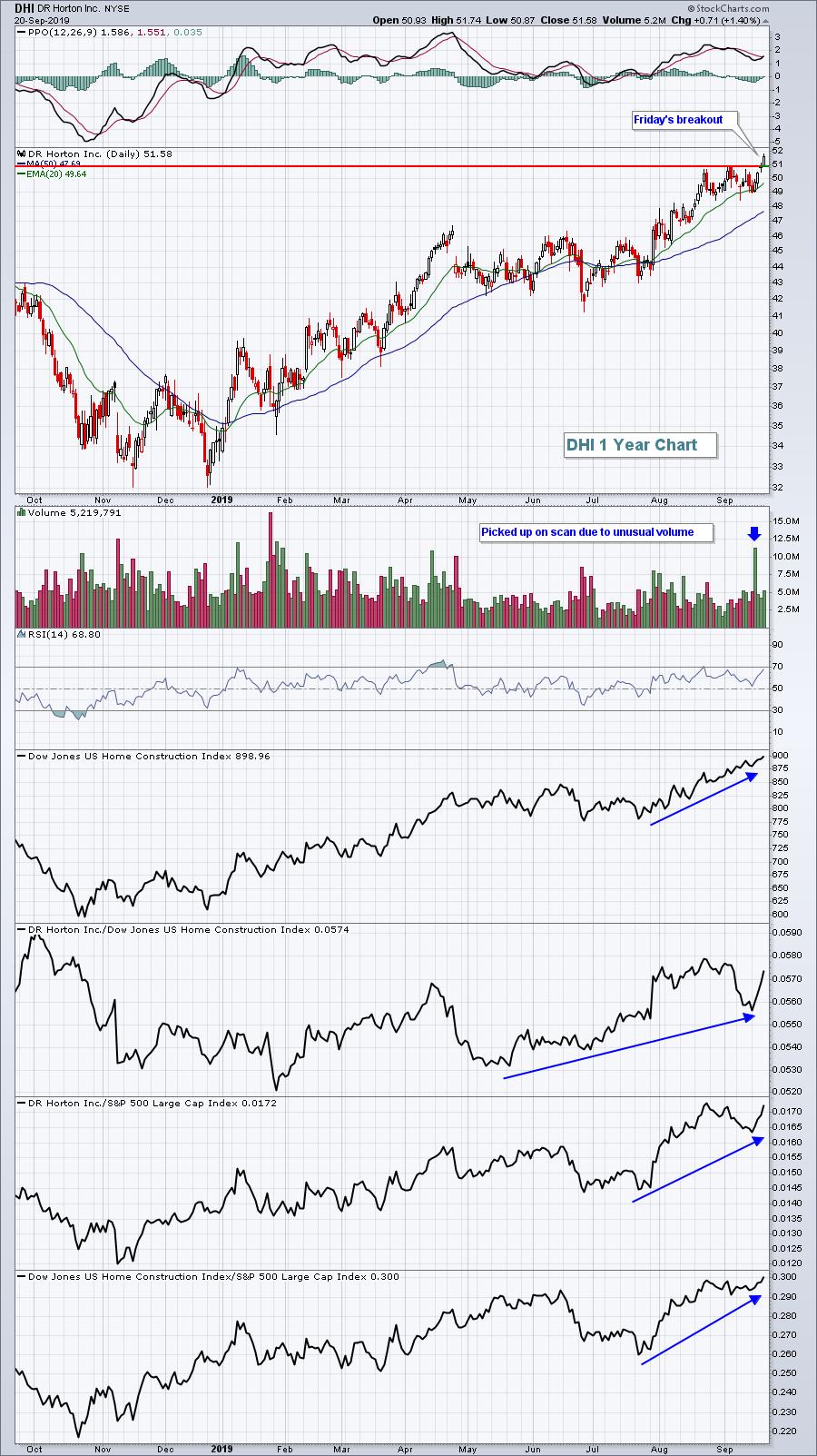 DHI traded higher by more than 4% following Tom's posting on Tuesday. Needless to say, it's great to have Tom back full-time at EarningsBeats.com in his role as Chief Market Strategist.
Occasionally, we have news that hits and can change the overall trading landscape. The Fed's latest policy statement hit the wires on Wednesday afternoon and we've been dissecting the stock market's performance and leadership ever since. We want to share our observations with everyone live via a webinar TODAY at 11:00am EST. We believe it's THAT important. We are likely to see a major shift in equity performance in Q4 and it'll be extremely important to know what to look for and what areas to trade. Our webinar room will open up at 10:30am EST and the webinar will begin promptly at 11:00am EST. If you'd like to join me and Tom for this special event, simply send an email to "support@earningsbeats.com" and put "Webinar" in the subject line. We'll send you instructions on how to join the webinar. If, for some reason, you cannot make the live event, no worries; we'll record the event and send you a link to the recording!
We hope to see you there!
At your service,
John Hopkins
President, EarningsBeats.com
"Better Timing. Better Trades."