On Friday morning, Tom Bowley, Chief Market Strategist of EarningsBeats.com, and Mary Ellen McGonagle, president of MEM Investment Research, conducted a webinar that included identifying stocks reporting earnings next week that could make significant moves. It was fascinating listening to these two seasoned pros as they displayed charts on 14 specific companies and explained their reasons for why they thought these stocks were ripe for a move higher or lower. It got me thinking about how exciting things are about to get and the tremendous opportunities that lie ahead as Q3 earnings season moves into high gear.
We've already seen a number of companies report their earnings with mixed results. But the only ones we care about are the ones that beat earnings expectations - both top and bottom line - and have promising charts. A great example is JP Morgan, which reported its numbers last week.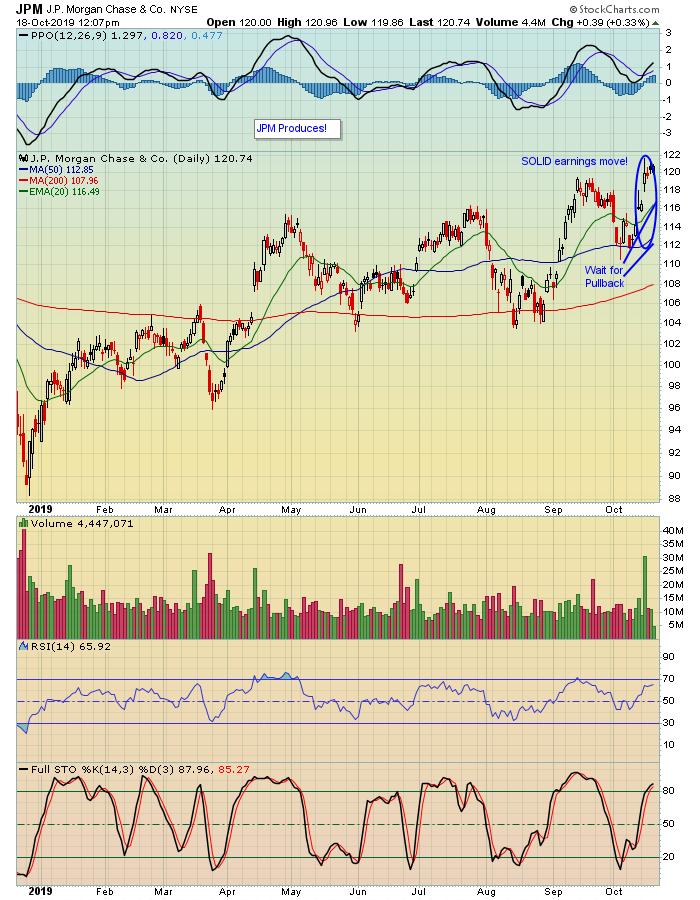 Though JPM didn't "blast off" on its earnings, it managed to move up 8% in just a few days - not too shabby for a bank - and helped to set the tone for both the financial sector as well as the overall market which, at one point last week, saw the S&P get within striking range of its all time high. Importantly, the stock is now on our radar screen as we wait for some of the initial enthusiasm to settle down, with expectations that at some point it will pull back to a level that presents a solid reward-to-risk opportunity.
The REALLY great news is there are going to be a TON of companies reporting earnings over the next few weeks and we're going to be identifying a bunch that could be set to propel higher. Several companies that already reported - like JPM - are going to end up on our Strong Earnings ChartList while we wait for them to set up as high R/R trades. In fact, we will be conducting one of our four annual earnings season events - the Q3 Earnings Webinar - this Monday, October 21, at 4:30pm ET, where Tom Bowley will be providing attendees with a list of stocks that have already reported as well as a list of stocks about to report that fall into the category of "Very Worth Watching!" This particular webinar will be for EarningsBeats.com members only, but we want as many traders as possible to join us on Monday, so check out the EarningsBeats.com website for additional information so you can sign up!
Trading brings with it a whole set of challenges. Why not increase your odds of profiting by focusing on those companies that "walk the walk" by beating top and bottom line expectations?
At your service,
John Hopkins
Better Timing. Better Trades.