In just over a week, some of the largest banks will report their earnings including Citigroup, JP Morgan and Wells Fargo. When these financial behemoths report, I consider that the kickoff of Q3 earnings season. And when I think about the beginning of earnings season, my blood gets flowing thinking of so many great trading opportunities, as thousands of companies report their numbers over the next few months while we head towards the end of the year.
At EarningsBeats.com, all we do is focus on companies that beat earnings expectations, both the top and bottom lines. Specifically, we scan the market for those that do beat expectations and also have promising technical charts. A current example is Pepsi (PEP), who just reported numbers this past Thursday that beat both earnings and revenue expectations.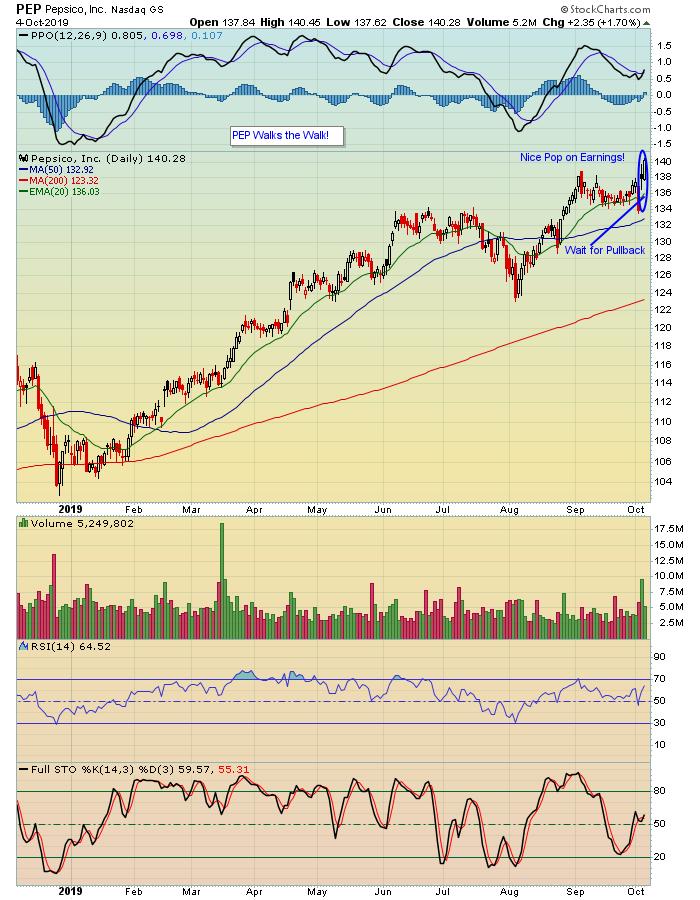 You can see that PEP made a nice move higher after reporting its numbers. In fact, it hit an all-time high. But we prefer to wait to see the market reaction to an earnings report before getting involved in a trade, as there's no telling how the stock will behave once numbers have been released. So, in the case of PEP, we're happy to wait for a pullback to a key price or support level before issuing a trade alert to our members.
The whole concept behind focusing on stocks that beat earnings expectations and have strong charts is this: traders flock to those companies that show strength on the fundamental and technical side. Makes sense, right? Why not zero in on the strong performers? And, better yet, let the dust settle once the numbers are in and then wait patiently for the right time to strike.
With Q4 just underway and Q3 earnings season about to kick into high gear, we're going to be conducting two highly educational and timely webinars featuring Chief Market Strategist Tom Bowley, who will be presenting his Q4 Outlook in a members-only webinar this Monday, October 7. That will be followed by our Q3 Earnings webinar on October 21, where Tom will be zeroing in on stocks that have reported earnings, along with those stocks which are about to report and could present high reward-to-risk opportunities. These are both extremely popular events and, if you would like to join us, just click here to learn more.
Trading stocks brings with it many challenges, from finding appropriate candidates to setting entry, target and stop losses to pulling the trigger on the entry and exit sides. Why not zero in on those stocks that "walk the walk" and give yourself a greater opportunity to succeed?
At your service,
John Hopkins
Better Timing. Better Trades.