First off, it gives me GREAT pleasure to announce our first ever online Financial Conference, Market Vision 2020, which will take place just as the new year begins. EarningsBeats.com Chief Market Strategist Tom Bowley and I will be joined by some of the biggest names in the industry (we'll be announcing them early next week) as we collectively lay out our Market Vision for 2020. Just click on this link to learn how you can get involved in this exciting, highly educational event!
Next, though our Market Vision conference is intended to prepare participants for a new trading year, we've still got the rest of this year to deal with. Right now, all signs are looking positive with just over six weeks to go in 2019.
Take a look at the chart on the S&P below.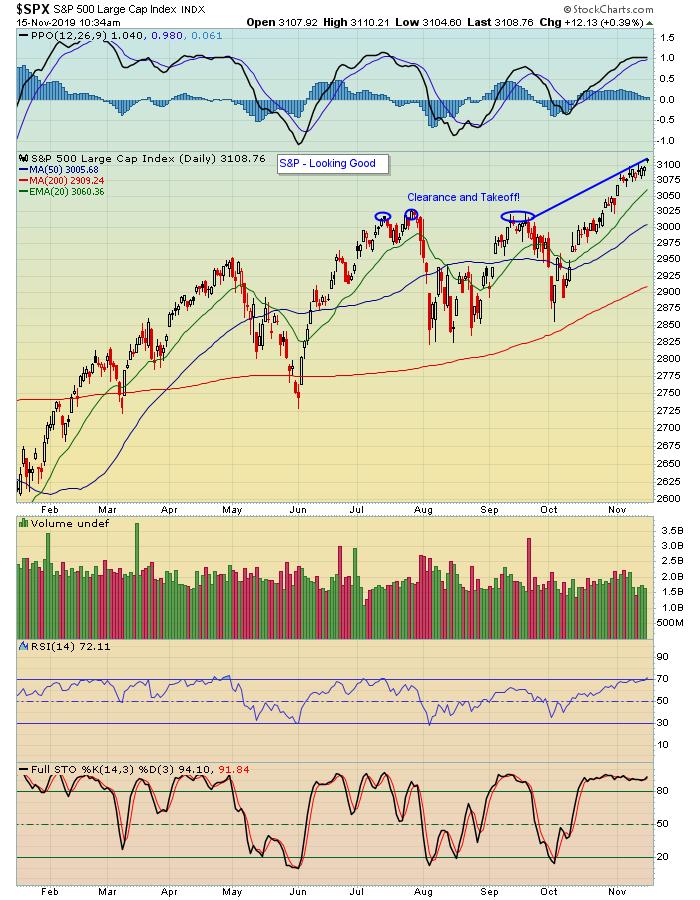 First, you can see that the S&P finally cleared some big hurdles with some gusto. In case you are wondering, yes, the market has gotten stretched. But just think about what's going on out there - from continuing Trade Wars to impeachment hearings to everything else you can imagine that might derail the market, and yet here we are at all-time highs. Impressive!
Next, you can see in the chart below the VIX has really settled down. It's still nowhere near its all-time low that we saw in January 2018, so we're not seeing traders being overly complacent, which can often lead to substantial pullbacks. Instead, we're seeing much less worrying than we did going back to the end of last year and continuing through various periods of 2019.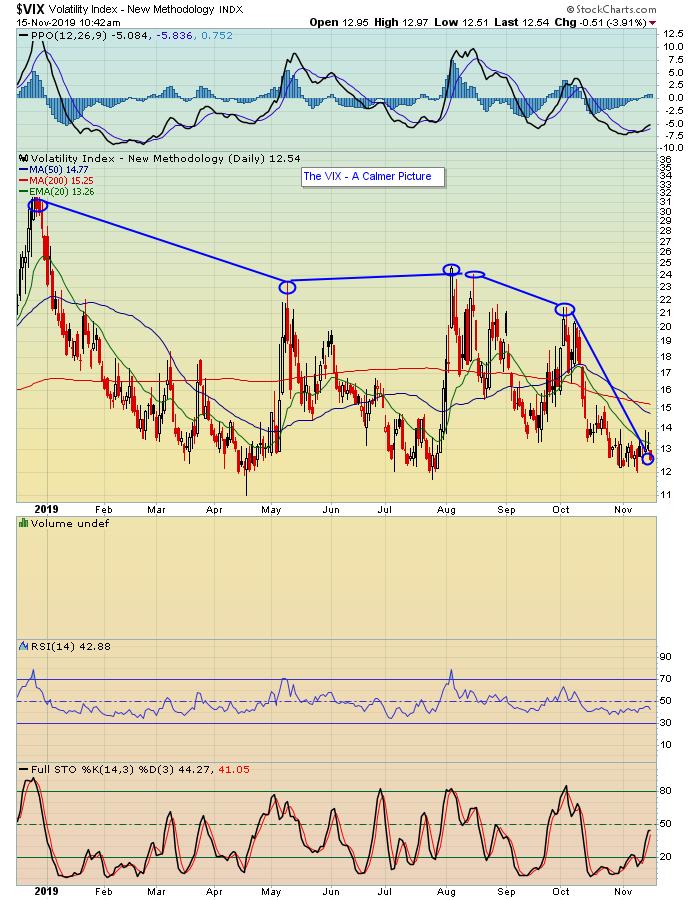 The bottom line is that the market is in good shape as we move into such a bullish time of the year. A lot of it has to do with a lot of better-than-expected earnings results, which is always what matters to traders the most.
Although we are very excited about our Market Vision 2020 event, we're equally excited about an event coming us this Tuesday, when Tom Bowley unveils his Top 10 Stock Picks for the upcoming quarter. The timing could not be better! In fact, this will mark the first anniversary from when Tom unveiled his first Model Portfolio on 11-19-18; since then, the stocks in the Model Portfolio have gained 44.5% compared to 15.09% for the S&P over the same period of time. Quite impressive! In addition to his Top 10 Model portfolio stocks, Tom will also be unveiling his Top 10 Aggressive and Income Portfolio stocks (30 stocks in all) that he believes will outperform the market and that are meant to be held for a 90-day period. This will be a members-only event and we want as many participants as possible to attend. Accordingly, you can click here to sign up (for just $7!) to save a seat and get access to Tom's Daily Market Report, as well as his guidance for 30 full days. Don't even think twice!
The market has been on a roll lately and all signs point to a continuing positive environment for the rest of the year. It's as good a time as ever to be involved in the market.
At your service,
John Hopkins
Better Timing. Better Trades.