The market has mostly been straight up since the October 3 bottom, when the S&P touched 2855 before heading north. Since then, the S&P has climbed more than 10%, with buyers ready and willing to buy on any dips.
If you are a bull, and especially if you have ridden the market higher the past few months, you should be very pleased. However, the market has risen - and so have many individual stocks - to levels that could start requiring some patience; essentially, the "easy money" for the year may have already been made.
As an example, take a look at the two charts below on DXCM and QRVO. Both companies smashed earnings expectations, with the market rewarding both of them for their stellar results.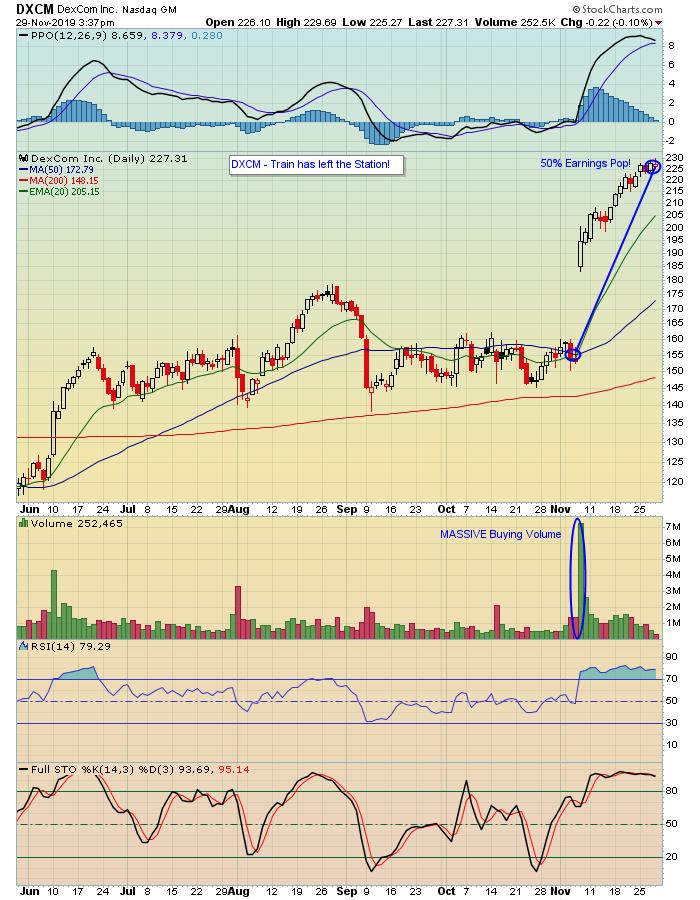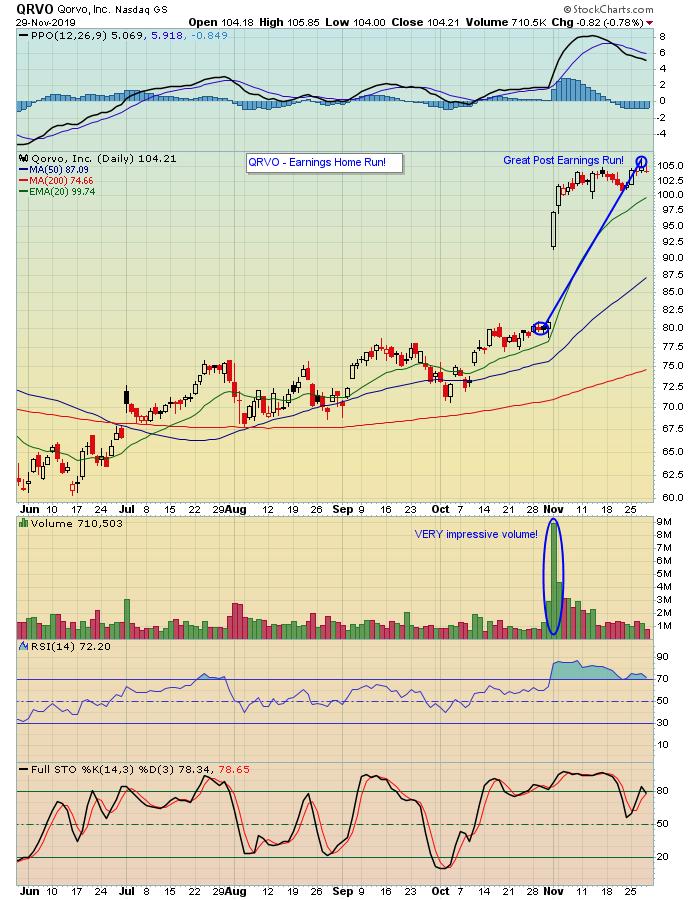 In the case of DXCM, the market was so impressed with their numbers that the stock climbed almost 50% during the month of November. Now, the stock is extremely stretched and it makes no sense to chase it here. Instead, this is where patience could pay off, because when it does finally pull back, you can bet those who missed out the first time around will be licking their chops to get involved in the stock.
In the case of QRVO, the stock has "only" risen 33% during the month of November. Kidding aside, it's similar to DXCM, so you'll need to be patient before putting any serious money to work on the stock.
These two stocks are great examples of why it gets harder to make big scores when the market is scorching hot - and stretched. And they're both examples of why you need to think twice before chasing stocks that have risen so substantially in such a short period of time.
This has been quite an impressive rally, as we've seen, and it's going to be interesting to see if the market holds up into year-end. For example, many traders might recall the wicked finish to last year, when the S&P fell 15% in just over 3 weeks between November 30 and December 27 before starting its torrid move to record highs just last week. It doesn't mean we'll see the same thing again this year, but it does serve as an example of why you need to be prepared for any sudden outcome.
One thing I did want to mention that we are extremely excited about is our upcoming "Market Vision 2020" online financial conference, where some of the best minds in the industry will share their views on where the market could be headed during 2020. This includes our recently announced Keynote speaker, John Murphy, Chief Technical Analyst at StockCharts.com. We also announced our "Black Friday Special" today, which we want to extend to all of you! Just click on this link to see the fabulous speaker lineup and save a seat for what is certain to be a highly educational event. Hope you can all join us!
At your service,
John Hopkins