Last year, it was equities that really soared through the Holidays, kicking off a big rally that lasted well into the spring. This year, the equities are still perking up with the traditional Santa Claus rally, but the big move this week has to be in the gold miners. The average gold stock was up 7.15 % this week! That is a nice nugget in the stocking!
One of the common complaints about commodities and companies related to commodities is they are too volatile and need to be traded into and out of. For portfolio managers, that can be too difficult, so they end up avoiding them altogether.
For those of us willing to follow commodities, these opportunities can be nice. The GDX ETF above represents gold miners. It soared from May to August, generating a 50% move. This week appears to be another launch point for the next rally.
I have put gold in the lower panel. It was up 2%, while the miners were up 7%. The extraordinary torque in the miners is why this can be a more profitable way to play these commodity names.
Silver also followed suit this week, with the silver miners making a big move as well. The SIL ETF represents silver miners, whereas SLV represents Silver.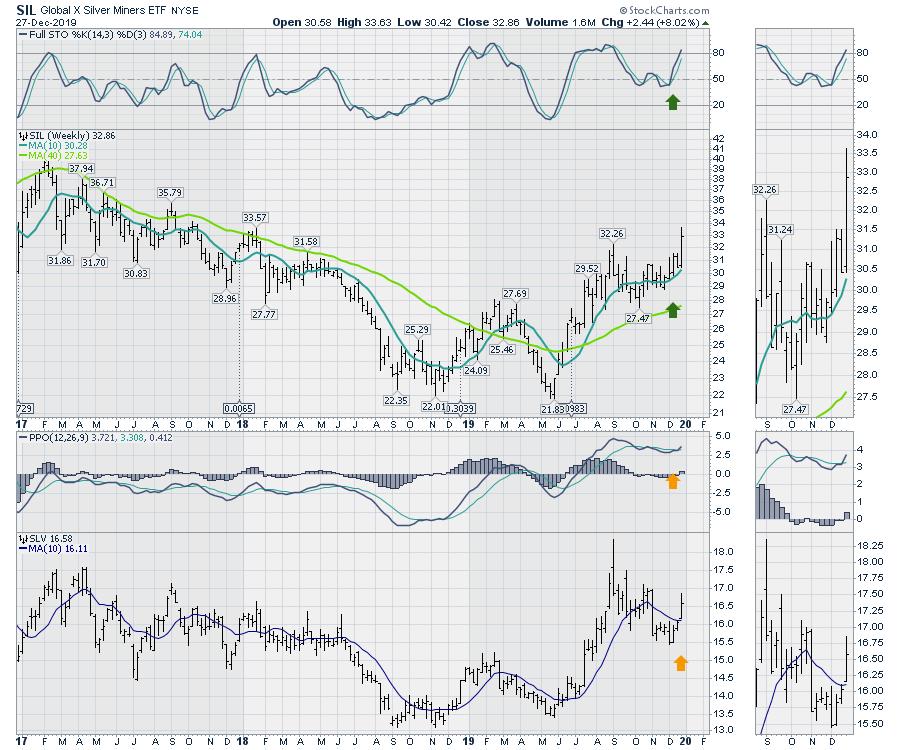 So we see that precious metals fired up this week, and the miners fired up even more. With the Silver miners ETF (SIL) breaking out to new 52-week highs, that may attract more investors as well. If you are looking for new ideas for your portfolio, the setup is nice here.
This is the last chance before the Market Vision 2020 event with all your favorite StockCharts authors! If you would like more information, follow this link! It all happens next Saturday, January 4th. With the great returns from 2019, this might be a good time to investigate some of your favorite technical analysts from StockCharts!