On September 23, our Chief Market Strategist Tom Bowley, who had just returned to EarningsBeats.com after 4.5 years as Senior Technical Analyst at StockCharts, made a bold call. Right as the market was in danger of rolling over, Tom saw something that caught his attention, which he shared with EarningsBeats members in his Daily Market Report. It was a prescient call, as you can see in the chart below.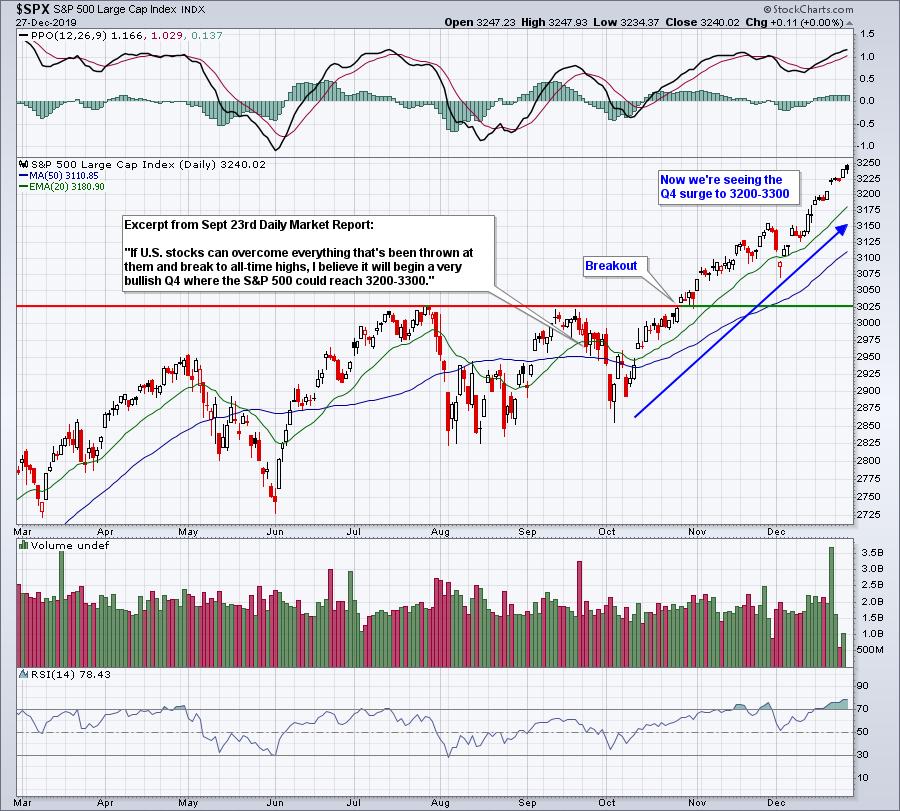 These types of forecasts, where the S&P climbs over 7% to new record highs, don't always work out. But when you have someone who makes predictions that often turn out to be true, it's worth paying attention.
For example, I went back and looked at a number of stocks Tom shared with members during September and October that had stunning results. One example is IMMU, a stock that was highlighted in Tom's September 30 Daily Market Report. You can see the results below.

Does every trade suggestion we make to our members work out as well as IMMU? Of course not! In fact, we've provided stocks that have lost ground since they were highlighted, but we advocate keeping stops in play. Managing small losses is fine when you have big winners, like those shown above. But if you want to be impressed even more, click here to see some of the other stocks Tom brought to the attention of EarningsBeats members over the past few months.
I'm pointing out the potential power of accurate forecasts because EarningsBeats is about to conduct its first major online conference - Market Vision 2020, which will feature some of the finest minds in technical analysis, including our Keynote Speaker John Murphy. This one-day event will take place on Saturday, January 4 and is a MUST-attend for those investors and traders who want to put themselves in a position to succeed during 2020. You can click here to learn more and save a seat. You DON'T want to miss this one!
At your service,
John Hopkins
Better Timing. Better Trades.