As investors review the performance of stocks in 2020, e-commerce names like AMZN and SHOP exemplify the transition from brick-and-mortar stores to an online shopping experience. In the new year, potential stimulus packages and a rollout of the coronavirus vaccine should allow consumers to go back to old habits of purchasing goods and services in person.
Where will that leave high-flying e-commerce stocks? Our analysis suggests that the move to online shopping is not a temporary one, but more reflects a long-term transition into a more robust online economy.
2020 has been a solid year for e-commerce names by any measure. Here, we can see the year-to-date performance of the S&P 500 ETF (SPY), which is up around 17%. Out of the top four e-commerce ETFs, the best performer was the Amplify Online Retail ETF (IBUY), which was up around 125% over the same time period.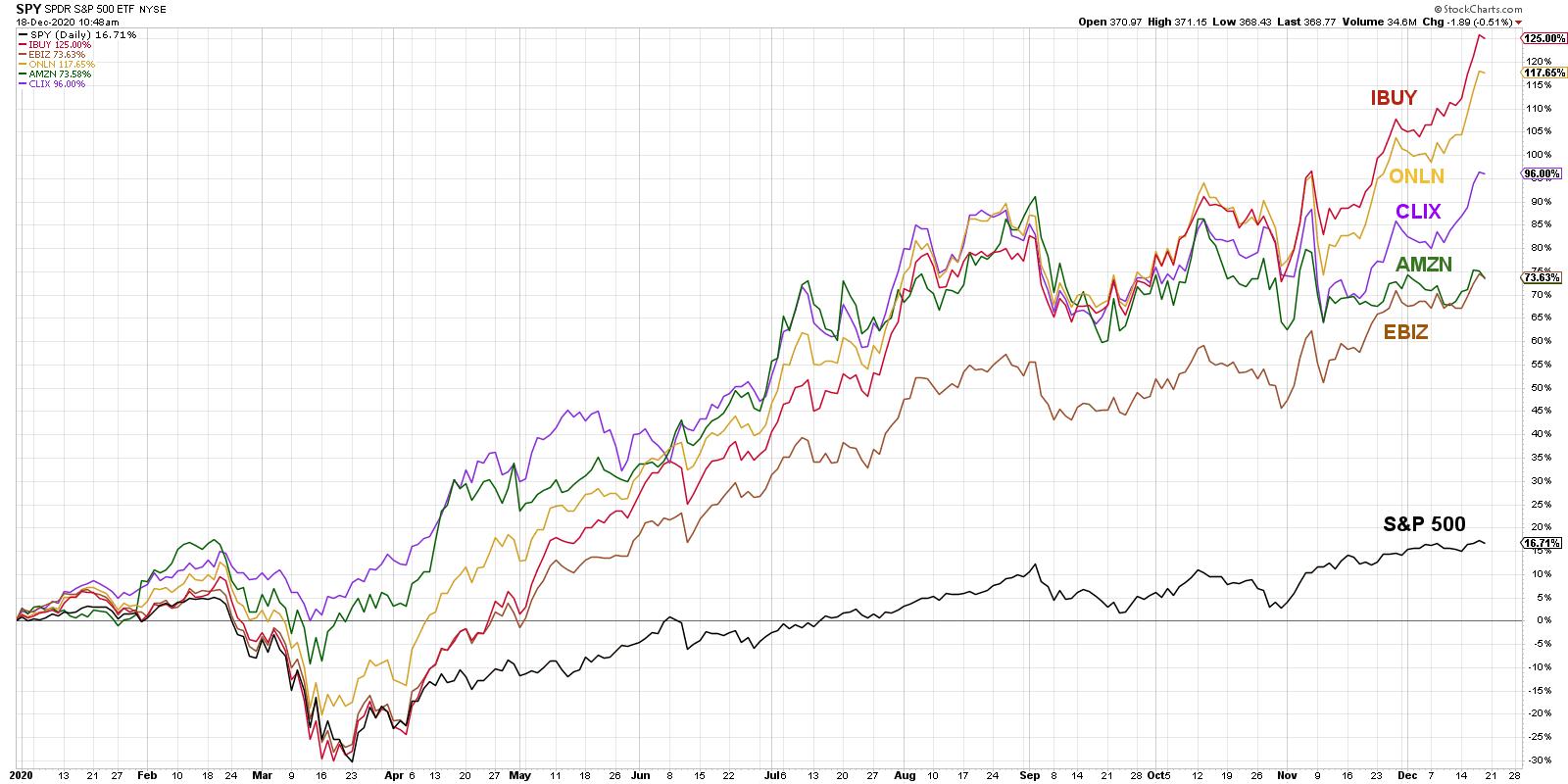 The ProShares Online Retail ETF (ONLN) gained 117%, the ProShares Long Online/Short Stores ETF (CLIX) was up 96% and the Global X E-commerce ETF gained 74% so far this year. The largest company by market cap in most of these ETFs is Amazon (AMZN), which, at +75% year-to-date, has outperformed the S&P 500 index by 58%!
While the year-to-date gains are certainly impressive, what really interests me is the performance of these ETFs before the March 23, 2020 market low. All four of the ETFs, as well as Amazon, outperformed the S&P 500 leading into the February market peak, as well as into the March low.
What this suggests is that, while the performance of these stocks has certainly been impressive as consumers have changed behavior during the course of 2020, it truly reflects a longer-term transition that has been happening for years.
In fact, when we rank the equity universe using our proprietary trend-following model called StockCharts Technical Ranking (SCTR), some of the largest holdings of these ETFs are in the top 1% of trends going into year end. ETSY Inc. (ETSY) has a ranking of 98.9 out of 100 and has been in a consistent uptrend of higher highs and higher lows since early April. Even with the emergence of Energy, Financials and other cyclical sectors in the fourth quarter, ETSY is still making new 52-week highs in December.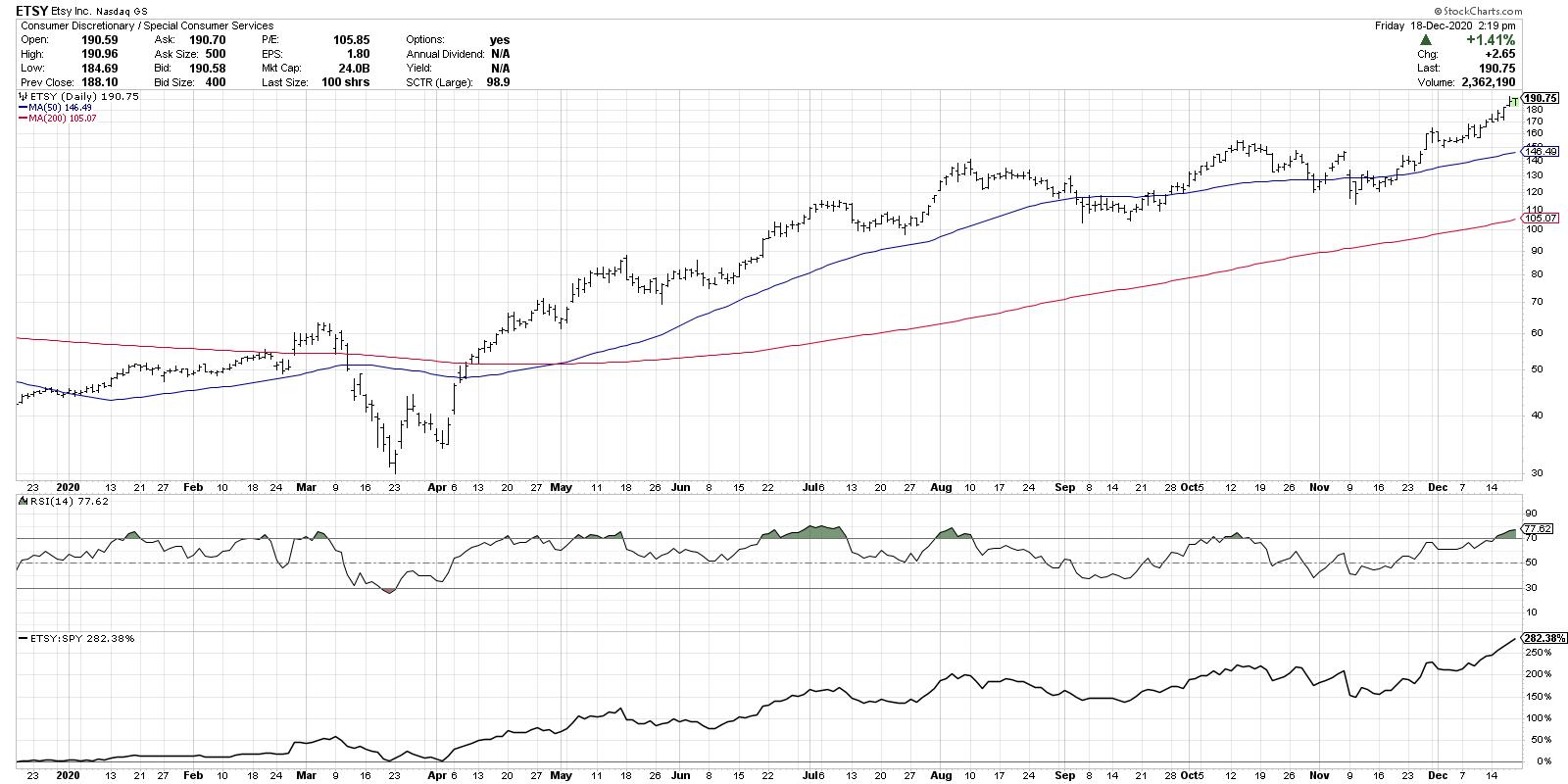 Chewy Inc. (CHWY), which provides a purely online pet shopping experience, has exploded to new highs in recent weeks and now is approaching the important $100 level. Stocks often find resistance at "big round numbers" as investors tend to use that price as an opportune moment to reflect on the true value of a stock.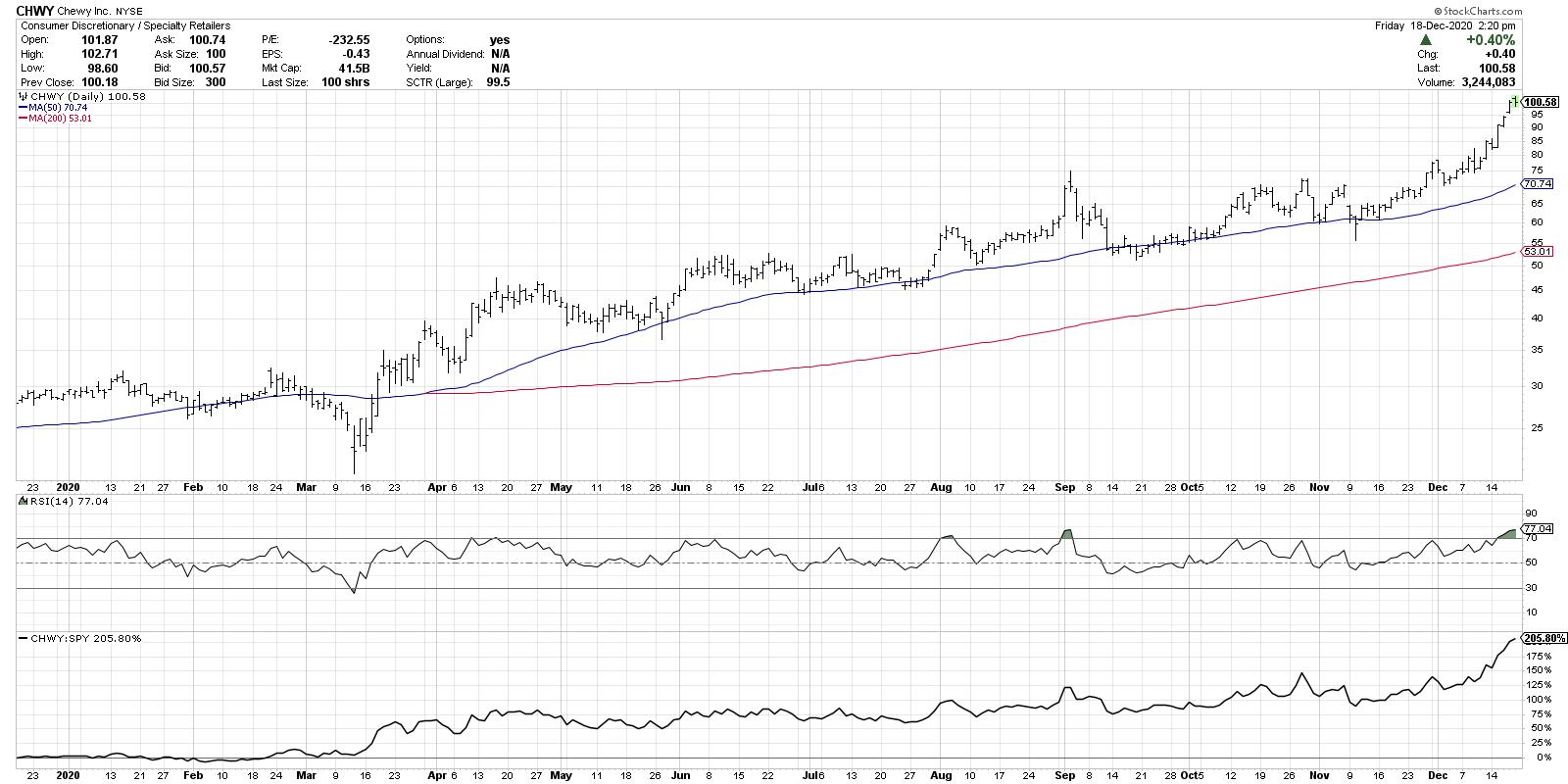 The current largest holding in the Amplify Online Retail ETF is Stitch Fix, Inc. (SFIX), which is ranked 99.7 out of 100 in our mid-cap SCTR universe. This stock had leveled off around $40 until a positive earnings report in early December caused traders to flood into the name and propel the stock into the low 70's.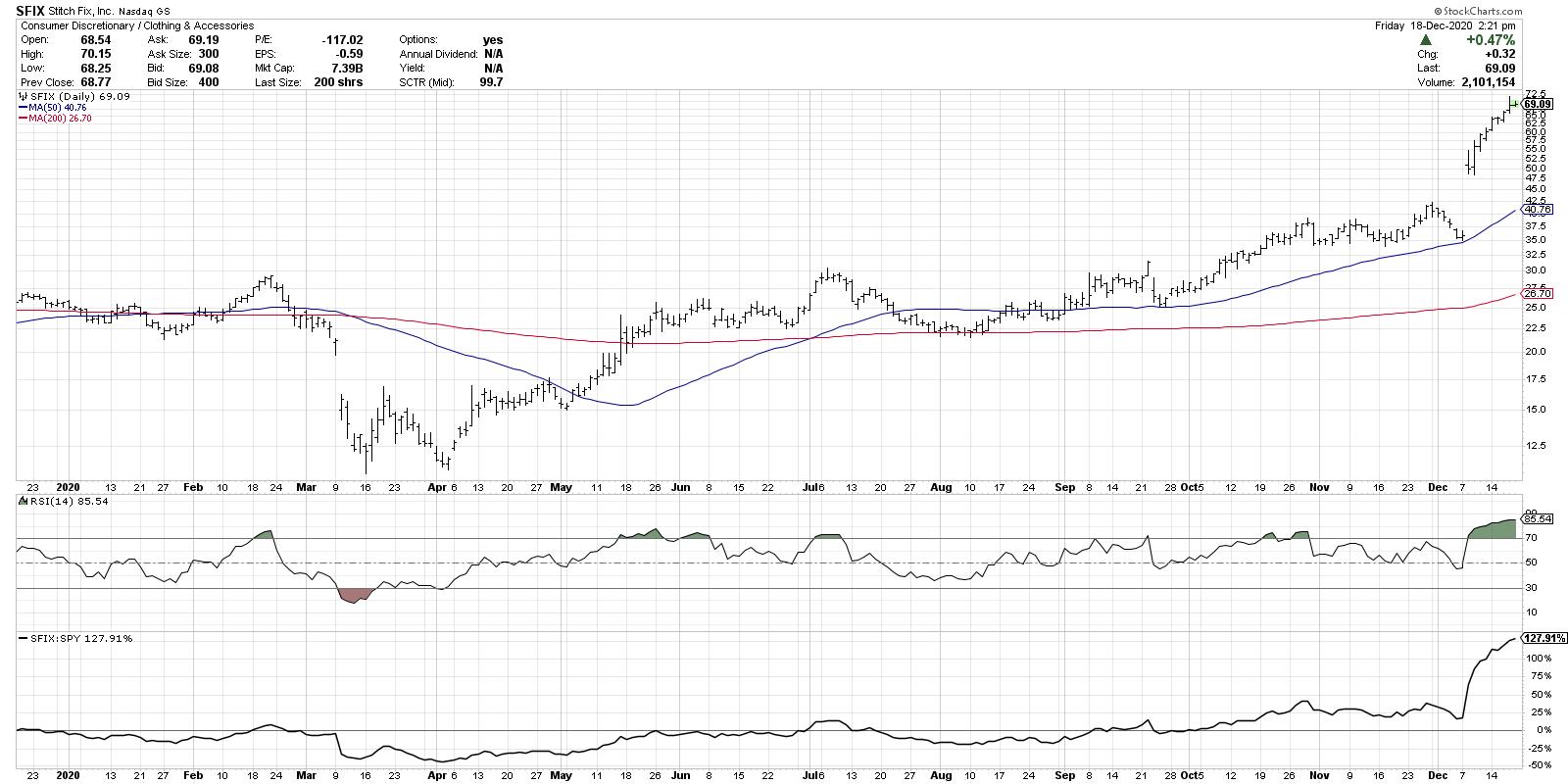 What about the largest company in the space, Amazon.com (AMZN)?
As with many of the FAANG stocks, Amazon has moved into consolidation mode in the recent months after driving the market into the summer months. Now we see a pattern of lower highs and higher lows as AMZN settles into a range around the $3200 level.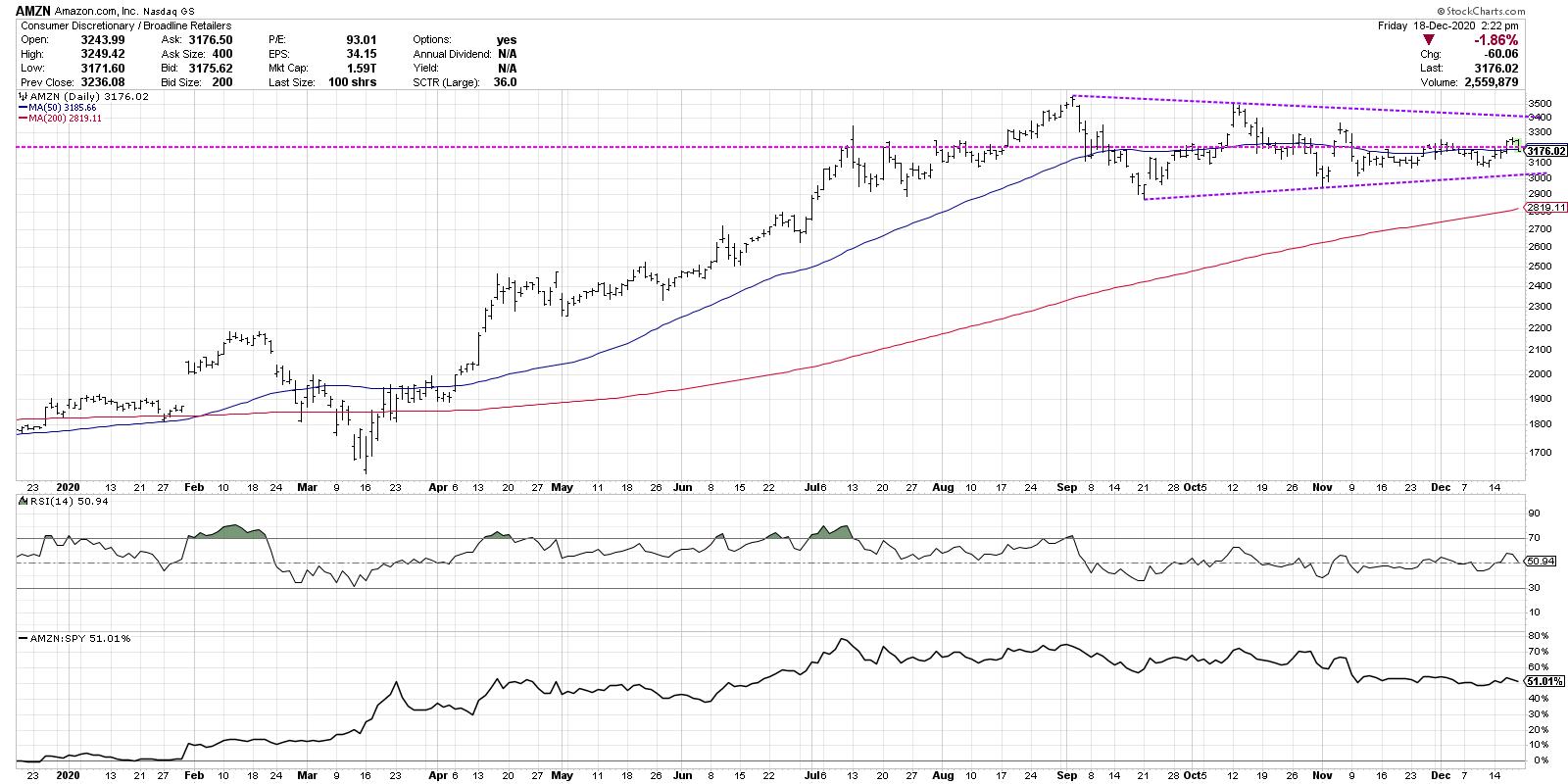 While other stocks in the space have been breaking higher, which is certainly an encouraging sign for the e-commerce theme, a breakout on the Amazon chart would convince many investors that there is opportunity for much further upside for the space.
A breakout above the September high around $3500 would provide a signal to many investors that there is much greater upside potential for AMZN and the rest of the e-commerce stocks.
So what's the risk to the "strong e-commerce in 2021" thesis? Quite simply, the risk is that, when given the opportunity to go back to previous purchasing patterns, consumers stop scratching the online shopping itch and return en masse to brick-and-mortar stores.
Shopify (SHOP) and PayPal (PYPL) may be good names to watch to determine the likelihood of that sort of mean reversion taking place. While other stocks in these e-commerce ETFs are pure plays on online stores vs. traditional retailers, a company like Shopify is trying to help small- and medium-sized businesses process online transactions.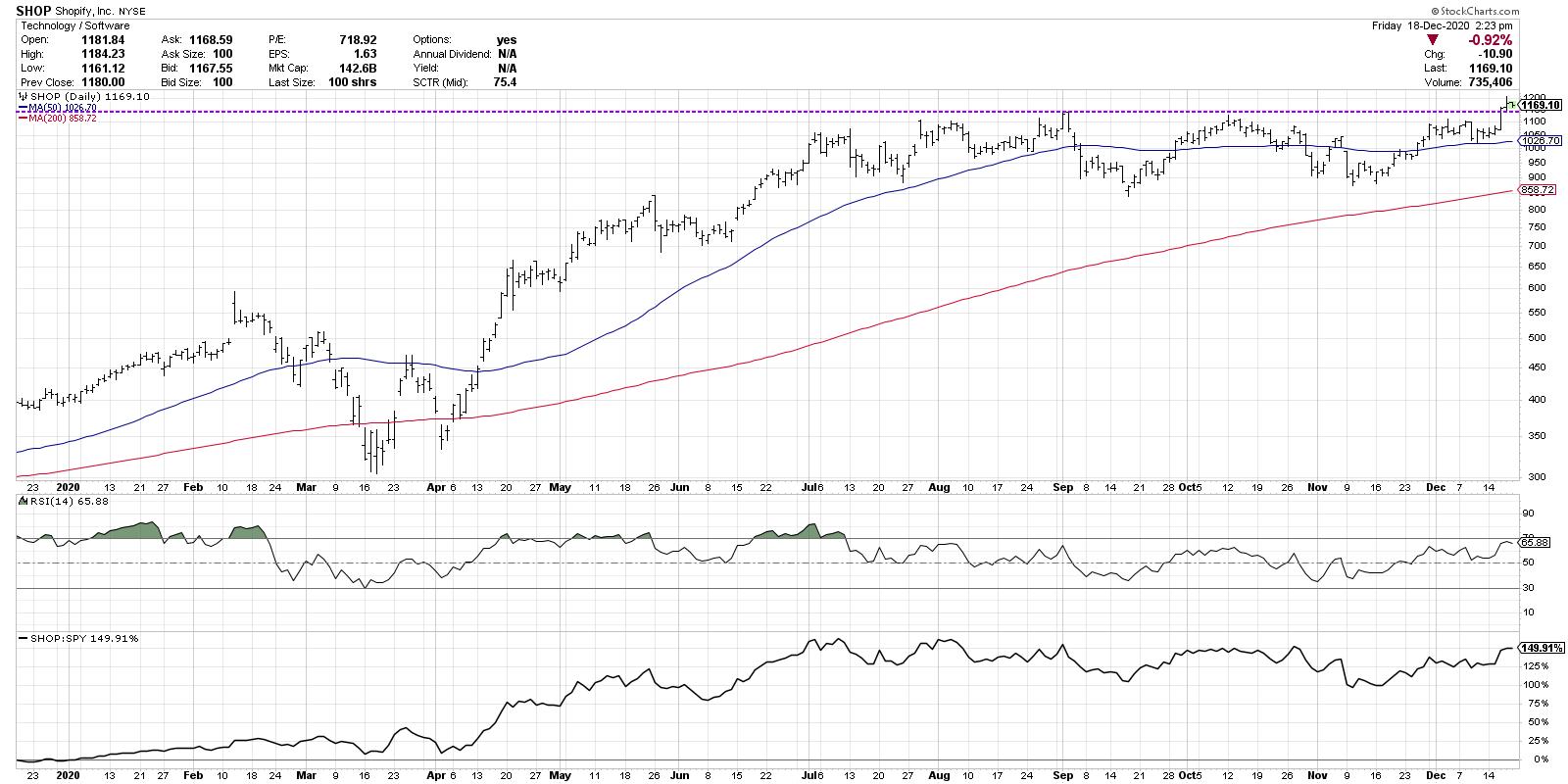 Both SHOP and PYPL have made new 52-week highs in December, breaking out above previous resistance levels established in early September. Continued strength in these names would show that traditional businesses are continuing to rotate to more online transactions and see that as a key part of their strategic plan in 2021 and beyond.
RR#6,
Dave
---
David Keller, CMT
Chief Market Strategist
StockCharts.com
---
Disclaimer: This blog is for educational purposes only and should not be construed as financial advice. The ideas and strategies should never be used without first assessing your own personal and financial situation, or without consulting a financial professional.
The author does own a position in SHOP at the time of publication. Any opinions expressed herein are solely those of the author, and do not in any way represent the views or opinions of any other person or entity.