Today, I will weave a technical analysis tale of two sectors--one of the popular star that is beginning to lose its shine, the other about a possible Cinderella story sector.
The popular star and doted-upon sector is Technology (XLK). It gets most of the love because, let's face it, it typically outperforms its brethren. The problem for our star is that it is could be losing its shine. Currently, XLK is sporting negative divergences on its indicators. Technology leads the market and it may be walking out on thin ice right alongside the SPY.
Many technicians are moving very bearish, including my "perma-bull" colleagues. Sentiment is contrarian, so it could mean we will be a "climbing the wall of worry" for the next week or so. However, these guys and gals are usually right at reversal points. This isn't a matter of capitulation at the end of a bear market; right now, it is a matter of ridiculous valuations and overbought price conditions that have us all at attention. Therefore, hearing the technicians that I trust becoming highly bearish concerns me.
We have annotated deep negative divergences in play on XLK. The Silver Cross Index (SCI), which measures how many XLK members have their 20-EMAs above their 50-EMAs, hasn't crossed above its signal line; in fact, it is topping below it. The Golden Cross Index (GCI), which measures how many of the XLK members have their 50-EMAs above their 200-EMAs, is extraordinarily overbought right now. The %Stocks > 50-EMA actually turned down today, even while XLK logged new all-time highs. Our star is losing followers.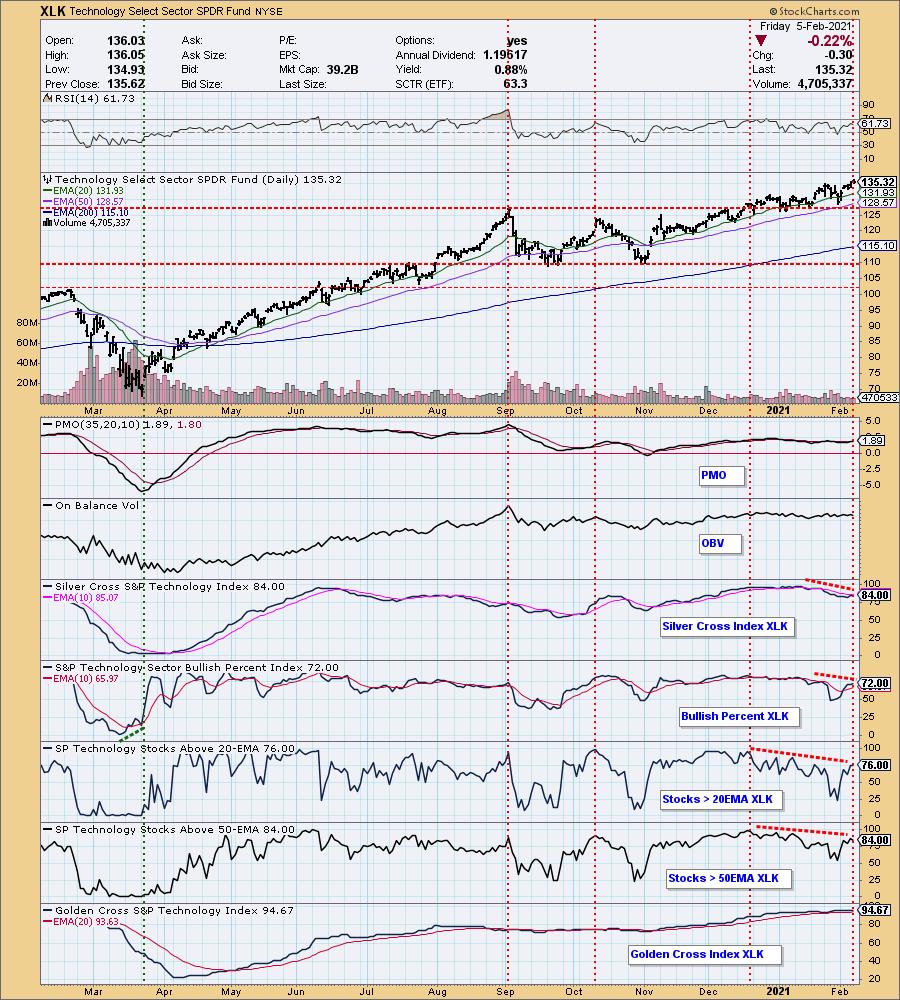 ---

SUBSCRIBE TO OUR BUNDLE TODAY and get one free week using the coupon code: DPTRIALCW. That is a $20 value for free! The last two weeks have been excellent for DP Diamonds subscribers, who got a jump on Home Builders, Natural Gas and Gambling stocks. A few good trades and Diamonds pay for themselves.
---
Now for our Cinderella story. It appears this sector's fairy godmother is waving her wand.
You'll see a far brighter picture on the Materials sector (XLB) chart. XLB has begun to rally and today closed above the 20-EMA. The PMO turned up just today; you can see that participation is improving and isn't overbought. There are no negative divergences, mainly because XLB has been in a downtrend. Overall, within this sector you'll find a few very strong-looking industry groups with excellent potential. Time to put Cinderella into her pumpkin coach. Subscribe to DP Diamonds and you'll see which industry groups in particular look to have a great week ahead.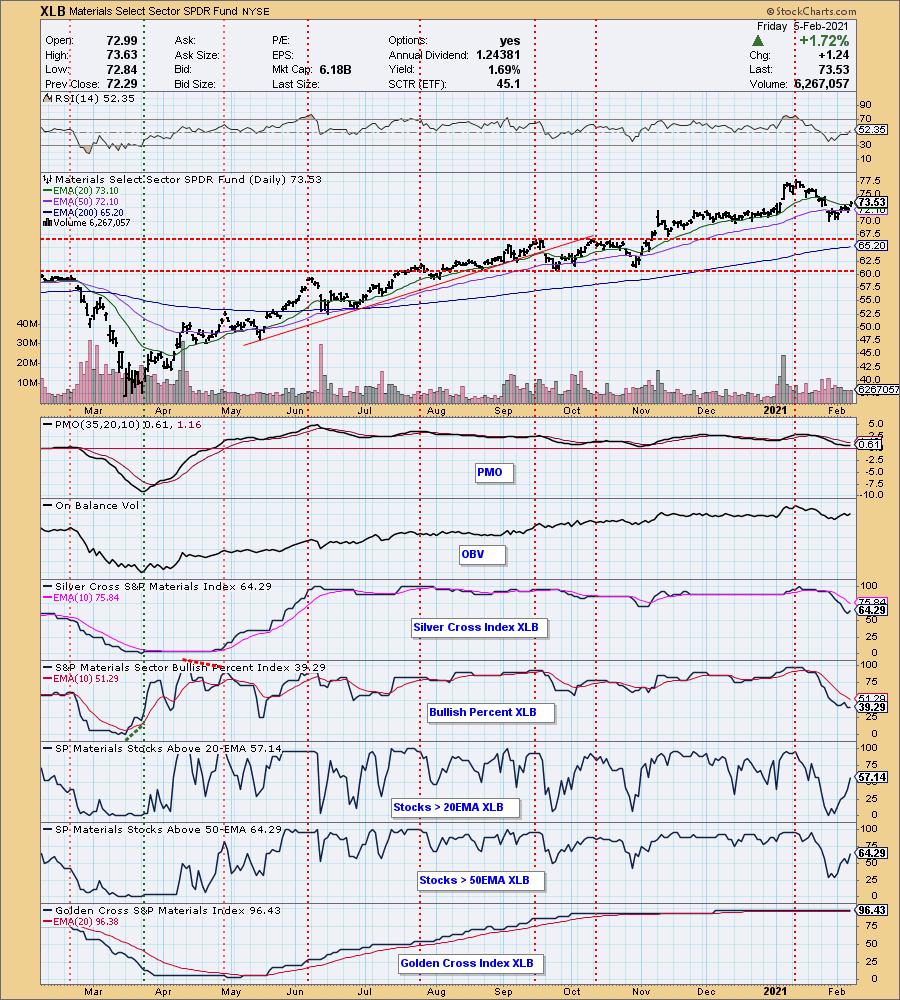 Conclusion: In our two tales, today it is clear that our star XLK could be on the verge of dropping out of the sky, while our Cinderella story sector is poised to have a lovely evening at the ball. One warning, should the market begin to tumble hard, XLB may be drawn into the vortex. Cinderella could be on the side of the road with a broken pumpkin with only mice for company.
---

It's FREE!
Click here to register in advance for the recurring FREE DecisionPoint Trading Room! Recordings are available! Watch as Erin discusses the market and focuses on "trading" using your symbol requests and her analysis. She discusses how she times her entries and exits and scans the market for interesting opportunities!
---
Happy Charting! - Erin
---
Technical Analysis is a windsock, not a crystal ball.
---
Helpful DecisionPoint Links:
DecisionPoint Alert Chart List
DecisionPoint Golden Cross/Silver Cross Index Chart List
DecisionPoint Sector Chart List
Price Momentum Oscillator (PMO)
Swenlin Trading Oscillators (STO-B and STO-V)
---
DecisionPoint is not a registered investment advisor. Investment and trading decisions are solely your responsibility. DecisionPoint newsletters, blogs or website materials should NOT be interpreted as a recommendation or solicitation to buy or sell any security or to take any specific action.