The markets are continuing to hit a new high amid stimulus hopes and a slowly improving economy. Add an accommodative Federal Reserve and the rolling out of a Covid-19 vaccine worldwide, and it's certainly easy to make a case for this bull market.
Select areas are faring much better than others however, and today I'm highlighting a group that has very strong growth prospects amid a shifting corporate landscape fueled by innovation.
The group is Semiconductor chips which are considered the brains of modern technology. And with technological advances taking place across many industries, chip demand has been rapidly increasing.
This chip demand has outpaced supply of late as the need for more secure and faster data speeds pushed chip sales higher at the start of the pandemic while an unexpected surge in auto and 5G-enabled smartphone sales has reduced supply even more.
Below is a chart of the PHLX Semiconductor ETF (SOXX) and as you can see, the group has been mostly in a confirmed uptrend since coming out of last year's bear market.
DAILY CHART OF SEMICONDUCTOR ETF (SOXX)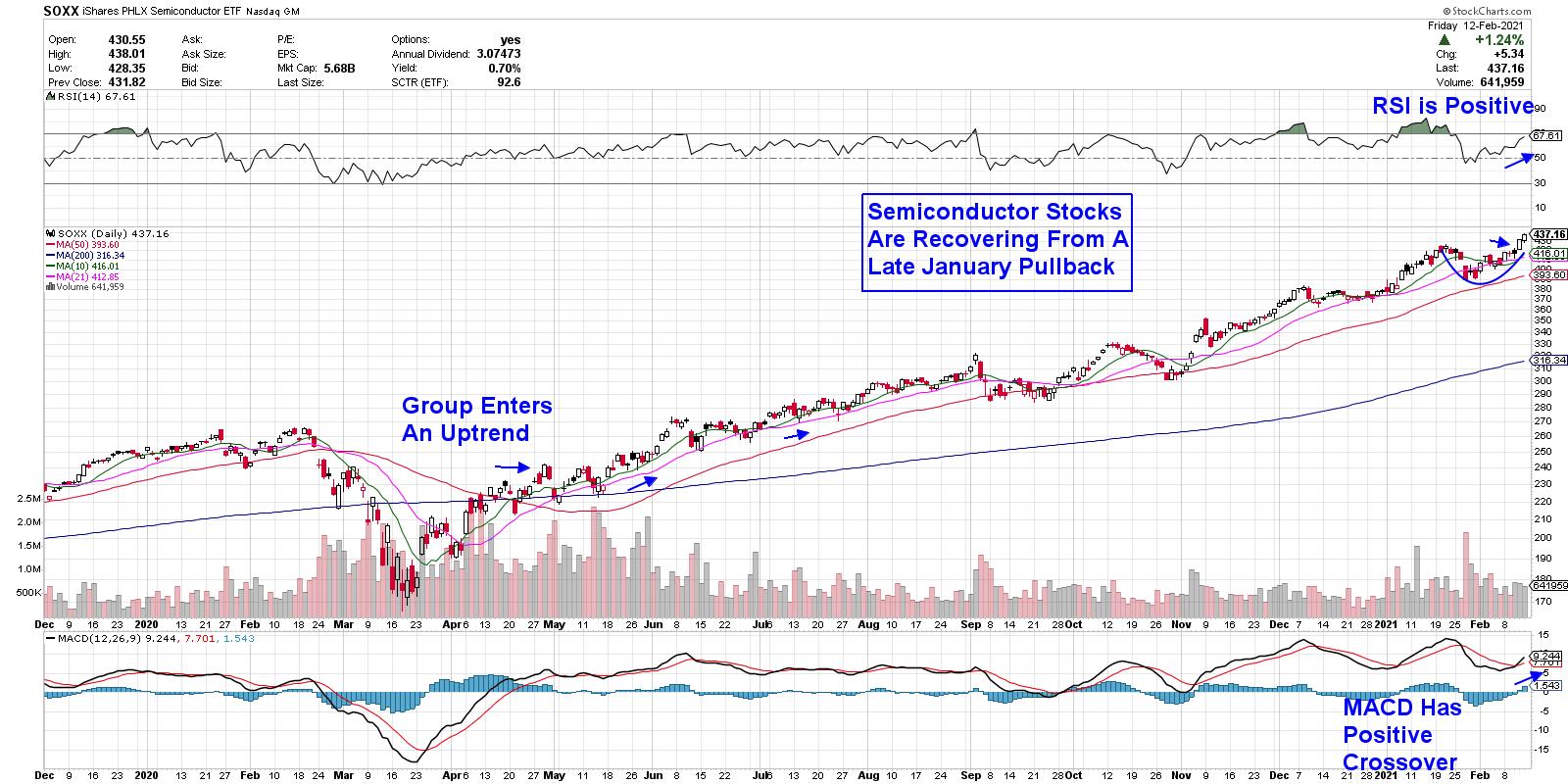 My MEM Edge Report has been following the move into Semis for some time, with our March 15th report highlighting the pickup in Semi stocks given the need to facilitate a shift away from offices to working from home.
We began adding Semiconductor stocks to our Suggested Holdings List at that time. with select Semi names going on to gain over 110%.
More nuanced themes within Semiconductors have since emerged with companies that provide the tools to create these complex chips, seeing the most demand for their products.
This would include Lam Research (LRCX) and Applied Materials (AMAT) which were both among the top 5 performers in the Nasdaq last week with gains over 15%. As you'll see in the charts below, these stocks both have further near-term upside despite last week's sharp advance.
DAILY CHART OF LAM RESEARCH (LRCX)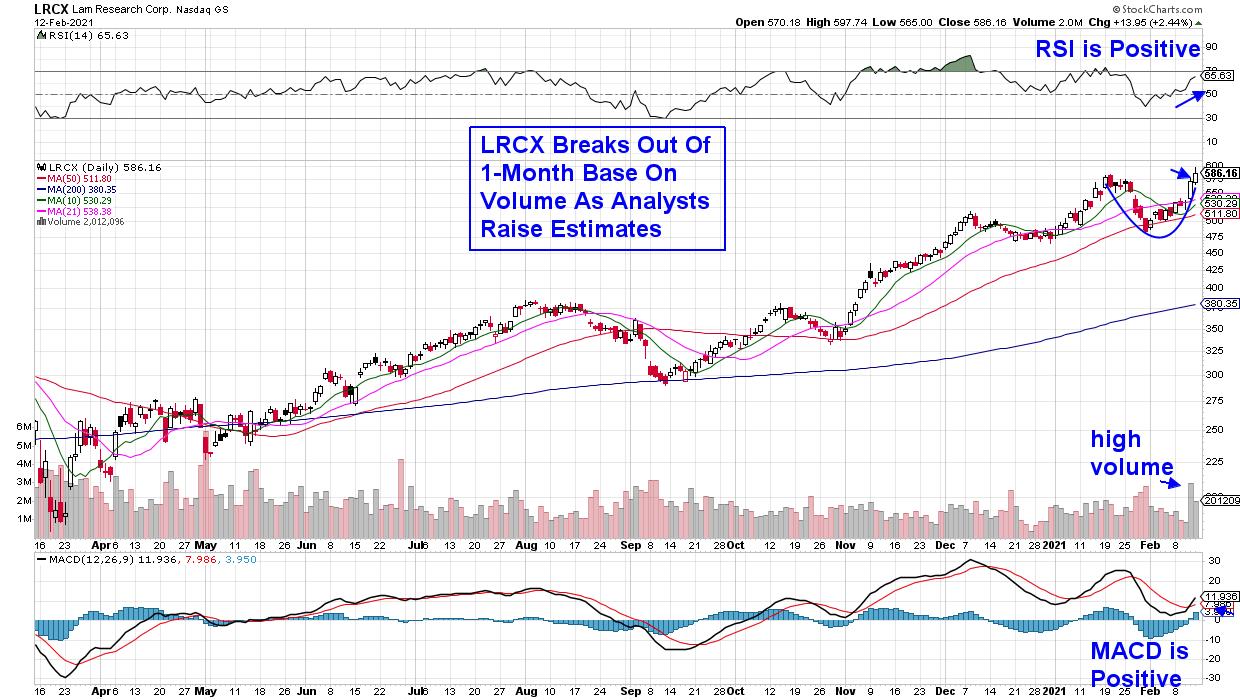 Lam Research (LRCX) reported strong 4th quarter results in late January that had analysts raising their price target to as high as $670 as management gave a very positive outlook for the remainder of this year due to "strength across all market segments".
LRCX broke out of a base on heavy volume with the MACD posting a positive crossover on its daily chart above.
DAILY CHART OF APPLIED MATERIALS (AMAT)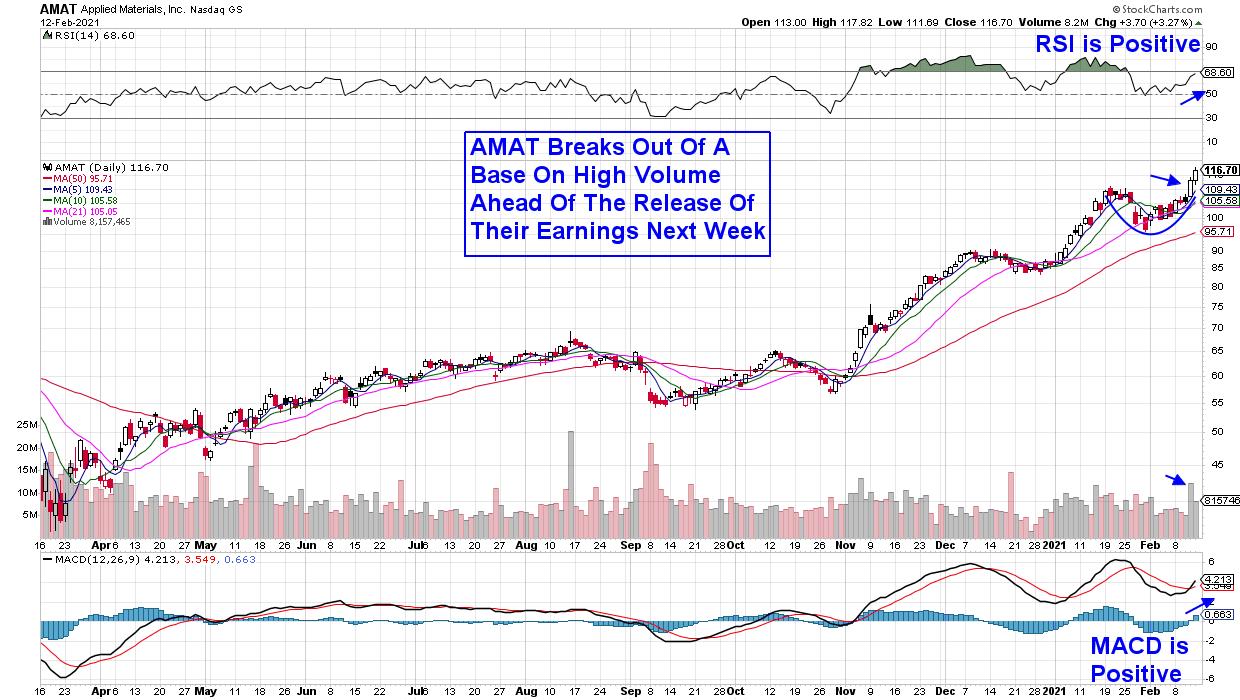 Applied Materials (AMAT) is due to report their results next Thursday and this week's advance pushed the stock out of a 1-month base and to new highs as analysts are expecting the company to beat estimates while also guiding higher for the year.
While AMAT may be priced for perfection prior to releasing their 4th quarter numbers next week, the stock's recent price action points to a leadership name with further upside ahead.
These two stocks have more in common than being in the same red-hot sub-industry group among Semiconductors.
They're both on my MEM Edge Report's Suggested Holdings List and were originally added to our Suggested Holdings List in late October . Subscribers were alerted that they were in a strong buy zone last Sunday and again on Tuesday.
The Semiconductor industry has very high barriers to entry as new chip creations as well as the tools to manufacture them, have very high complexity and cost. This makes established firms as those highlighted, even more valuable in the quest to meet high chip demand.
For those who would like to be alerted to the select stocks poised to benefit from shifts into high-growth industry groups, take a 4-week trial of my MEM Edge Report at a nominal fee. In addition to receiving sector and market insights not seen elsewhere, you'll receive updated sentiment alerts complete with precise entry points for the stocks on our list.
Here's To Outperforming The Markets!
Mary Ellen McGonagle