Everyone is giving up on growth stocks, especially given the sharp rise in rates, with the 10 Year US Treasury Note rising as high as 1.62% on Friday. And now, any good news - i.e., a solid jobs report - is seen as bad news, with concerns of a hot economy. Go figure.
I always find it fascinating that traders fall over themselves when the market gets to lofty levels; they can't get enough of stocks, no matter how stretched. But when an overheated market pulls back after sizzling for such a long time, they want nothing to do with stocks, even those that have posted strong earnings and that pull back to key support levels.
As an example, take a look at the chart below on Netflix (NFLX) at its session low on Friday, which easily beat analysts' expectations when they last reported their numbers. And since that report? Down, down, down and now right to a very key support level, the 200-day moving average, with the stock oversold and 16% off the high it posted after earnings were released. But with fear hanging over the market, most traders won't even consider putting money to work, just when it makes more sense to buy then when the stock was at $593.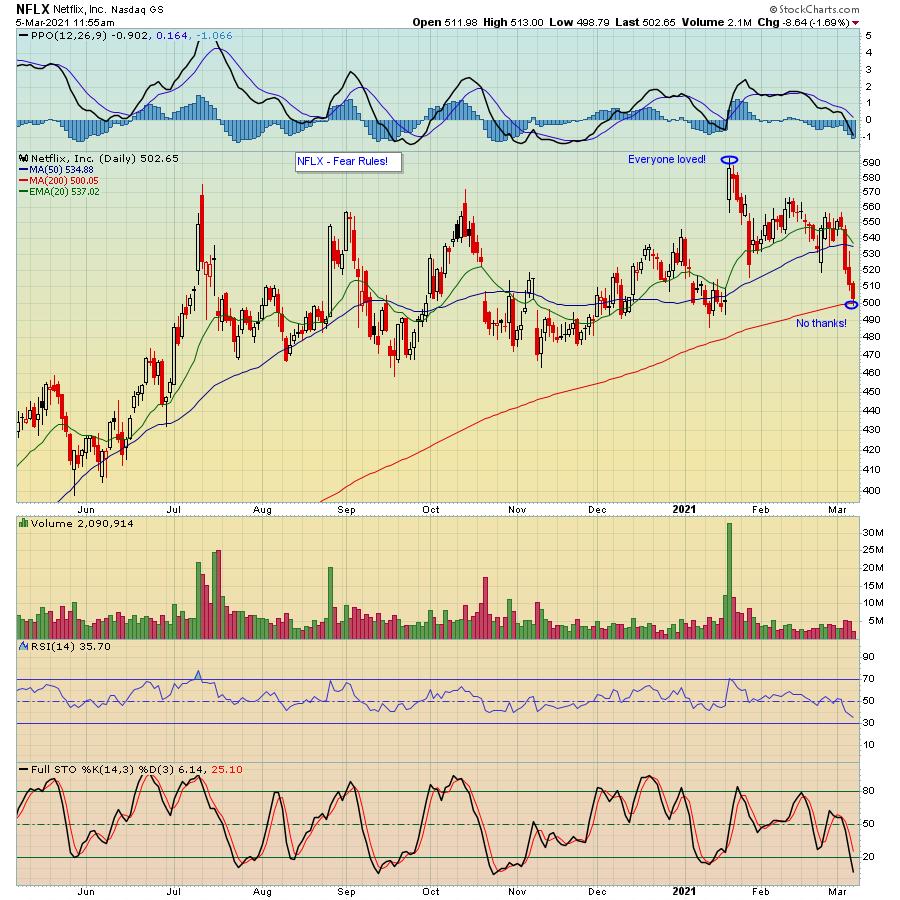 Some will argue that stay-at-home stocks like NFLX have run their course, and perhaps that will turn out to be true. But NFLX was flying high well before the pandemic hit; they're not going away. But the more likely scenario for many traders is they've held NFLX from that all time high of $593 and will be exiting just when the reward-to-risk is to the upside. Could the stock move lower? Absolutely. But these are the types of opportunities that should be considered when everyone else balks.
Many analysts and "talking heads" are petrified that the 10-year note has risen just above 1.50%; the sky is falling. But as our Chief Market Strategist Tom Bowley has pointed out many times, the rise in rates will ultimately favor equities. So you need to separate fact from fiction and zero in on those stocks that reported excellent earnings and have retreated to key support levels.
Speaking of Tom, every M, W and F he sends his FREE EarningsBeats Digest to community members. If you would like to get on the list, just click on this link and sign up to keep up on important market and earnings-related news.
At your service,
John Hopkins
EarningsBeats.com