The Dow Jones Industrial Average powered to its fifth consecutive record high today as investors bought shares of companies that'll benefit from a strong reopening of the U.S. economy. Rising yields have also triggered the recent rotation away from growth-oriented stocks, including large-cap tech-related shares, into more cyclically sensitive and often value-oriented stocks and sectors.
Today, I'm going to share with you the top stock in this red-hot Dow Jones Industrial Index. Considered the bellwether for the global economy, this company is poised to benefit from higher sales in each of its 3 major segments due to positive macro developments.
DAILY CHART OF CATERPILLAR (CAT)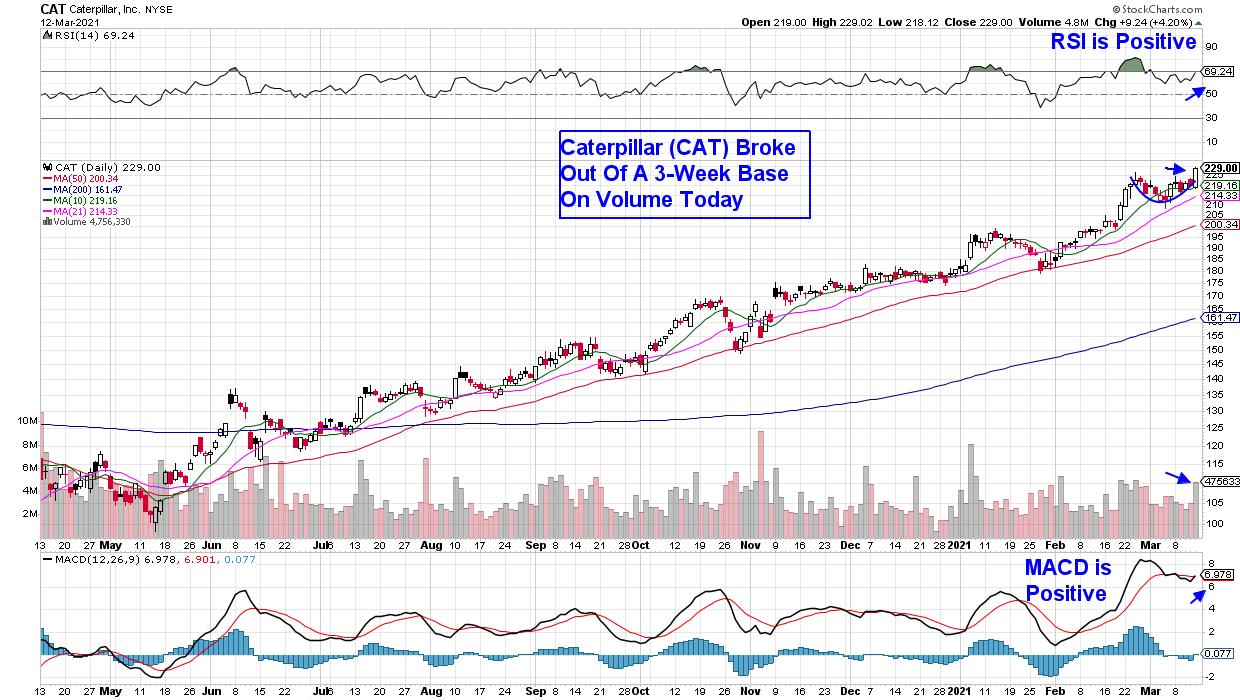 The company is blue chip stock Caterpillar (CAT), which is the world's largest construction-equipment manufacturer. This distinction sets CAT up to be one of the biggest beneficiaries of Biden's $2 trillion infrastructure plan, which is expected to be rolled out later this year.
Another positive for CAT is the fact that we're in a period of rising commodity prices, which will benefit the company. Copper prices hit a 10-year high last month amid expectations that surging demand from power and construction industries will overwhelm supply. The sharp uptick in copper is expected to spur higher spending from mining companies, which will benefit CAT's resource industries segment.
Likewise, oil prices have soared recently and are now close to $70 per barrel, which bodes well for Caterpillar's energy and transportation (E&T) segment. Caterpillar also completed its acquisition of the Weir group's oil and gas business in February, which will boost revenues in this area further.
As you can see in the chart above, Caterpillar (CAT) bullishly broke out of a 3-week base on volume today, with both its RSI and MACD in positive territory. Subscribers to my MEM Edge Report have already been alerted to CAT, as well as other cyclical stocks that we identified as buy candidates as early as last Fall.
WEEKLY CHART OF VISA INC. (V)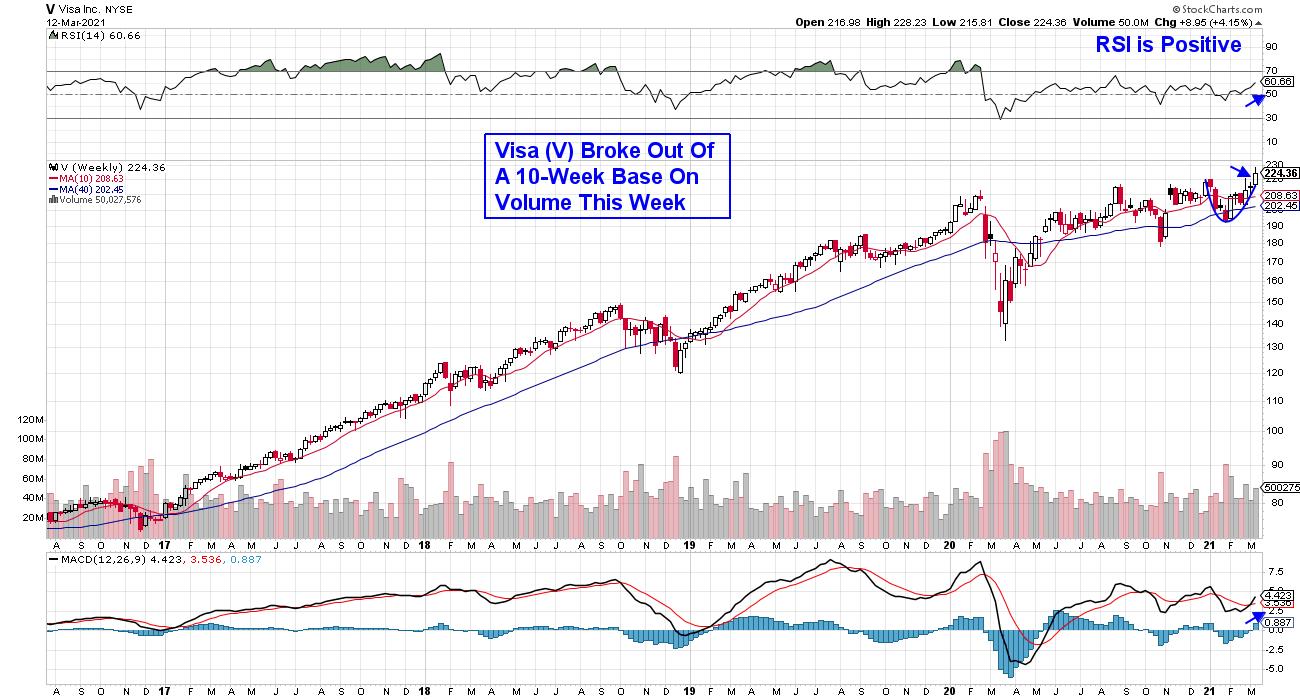 Another recovery related stock to consider from the Dow is payment processing company Visa (V). A pick-up in cross-border travel is expected to increase Visa's revenues as profit margins on international card transactions are much higher than domestic ones.
The stock hit a new high last week amid analyst's upgrades, which pushed Visa out of a 10-week base on volume. The RSI and MACD for the stock are in a bullish position as well, which bodes well for further upside.
Last week's record high for the Dow occurred while the recently leading Nasdaq Composite remains in correction territory after falling 10% from its February high in price. This unusual occurrence is something we're monitoring very closely at MEM Investment Research, as we're on the lookout for a move back into select growth areas that will continue to flourish as the economy rebounds.
If you'd like to be alerted to when these fast-moving growth stocks come back into favor, as well as newer cyclical names, take a 4-week trial of my bi-weekly MEM Edge Report for a nominal fee. Subscribers have received additional alert reports throughout the past 2 weeks alerting them to shifts taking place in the markets.
Warmly,
Mary Ellen McGonagle, MEM Investment Research